Modern work overloads us with information while asking that we make valuable connections to seed progress. To make these connections, without burning out, our offices must be designed to support our growth and well-being. They must be dynamic to support the array of needs we have at work and in life, from deep focus to concentration to socialization.
The way to create an office that holistically supports the individual in this way is by 'zoning' space through focus, collaboration, and lounge zones. For instance building a flexible office through flexible furniture pieces that adapt to change, growth, and individual preferences. And the easiest way to achieve cohesion and differentiation across an office space with multiple zones is by partnering with a custom furniture manufacturer; a team of industrial designers and engineers who are expert at co-creating pieces for every kind of zone, indoor to outdoor.
The modern office: an asset for growth
Year on year, work is becoming increasingly intense yet richer with opportunity. For teams, this intensity is evident in the competitive playing field. This competition makes attracting, retaining, and developing the best talent a crucial objective.
And for individuals, the intensity equates to a need to always be on their A game — making health, well-being, and focus vital priorities.
How to build for growth? Flexibility.
As work becomes more complex, we've redefined the 'office' and all we expect of it. The modern office is now understood to be an asset that attracts the best talent. And an asset that, furthermore, supports everyone in realizing their best work, together and individually. In short, the modern office is an asset for growth.
The design of these spaces in which we do our work, both privately and collaboratively, then, is critical. The question is how do we design an office space that is an asset for growth?
The short answer is: flexible design.
Flexible design is characterized by two rudimentary elements: a variety of zones that support a variety of needs, and furniture within these zones that is, you guessed it, flexible.
When describing flexible furniture, what we are referring to is office and lounge pieces that can adapt to end-user preferences. This means innovative works that are mobile, height-adjustable, maneuverable, and customizable to accommodate unique needs and preferences on an individual basis. Furniture pieces that empower employees to 'hack' their working environment, creating the ideal space for their workflow to flourish.
And when we talk about zones, we are referring to zones dedicated to supporting different working styles and zones dedicated to supporting the health and well-being of workers.
This approach to the design of an office is inspired by the ultimate vision of a high-performing, healthy organization.
The building blocks? Custom, flexible furniture pieces that adapt to change and growth
The building blocks of a flexible office are custom, flexible furniture pieces. Pieces such as modular shelving units, height-adjustable work desks, and privacy-restoring modesty panels that are built to adapt to change and growth. Furniture that is either free-standing, maneuverable, mobile, or customizable through casters, wheels, cranks, lifts, and mounts.
Furniture that 'flexes,' so to speak.
And in order to create flexible furniture that can and will adapt to your or your client's evolving needs, it needs to be custom — as custom as your team's story.
The obvious challenge of a flexible office: achieving cohesion across each office zone
The challenge inherent in designing an entire office space is one of achieving cohesion across each zone within it. And this challenge is complicated by our trend toward a modern, flexible office with a variety of zones for work, play, and everything in between. This is made even more difficult as outdoor areas become popular, introducing an entirely different arena of furniture.
When we speak of cohesion here, we are talking about fusion or flow across each unique zone, carried by the design features and material selections. A cohesion in the fabrics sourced, the colors chosen, and finishes manufactured. Coherence Is realized and carried through the details.
Coordinating a flow in these details is difficult to impossible when sourcing furniture from a different manufacturer for each style of zone.
Cohesion is made possible by working with one manufacturer for all your furniture needs
That's where our team comes into play.
Formaspace manufactures both open plan furniture and ancillary furniture — paving the easiest path toward cohesion in the design of your flexible office. Our expert ID&E team has the skill and talent needed to effectively oversee and coordinate the details for that big picture, beautiful cohesion.
The alternative might be a mismatched experience throughout the office or an unrealized potential to express the brand's character through key details.
The bottom line benefits of working with a custom furniture manufacturer
Partnering with a custom furniture manufacturer unlocks tangible, bottom line benefits in hand with the less tangible benefits of cohesion, flexibility, and brand differentiation.
Create custom furniture pieces that can be produced at scale
Simplify the process of furniture sourcing by working with one manufacturer for all your furniture needs
Source custom, differentiated products at a lead time comparable to standard furniture delivery
Achieve cohesion across each zone within the office, indoor to outdoor, work to play
Innovate flexible furniture solutions that adapt to your team's unique changing needs
Realize brand differentiation through details within the furniture pieces
Custom but scalable sounds great… but how?
To anyone in the field of office design, the words custom and scalable simply don't belong in the same sentence.
But our team is defying this conception — we are joining the two concepts, through the efficiency, creativity, and success of our custom design studio. Our studio is coordinated by expert industrial designers, engineers, and craftsman and powered by modern manufacturing technology.
This combination of talented people and the best technology is what allows us to create supreme furniture, both open plan and ancillary, at a price and lead time comparable to that of standard furniture delivery. And, most importantly, to create unique furniture that can be easily manufactured at scale.
The key to co-creating furniture solutions? Asking the right questions
In the creation of any product that is innovative in its function and form, the process of realizing it, from ideation to installation, must be a process of discovery. That is, it must begin by asking the right questions to identify the important answers.
And asking the right questions is not only the first step but the lifeblood to our signature co-creation process. As designers, leaders, and teams, listening well is the key to understanding the critical parameters, nuances, and challenges of the current and ideal space.
This practice is vital to our success — to properly identify what is needed, concretely and abstractly. To create innovating ways to support these concrete and abstract needs through custom, flexible furniture works.
Thus, the discovery phase of our co-creation process is as custom as our final furniture pieces. Because a truly custom solution necessitates a custom process of creation.
The engine behind co-creation: an expert team to identify wants + needs
"Form and function are one"

-Frank Lloyd Wright
Effective design necessitates a marriage between wants and needs, or form and function. Or, in the case of office and lounge furniture, a marriage between aesthetics and performance.
Marrying these wants and needs through custom furniture requires quite the sophisticated finesse. And our creative team of industrial designers and engineers possesses this finesse. We churn and distill all information gathered during the discovery phase of the co-creation process to craft unique solutions that meet their aim, however complex.
What drives this finesse is the creative manner in which our ID&E team approaches each problem. Every member of our team possesses both an innate appreciation for art and a skillful solution-orientedness. This finesse of vision tempered against skill comes only with years of experience.
And this expert finesse is the engine behind our signature co-creation process. The engine that can take the complex nuances to any problem and uses them as fuel to create concrete solutions.
The proof: cohesive, flexible, unique spaces delivered by the Formaspace team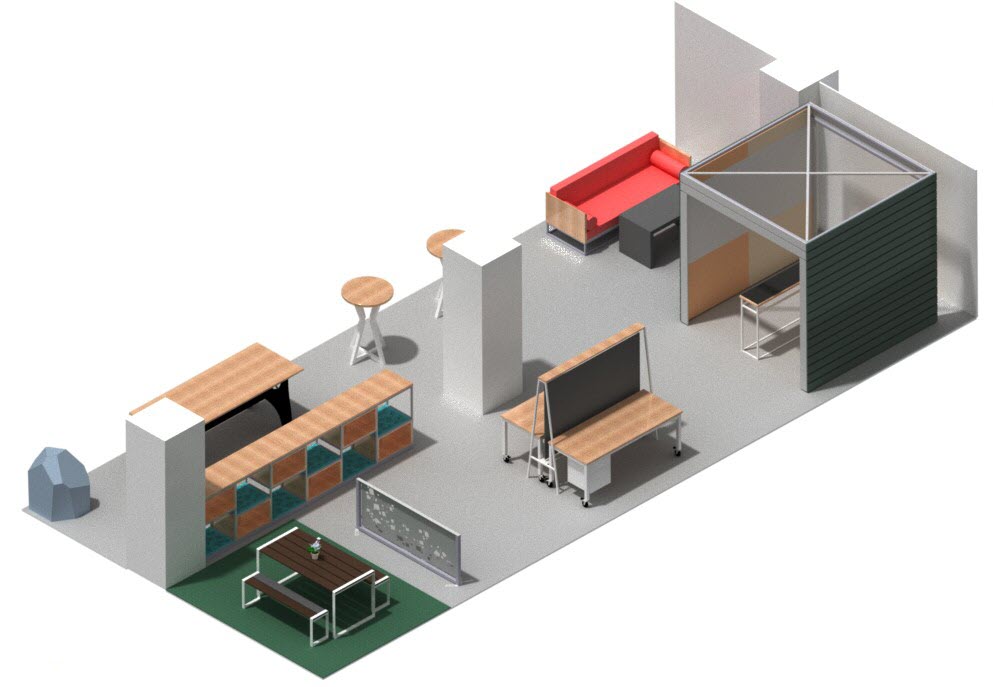 The best way to understand the power of a co-creation process is to take a tour through an office designed using the process itself.
Thus, the following 'virtual' office space is what we would call a complete flexible office, comprised of a variety of working zones and complemented by a variety of lounge or ancillary zones. By understanding each zone's story, you'll get a feel for the spirit and competence of our co-creation process.
Foremost, you'll quickly understand how co-creation, sparked by asking the right questions and led by a brilliant team, is an incredible fuel for innovation. And how partnering with Formaspace` in co-creating together is a tried and true path toward a cohesive, flexible, modern office.
Flex Office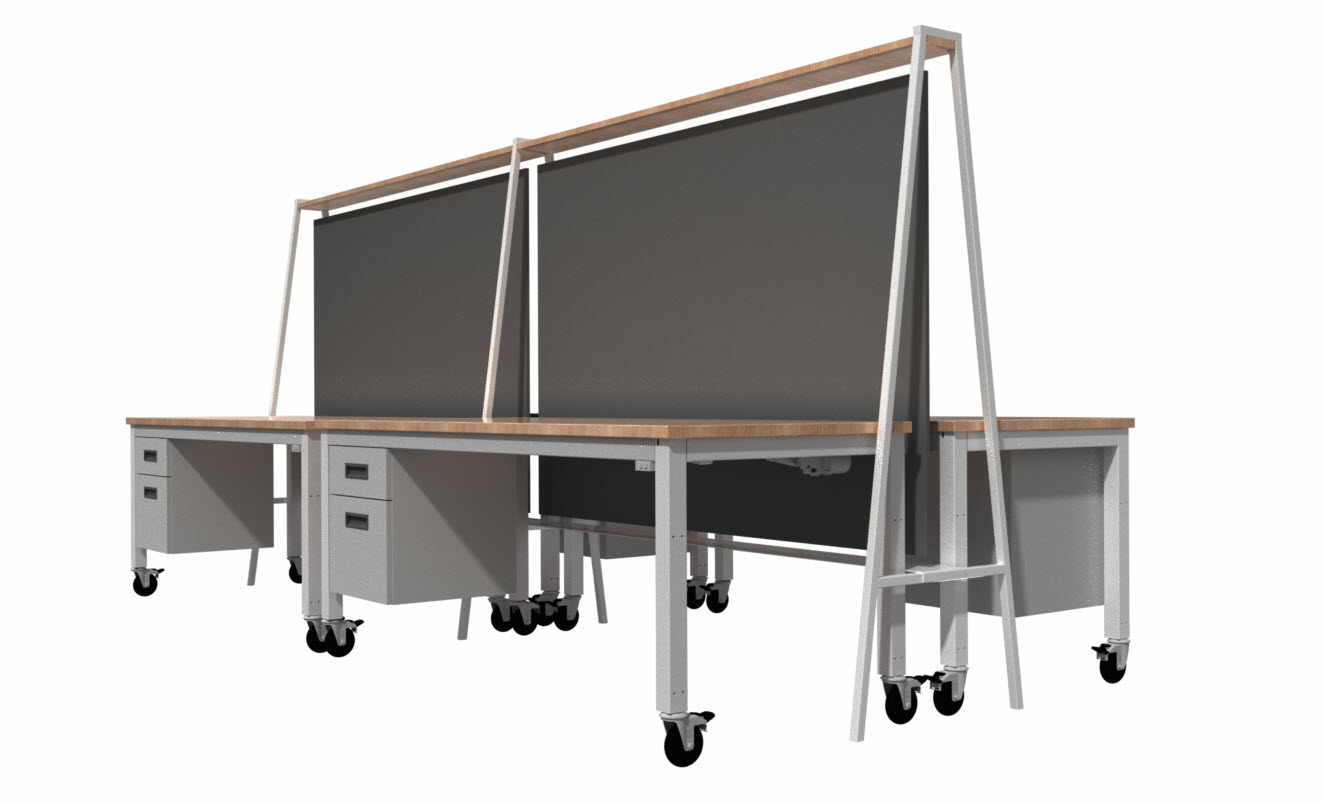 The following configuration is a model flexible workstation. Its design is our team's response to a growing desire for more choice and control over every element of one's work environment. The desks on display are our popular Weldmarx I — height-adjustable and mobile works of art that don't compromise on aesthetics. The Weldmarx-I and all iterations within the Weldmarx product line emulate all that flexible furniture has to offer.
Here, our mobile partitions are defining the user's individual space by providing privacy and a reduction in noise level. As a unit, the flex office is a space-efficient, adaptable, and flexible workspace solution for both collaborative and solo work. Each product featured has numerous customizable elements.
Collaboration Zone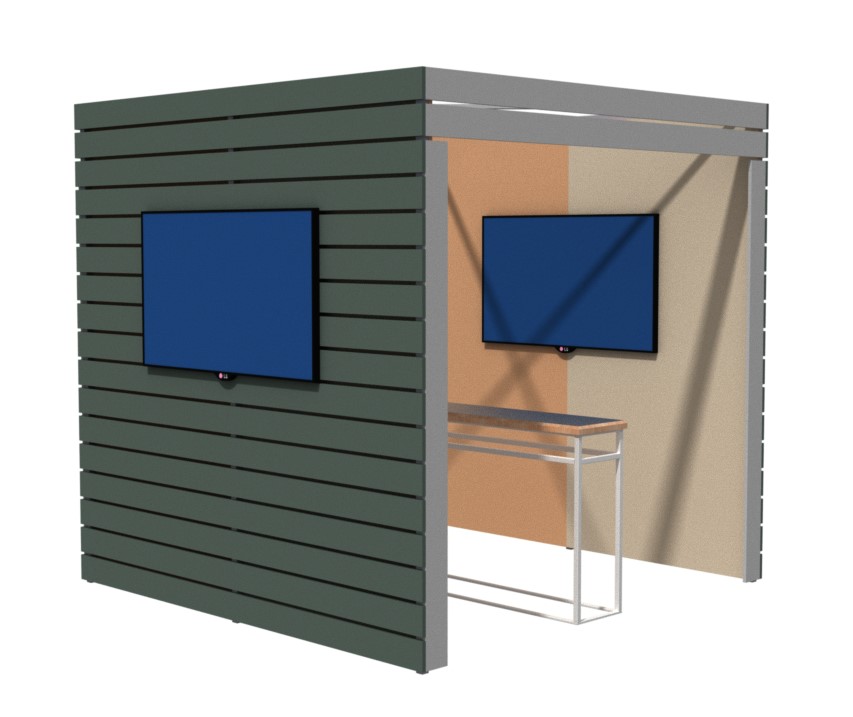 Collaboration is a requisite for coming up with new ideas, connections, and solutions. The collaboration pod is our team's response to the need for more it.
The pod delivers functions as a compact meeting space, providing flexibility for the time when professionals want to have the freedom to work in alternative comfortable work zones. Its thoughtful design gives teams the privacy needed to focus and the environment suited for sharing ideas comfortably. This privacy is especially helpful for teams that need the right acoustics to get their thoughts flowing.
The pod also serves as an area for simple socialization, when a change of pace or focus is needed.
Team Zone
The modern office is expected to help teams thrive. How can this be done? By building environments that encourage brainstorming, for instance, or designing layouts that catalyze collaboration. Or innovate furniture pieces that support communal activities and foster a more relaxed approach to the day's work when needed.
But how can we create such dynamic zones without walls? The team zone is an example of the ideal workaround in the case of an open office plan — with a shelving unit placed to create a makeshift, useful wall.
The zone is furnished with a stunning conference table, mobile stools, and the unique modular storage unit that can let light pass through its look-through design, or simply divide the room. Together, the pieces create a relaxed working environment, where deeper team relationships can take root, and new ideas can spring forth.
The centerpiece to the space is the vintage conference table. The Formaspace ID&E team marries performance with aesthetics flawlessly through this piece — with its vintage aesthetics and effortless height-adjustability. The client who partnered with Formaspace to co-create the piece started with a vision for a vintage table mounted on a cast iron base. After honing in on the specific wants and needs expected of the product, however, our ID&E took to the drawing board to spec and manufacture a truly show-stopping and functional signature piece. The final price came to less than ⅓ of the original budget.
Huddle Zone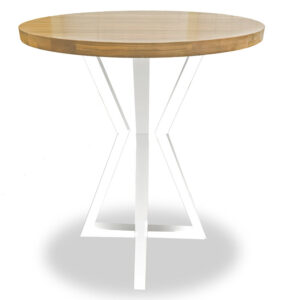 Across generations, job functions, and personality types, different people have different ways of communicating. The huddle zone is built for those who communicate most comfortably and naturally in a smaller, more intimate space.
A huddle space is also great for ad-hoc debriefs or brainstorming on the fly in instances when a more formal, traditional meeting area might stifle creativity. The products that furnish the space embody a union between hospitality and functionality — take the cocktail tables that double as standing height working desks.
This awesome hospitality element brings a more relaxed feel to the office. The result is a family of furniture pieces that comprise a dynamic environment. An environment where both informal debriefing and comfortable collaboration can reside.
Lounge Zone
As the definition of work-life balance evolves, so does our understanding of how to best support well-being. Recently, the desire for a more living-room-feel at the office has become clear. This 'feel' can be created by applying design philosophies that fuse residential elements with commercial elements. As an example, our lounge area doubles as an informal space to work.
The lounge zone is a unique alternative work area showing how the informality of the space encourages relaxation, allowing one to switch gears and approach their work from a new perspective. This benefit is especially helpful when hitting a wall, experiencing a block, or stuck in the weeds of a complex problem.
Because all furniture pieces were designed by Formaspace, the lounge area carries that element of design cohesion through the details of each furniture piece within it.
Outdoor Zone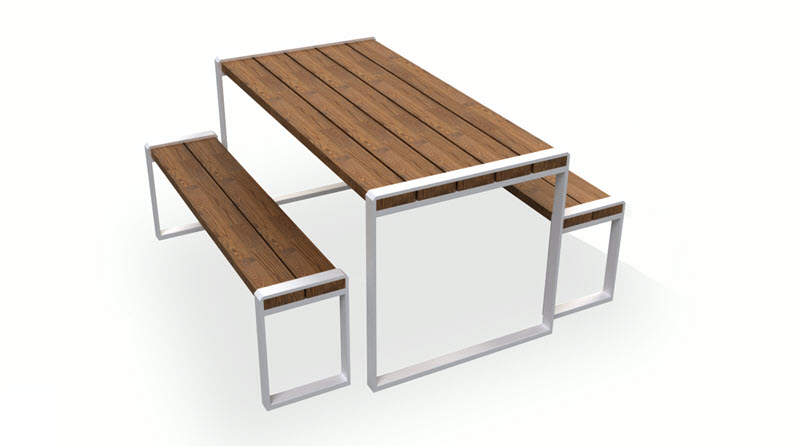 The trend toward biophilic design in the modern office is only picking up speed as we better understand the importance of nature to our happiness. The outdoor zone is a space inspired by this fundamental need — to be close to nature. The space also taps into the benefit of revitalization and community, with a welcoming picnic table placed center stage.
In the case of the project that inspired this space, Formaspace was sought out by a furniture dealership who wanted to create cohesion across the entire office, indoor to outdoor. Namely, to create this cohesion without getting lost in the complexity of multiple points-of-contact and vendors. Because our team has the skill, talent, and ability to manufacture both open plan and ancillary furniture, we were the obvious choice.
Want to walk through the zones yourself? Find us a NeoCon!
The Formaspace team would like to invite you to walk through their 'flexible office display' at NeoCon this June. Each of the office zones described above will be set up at booth #7062 on the 7th floor from 8 a.m. to 5 p.m. each day of the event (Monday, June 10th through Wednesday, June 12th). The team will also be hosting a happy hour Monday, June 10th from 3-5 p.m and Tuesday, June 11th from 2-5 p.m. Team reps will be on-site during the course of the event, and they will be happy to answer any questions regarding Formaspace's co-created custom furniture design solutions.