In a world of rapid-fire trends, consumers across all markets are shifting their purchasing patterns away from standardized, off-the-shelf products in favor of highly-customized or fully-bespoke products that express their individual, unique styles. In the pre-Internet era, shopping for customized or bespoke products was difficult. No longer. Things are changing rapidly, thanks to sophisticated online ordering tools, especially in the commercial interior design sector. The result? There is increasing demand for vendors who make it easy to specify unique, one-of-a-kind, custom furniture products that no one else has.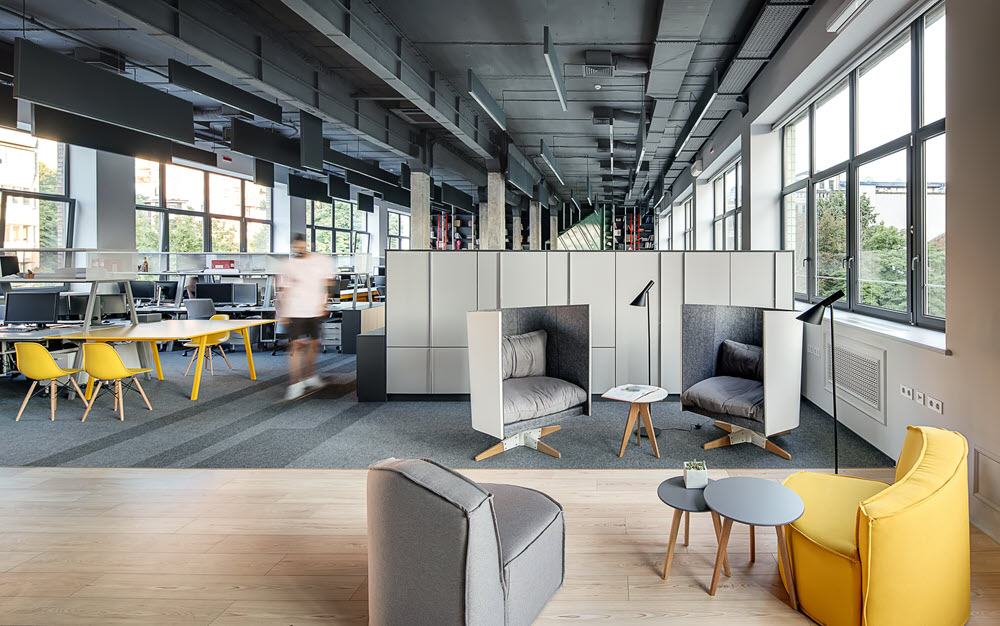 The Big Shift toward Custom Furniture Products in Today's Commercial Office Design Market
Two major trends that have been changing the broader consumer market over the past few years are now being felt in today's office design market.
The first trend is the out-sized effect that a new generation of influencers is having on changing consumer taste and style trends. Unlike the pre-Internet era where consumer trends tended to emanate from film, television, newspapers or magazines, today's most influential influencers can be found on social media platforms — from YouTube vloggers showing off their latest shopping haul videos, to carefully curated design collections shared on Pinterest, to pixel-perfect, envy-inducing, lifestyle photos uploaded on Instagram feeds.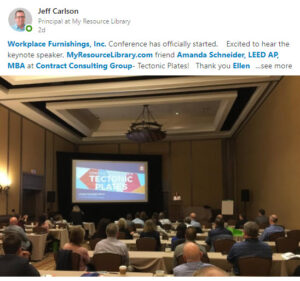 Thanks to the built-in sharing capability of social media platforms, consumers are following these influencers and adopting new trend and style directions faster than ever before. But beware: what can be easily adopted by the masses can quickly fall out of favor. As a result, there's an increasing premium placed on exclusive, expensive, hard-to-find, limited editions (or even better: custom-made, one-of-a-kind products) that express the style of individual consumers.
This brings us to our second emerging consumer trend: the need for convenience when shopping. Today's consumers have come to expect a level of service (taught to them by savvy Internet retailers) that they can make purchases easily without having to wait. This expectation is no longer limited to generic, stock items; it now extends to purchases of exclusive, limited-edition or even fully customized purchases online (thanks to easy-to-use shopping tools that simplify the ordering process, even for customized goods).
The bottom line? Companies that can offer attractive, on-trend products that can be easily customized by consumers (e.g. don't require a lot of time and hassle during the ordering process) will have a leg up in today's demanding, trend-driven market.
Fine, you may say. That may be well and good for other market segments, but won't it take a long time for this trend toward exclusive customization to show up in the commercial interior design market?
The answer is not long — in fact, the shift is happening in commercial interior design market right now. Why is it taking off now? As we'll see in the following sections, simplified ordering tools and advanced manufacturing processes are fueling sales of one-of-a-kind, customized office furniture that's manufactured exclusively for individual office customers.
Finally, a word of caution: exclusive custom furniture designs no longer equate to low volume. For example, Parabola recently installed hundreds of custom designed signature desks manufactured by Formaspace — with a signature corporate design that's unavailable anywhere else.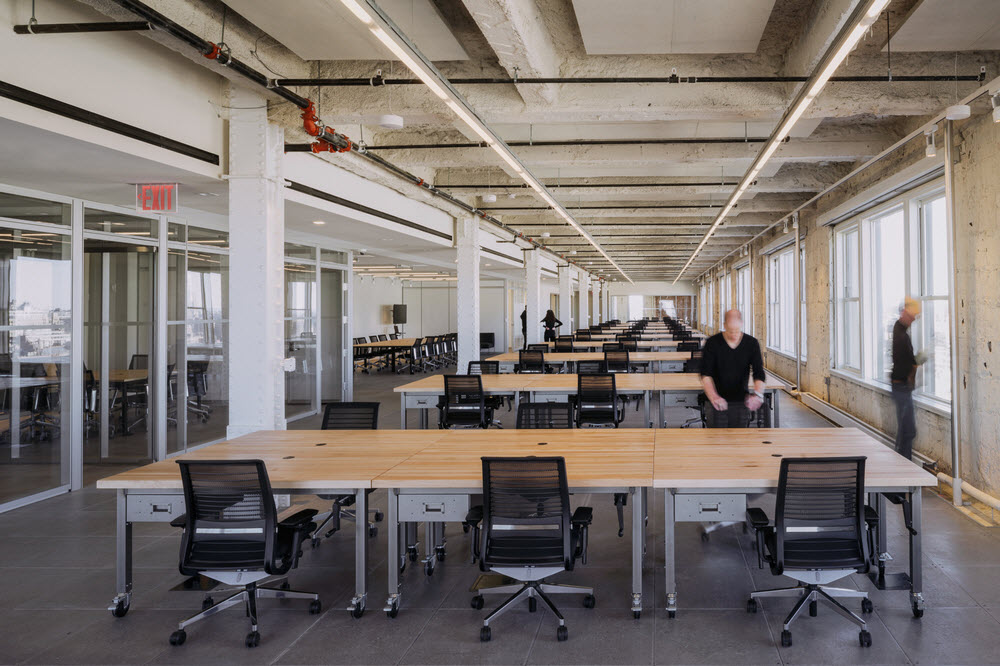 What are the Specific Design Influences and Trends Driving Buyers Toward Custom Furniture Purchases?
We talked to Frank Bucher, Formaspace Executive Vice President of Sales, Corey Hutchins, Formaspace National Sales Manager, and Gracie Connor, a commercial interior designer with Sixthriver Architects, to find out more.
First, we discussed which current design influences and style trends are responsible for increased sales of custom furniture.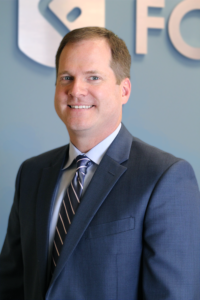 According to Frank Bucher, today's office customers are looking for furniture that expresses their unique, individual style — yet it must be functional and affordable. "Many large companies, especially on the West Coast now, are choosing fully custom designs, because they don't want it to feel scripted. They don't want it to feel like it's part of something that the company across the street is going to have. Indeed, these companies are moving beyond customizing basic things, like furniture sizes, materials, and colors. Instead, a lot of companies are working directly with their furniture dealers and commercial interior designers, in a process called co-creation, to jointly create products that suit the needs of their individual end users."
Frank points out that it's also important for these companies to promote their brands — and they use all the tools at their disposal to do so — including building unique office spaces filled with custom furniture that's unavailable anywhere else. "You have to keep in mind that for many of these companies, it's really about retention of talent, so people don't want to sit in something that they can see across the street. They want to sit in something that's unique, or that's customized to their needs."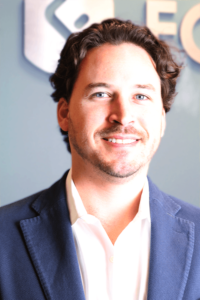 Corey Hutchins gives us a good example of this in practice: "What we see with large Fortune 500 companies is that custom furniture creates an opportunity for branding that differentiates certain clients. And to Frank's point, as they increasingly hire Millennials into these workspaces, it really is all about acquiring talent and retaining that talent. Unique, stylish offices are a huge differentiator. Case in point is NCR, who just moved their headquarters to downtown Atlanta. One reason they located there is to be right across the highway from Georgia Tech, where they can attract some of the best engineers in the country. And they want the absolutely best furniture — much of it custom — to encourage those graduating engineers to move across the highway and start their careers at NCR's new HQ."
Gracie Conner says at her firm, Sixthriver Architects, they are also seeing an uptick in custom furniture used in their clients' projects. "I think we're also at a stage where we're 'teaching' our clients not be afraid of custom, and that it doesn't necessarily mean breaking the budget or long lead times."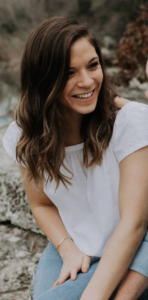 Gracie sees other design trends — such as the rise of the "resimercial" style in the office — that are driving the adoption of custom furniture elements in office design:
"A big thing that I've noticed in commercial spaces is a shift to make spaces feel more residential and less corporate — by using custom products that look "resimercial," a term used widely in our industry."
"We're seeing this "resimercial" trend across the industry and in various ways. For example, in the hospitality industry, you see a big shift where hotel brands strive to have more of a boutique hotel vibe by bringing elements into the designs that are unique to their surrounding cities and their cultures, in hope of creating unique experience and spaces. In commercial spaces, there's a shift to make these spaces feel more residential and less corporate. This speaks to the trend of spaces wanting to look less like an office and warmer and inviting like a living. The "resimercial" trend even extends to bringing greenery indoors — it's custom touches like these that make today's office spaces look more energetic and less stale."
Don't Overlook the Benefits of Custom Designed Spaces for Privacy in the Office
Creating private spaces within an open office is another trend that Gracie has seen. "In corporate design, there is a push for open concept, which is great, but this does come with its challenges, because there is now an emerging trend to create little private spaces within the bigger open spaces. While open space plans help people collaborate easier, some of the challenges that are faced with open floor plans are noise control and lack of privacy. These challenges drove the need for products and design solutions that could create private spaces within open spaces as well as the integration of acoustic control within office systems furniture. Custom furniture manufacturers that work with the designer and the needs of the client are an important part of the solution here."
Custom Furniture for the Commercial Interior Design Market has Arrived — Thanks to Modern, Simplified Design, and Ordering Processes
In the past, there was a lot of resistance to ordering custom furniture. Complex ordering processes and long-lead times discouraged many project managers from pursuing custom furniture projects. The good news is it's changing rapidly. Savvy manufacturers are able to speed up production delivery dates for custom furniture, and once tedious ordering processes that required a lot of time-consuming 'back and forth' are being replaced by slick on-line purchasing tools that let you see customization changes in real-time, just like a video game.
According to Frank Bucher, "The number one challenge when it comes to custom furniture is perception. When people hear the term custom furniture, they immediately think about long lead times and the expense. But that's no longer the case. We can make custom products in large quantities at prices that approach standard products and lead times. We're able to do this because of our advanced internal processes, which allow us to manufacturer custom furniture designs in a way that's scalable, predictable and repeatable."
Another thing that worked against custom furniture sales in the past was the difficulty of visualizing the final product. But thanks to modern visualization technology, all that has changed. Frank notes, "The thing that scares many people about purchasing customized furniture is they can't imagine what the final product looks like. Our new Formaspace Office Virtual Furniture Designer tool takes away the anxiety. (This free online tool from Formaspace works directly in your browser without having to install any software.) For example, when someone says 'I don't like that!' you can just click on the option controls to see the design in a different color, a different shape, or a different size. You get instant feedback that takes away the anxiety about what the final custom product will look like. It also saves time and money during the ordering process. There's no need to wait two weeks to chase down photo-realistic renderings anymore — you can see exactly what the products look like in the Formaspace Office Virtual Furniture Designer."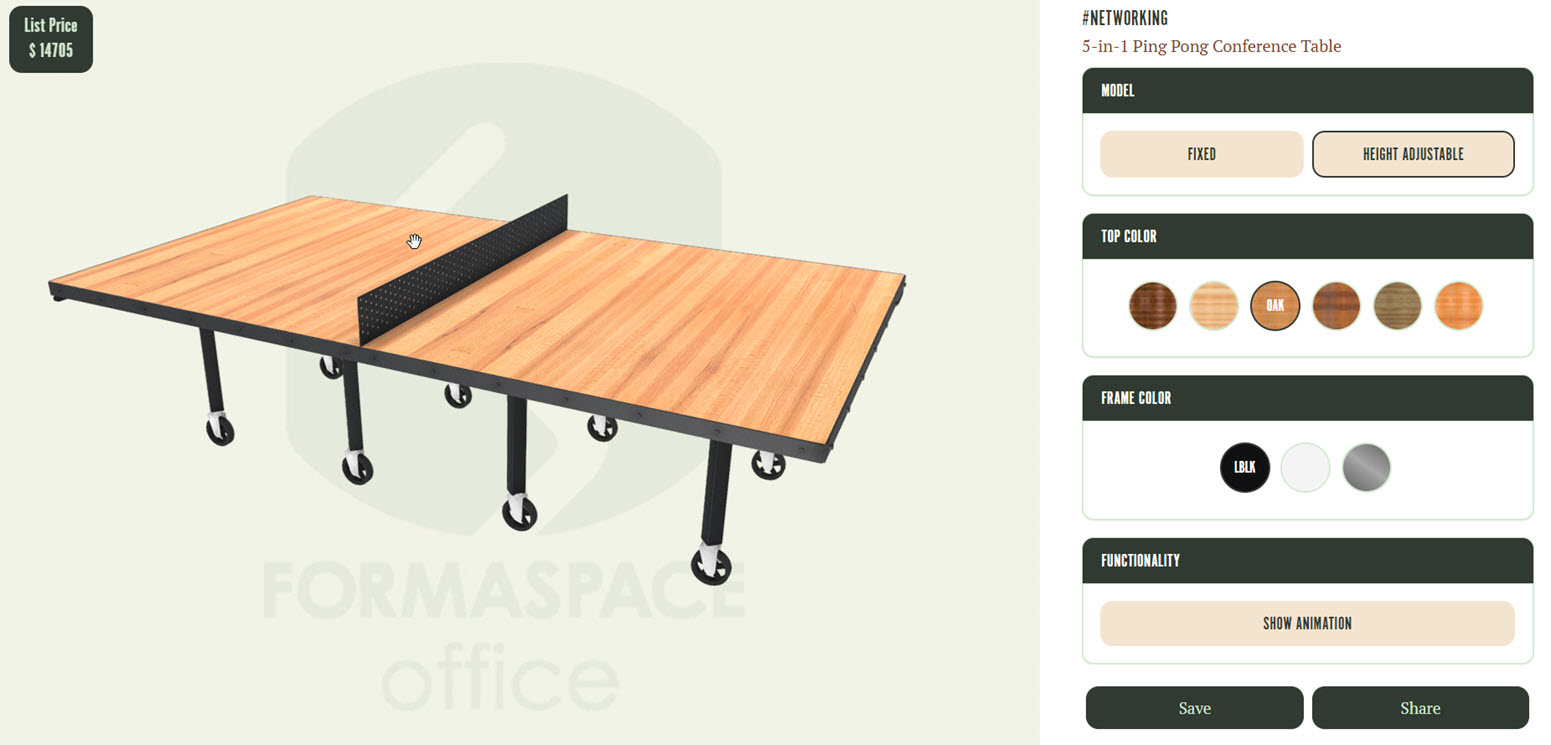 Custom Furniture Helps Formaspace Grow the Market for the Traditional Furniture Dealership Model
Does the ability to visualize furniture orders on-line mean the end of the line for the traditional furniture dealership model?
The answer is no, not at Formaspace.
Frank Bucher elaborates: "Unlike some office furniture manufacturers, Formaspace only works through furniture dealers and reps — because the furniture dealer is the most instrumental piece in the transaction. Our dealers are the ones who have the relationship with the client. They're the ones who are going to be ultimately in charge of the installation."
"So, what we want to emphasize is that when we provide easy-to-use visualization tools, such as the Formaspace Office Virtual Furniture Designer, our objective is to help promote growth opportunities in the custom furniture market, which, in turn, means more business for Formaspace dealers. With enablers like these visualization tools we're providing, we're arming the dealers with the best tools in the industry to grow their businesses."
Custom furniture sales at Capital One are a great example. Working with our dealership, we were able to supply hundreds of custom desks, with an exclusive design created just for Capital One.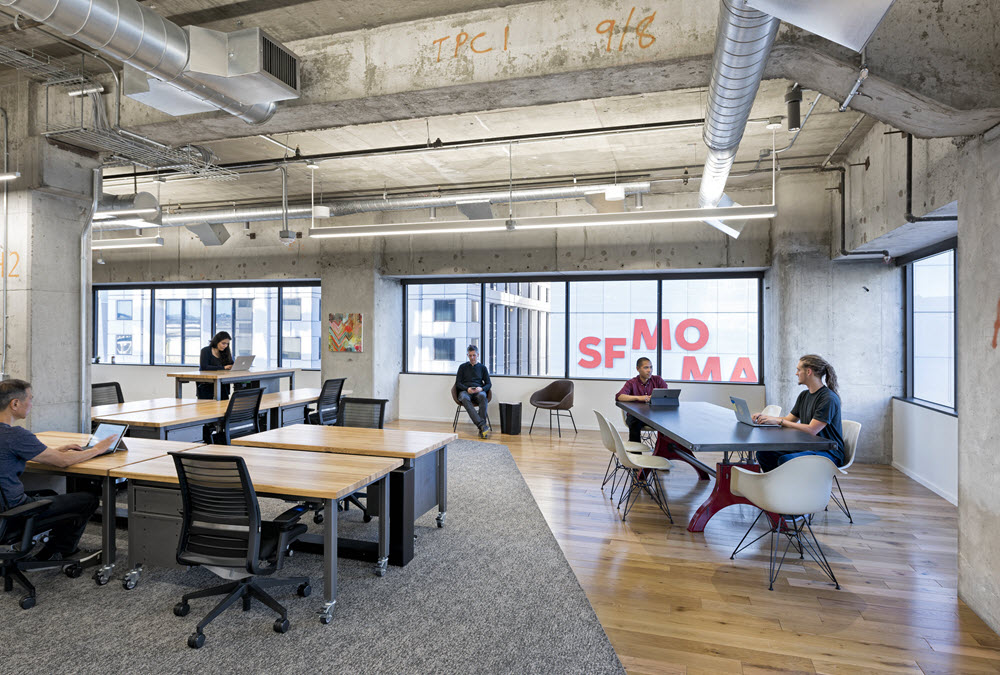 There are very few custom furniture makers who also have the capability to scale up and produce large quantities of furniture. Formaspace is one of them, and it makes us exceptionally well placed to take advantage of the demand shift toward custom furniture installations.
Turn to Formaspace for One-of-a-Kind Custom Furniture Solutions for Your Office Design Projects
Working with Formaspace presents a unique opportunity for quick response and client custom design satisfaction.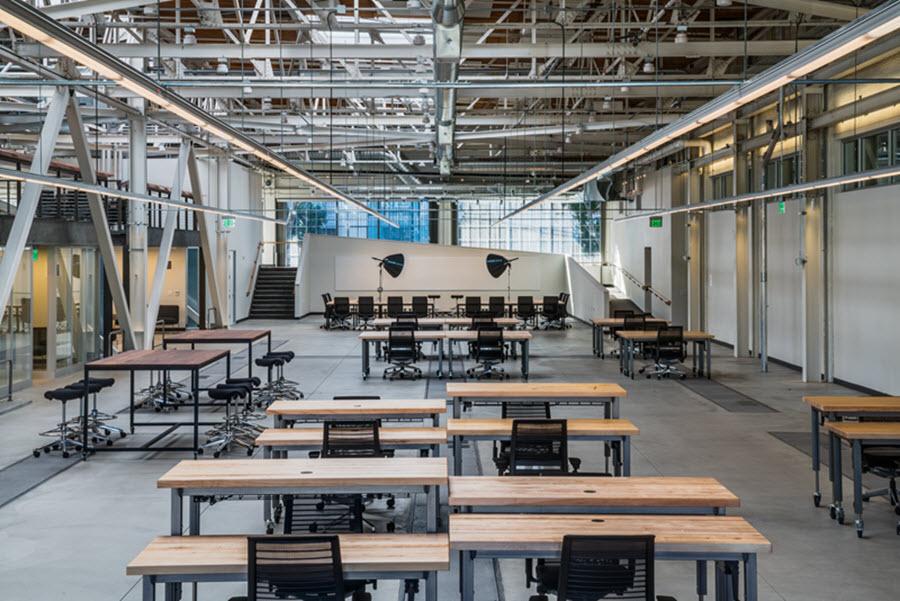 Want to learn more?
Our friendly Formaspace channel managers look forward to speaking with you. They'll be happy to tell you more about our recent projects at leading trend-forward companies, including CapitalOne, Google, Parabola, and Twitter.
They can show you how to use our Formaspace Office Virtual Furniture Designer to design custom furniture products to meet your exact needs.
Contact us today, and let's get the conversation started. You'll be glad you did.