The dream of anyone working on the edge of design is to leave a legacy of built work; a physical portfolio that realizes vision. In commercial interior design, the challenge is thickened to meet client needs, both purely functional and more difficult to measure (i.e. culture and brand-related) — through drawings; shapes, lines, and forms. And to chauffeur this evolution from 2-dimensional idea to 3-dimensional structures with the vision always front of mind. That is: to create a unique space that serves all who work within it.
For these reasons, design is an art, a science, and above all, an act of balancing elements to find that sought harmony between function and form.
Where the discipline gets especially dynamic is in the coordination of furniture pieces to fit the framework of the space in making — and in the arena of the modern office, it is office furniture in consideration. Everything from chairs, desks, conference tables, cabinets, communication boards that make for collaborative, productive work. And in an age where brand and culture differentiation matter, details count: the finishes, table legs, acoustics, mounts, wire fixtures, and ancillary pieces the same — the details of office furniture that support the functional use make for this richer, more distinctive work environment.
Mastering
The Relationship Between Interior and Exterior Space
Charlotte Perriand, one of our most beloved Architect/Designer hybrid-artists is quoted saying, "Architecture is an ebb and flow between interior and exterior—a round-trip.". In less abstract phrasing: the furnishings of a space are of equal importance as the space itself. The two complement and complete one another, better fit to realize that vision for the modern office.
And in commercial practice, client vision is threaded with more ethereal goals of, say: a more open and inclusive working culture, healthier ergonomics per workstation layout, or greater connection to nature for happier morale. These goals, original and powerful, are best served through a fully bespoke design of equal originality and strength — for the sought, differentiated ebb and flow between the interior and exterior Perriand spoke of.
No longer are most of us satisfied with mass-manufactured, cookie-cutter pieces, spaces, or products. Our modern preference for personalization and customization has bled naturally into our approach to the design of offices in which we work.
The Role of Bespoke Design
The movement toward bespoke everything empowers the creative to fulfill every detail of the vision down to specific design features of the office furniture. And so, as the movement toward customization influences the design ecosystem, we see contemporary architects and designers from renowned commercial interior design firms and architecture firms partaking with zest; co-creating custom pieces to furnish and complete the environments they've given form to — perfectly.
And as modern manufacturing advances, custom furniture co-creation has become a viable option for architecture and interior design firms of all walks and focuses — proving especially helpful to commercial interior design firms, where custom furniture is the necessary finishing touch.
No longer are creatives shackled by the bonds and limitations of conventional, ready-made office furniture that sullies the beauty of their work, failing to advance the artistic aim. What technology has allowed through accessible custom design is a pure shot at creating a space that is entirely distinct because it is entirely bespoke.
Why Bespoke "Worked" Long Before the Word Was Trending
Of course, innumerable greats from the world of design took to creating their own custom furniture pieces — both office furniture and home furniture — before 'bespoke' became a somewhat trending word. This, out of both the sheer desire to experiment and the real need for chairs, desks, tables, and furniture sets that pleased them.
And for a handful, what resulted of their raw and natural appetite for new materials, concepts, shapes, forms, and furniture-making processes were pieces that proved bonafide iconic in time. Pieces that even those without an eye or interest in design would recognize as staples. Office furniture that is still in production or reproduction today; Eames's molded plastic chairs, for instance, that we all grew up with whether we were aware of it or not.
For these architects and designers, their custom-designed and often co-created office and home furniture finished their space. And for their legacy? Well, for some, their contributions to furniture design brought more fame even than their biggest, most legendary buildings.
In studying the iconic office furniture designed by our favorite architects, we can appreciate the role that 'custom' plays in a designer's life work, especially if practicing at a commercial interior design or architecture firm. 'Custom' allows one to leave a real, signature mark on the built world. More explicitly, when the practice is commercial, it allows one to bring a client's multi-faceted and layered vision to life with an immersive experience.
Examples: Bespoke Furniture Pieces From Architecture's Finest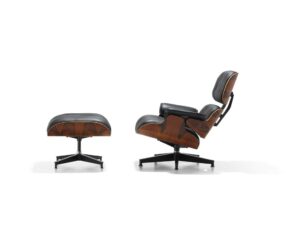 Charles and Ray Eames's Iconic Eames Lounge Chair and OttomanCharles and Ray Eames's Eames Lounge Chair and Ottoman
The American couple were creative partners in the fields of architecture and furniture design through the midcentury, bringing groundbreaking work to both worlds. The ubiquitous Eames Lounge Chair and Ottoman and Eames Chaise are their most iconic pieces. They pioneered technologies new to modern furniture including fiberglass furniture, plastic resin chairs, and the classic wire mesh chairs still in production today. Though Charles, an architect, was the face of their work, Ray, an artist, contributed half (or more) of the horsepower — she designed custom fabrics, including the famous dot pattern, to bring the level of craftsmanship to their work that differentiated it. As a pair, they teach us what attention to detail can afford your work.
"The details are not the details, the details make the product."-Charles and Ray Eames
Pernilla Ohrstedt's Silhouette Tables

The contemporary London-based Swedish architect created the Silhouette custom-designed tables for Dezeen's new office with a vision of a "clean, vibrant and efficient newsroom". Functional features of the table include a cubby hole on the underside, AC charging units in the center, and an ability to extend the table to a longer length for a more formal meeting. The black metal legs supporting the piece are intentionally offset from the table's edge, shifting each person's workspace off-center, so looking across the office to communicate with one another is natural; Dezeen's vision of "open space" is achieved. Ohrstedt's thoughtful design illustrates well, how "custom" brings a client's vision to fruition.
Frank Lloyd Wright's Peacock Chair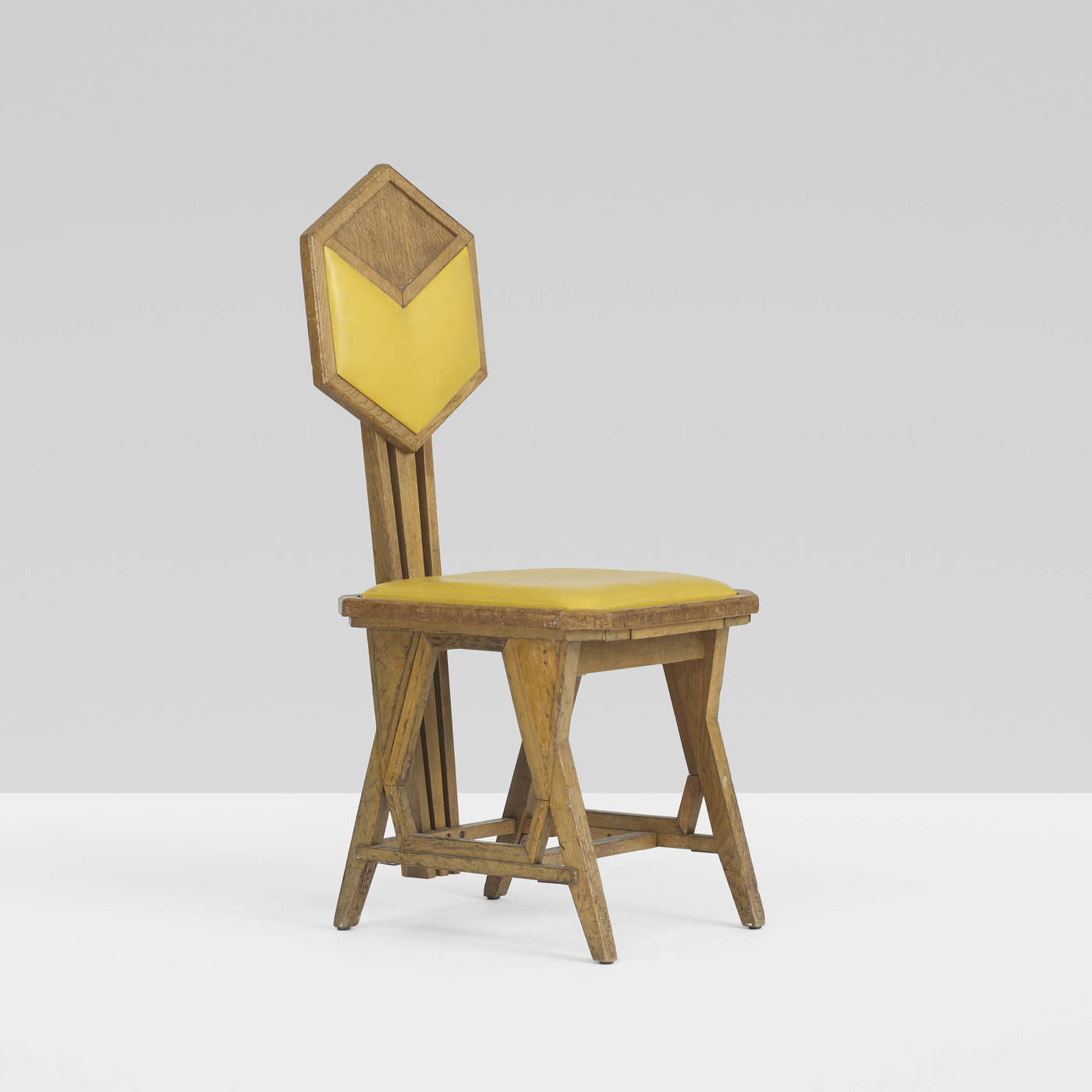 One of America's most influential architects and interior designers, Frank Lloyd Wright built his works with a design philosophy that form and function are one — a principle with great power when applied to the commercial interior design. He treated the interior of a space with the same detail as he did the exterior framework; believing furniture to be an extension of the structure, and designing his own to furnish the projects he led whenever possible. His incredible sense for the relationship between interior and exterior inspires an even greater focus on the details on furnishings in interior design.
"The architect should strive continually to simplify; the ensemble of the rooms should then be carefully considered that comfort and utility may go hand in hand with beauty."-Frank Lloyd Wright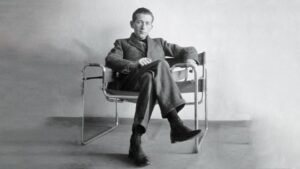 Marcel Breuer's Wassily Chair
The Hungarian-born, American architect and furniture designer is best known for his signature chairs, which earned him a spot as one of the world's most popular architects at the peak of 20th-century design. His Cesca Chair was named "among the 10 most important chairs of the 20th century" while his Wassily Chair, the first ever tubular metal chair created, earned total praise in the field of furniture design for its graceful achievement of elemental lines and planes. His inventive use of materials and technology shines a light on the role of experimentation in custom design.
"I am as much interested in the smallest detail as in the whole structure."-Marcel Breuer
David Chipperfield's Basis Modular Workstation
With the vision of a "smart and casual" desk system fit for modern work, Chipperfield created this modular, flexible, custom-designed workstation for German furniture company e15. The British architect's collection here includes a traditional-height desk and a high table with a customizable top. The tables can stand individually or be linked together, supporting both solo and collaborative work. The individual workstations can also be rigged with a variety of wire management options, as well as partitions that function both as acoustic walls and magnetic pinboards. The reduced design does well in illustrating what a bespoke workstation can achieve for the functional and creative needs of a workspace.
"Focusing on the needs of creative and functional work environments, Basis workstation is a smart and casual desk system stripped back to the essentials while featuring the pure use of material and craftsmanship…"-e15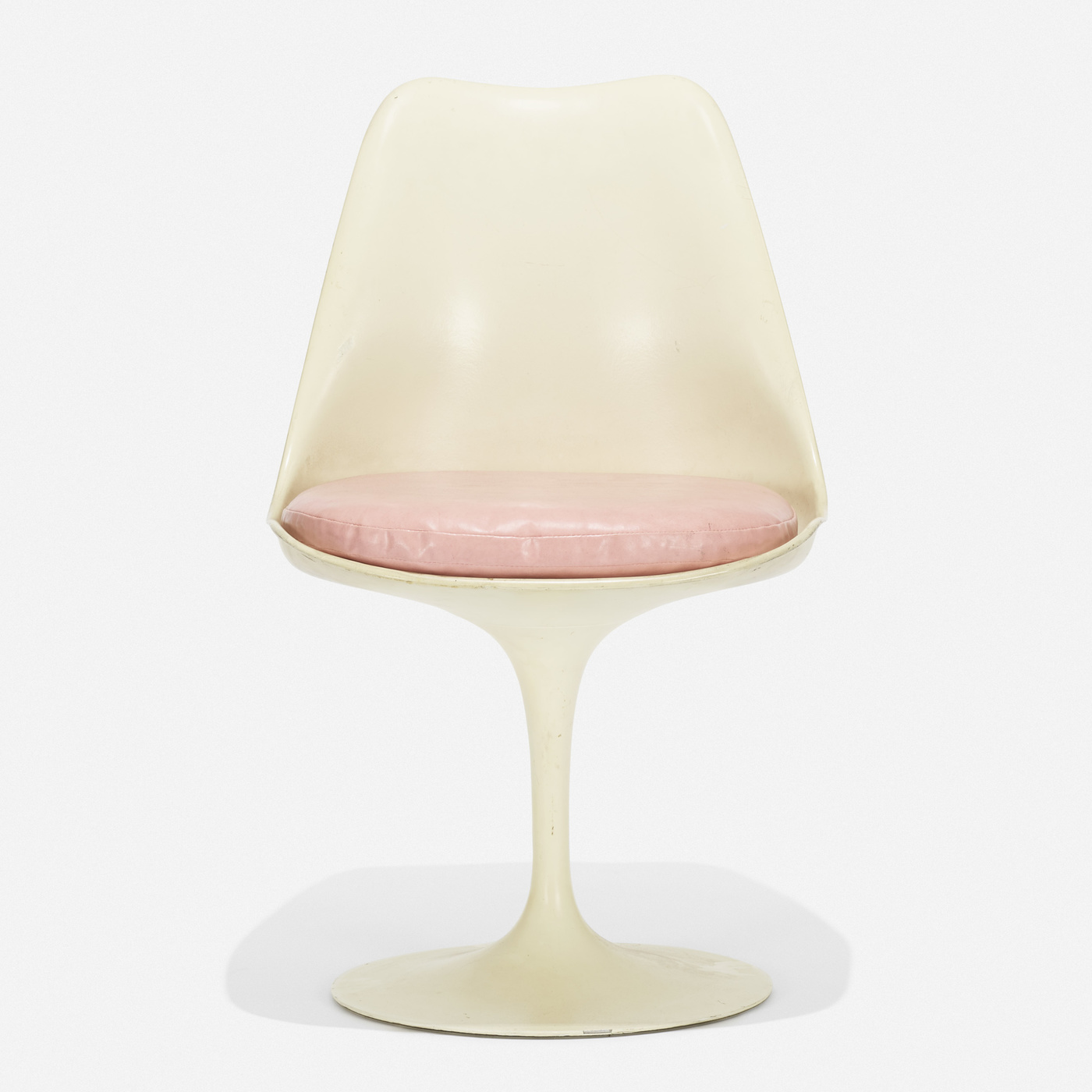 Eero Saarinen's Tulip Chair
The Finnish American architect and industrial designer behind the Washington Dulles Int'l Airport approached furniture design with the same zeal as he did architecture, receiving his first wave of recognition for the Tulip Chair which was designed in partnership with Charles Eames. Other recognizable furniture pieces of his include the "Womb" chair and ottoman and the "Womb" settee, side and armchairs. Both sets are considered classic pieces in office furniture.
"I have come to the conviction that once one embarks on a concept for a building, this concept has to be exaggerated and overstated and repeated in every part of its interior so that wherever you are, inside or outside, the building sings with the same message."-Eero Saarinen
Johan Kauppi and Bertil Harström's Sabine Office Furniture for Glimakra
Swedish designers Kauppi and Harström teamed up for this sound-absorbing, room-dividing line of office furniture pieces, launched by Glimakra. Each configurable and customizable piece is shelled in a molded polyester felt with foam to create that "quiet" key to the success of an open office plan. This particular collection includes partitions, desks and storage units — which can be linked together in various configurations, and are customizable down to the felt material, storage unit dimensions, and style of the leg to each storage unit (solid ash, aluminum wheel, or metal frame). With the guidance of an acoustics professional, the duo has created a completely customizable workstation.
"The need is well defined – open floor plans in general and activity-based workplaces in particular, need to be supplemented with specific products to achieve a functional acoustic environment…"-Kauppi and Harström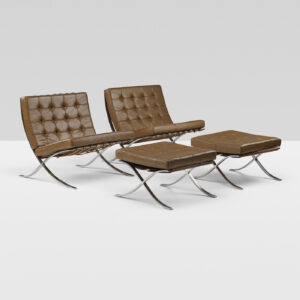 Ludwig Mies van der Rohe's Barcelona Chair
Commonly regarded by his surname, Mies, this German-American architect stood tall among Alvar Aalto, Le Corbusier, Walter Gropius and Frank Lloyd Wright in recognition as one of the trailblazers for modernist architecture. His style is marked by clarity and simplicity, as revealed in the Barcelona chair, designed for the 1929 World Exposition. He sought to realize craftsmanship, a rich combination of traditional luxurious fabrics and chrome frame, and a stark separation between supporting structures and surfaces in his pieces — all with the guiding discipline of his favorite maxim: "less is more.".
"A chair is a very difficult object. A skyscraper is almost easier. That is why Chippendale is famous."-Ludwig Mies van der Rohe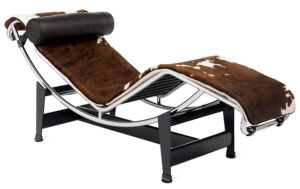 Le Corbusier's LC4 Chaise Lounge
The Swiss-French architect, designer, and servant to modern architecture relied on ready-made furniture to finish his projects up until 1928 (23 years into his career), when he shifted to
experimenting with office furniture designs of his own beside creative partner Charlotte Perriand. The classic Chaise Longue, co-created with Perriand, would be the most recognizable pieces to result of this experimentation. It is "built for relaxation" and seen as the "definitive chaise lounge".
"The purpose of construction is to make things hold together; Of architecture, to move us." -Le Corbusier
Frank Gehry's Wiggle Side Chair
Gehry's works are noted as some of the most important of contemporary architecture. His time spent at his grandfather's hardware store in his youth inspires his current use of corrugated steel, chain-link fencing, unpainted plywood, and other utilitarian materials. This passion for experimenting with the bounds of design applies just the same to furniture design; Easy Edges — the name given to his series a furniture designs from 1969-1973 — brought public recognition through the 1970s for how it creatively leveraged the versatility of cardboard. Gehry continues to experiment with furniture, some of his most recent works including the Frank Gehry Furniture Collection; modular office furniture pieces composed of abstract shapes, sleek surfaces, and flowing lines.
"A lot of people don't get it, but I design from the inside out so that the finished product looks inevitable somehow. I think it's important to create spaces that people like to be in, that are humanistic."-Frank Gehry
Jean Prouvé's 1940's Office Furniture Collection
Jean Prouve was a French, self-taught architect and designer who developed skill in architectural, industrial, structural, and furniture design over the course of his career. His contributions to office furniture include his Standard Chair, the Compass Desk, the Potence Lamp, and the Bibliotheque. Though his work is somewhat unknown in the design world, updated versions of his original designs for a modern office furniture collection — chairs, desks, tables, cabinets, desk lamps, and wall-mounted reading lights — have been recently reproduced by select manufacturers on account of the collection's functional and stylistic appeal.
"Never design anything that cannot be made."-Jean Prouvé
"Custom": The Key Ingredient for Building a Legacy Through Design
The most influential architects and designers tapped into their wells of creative energy to contribute work across all realms of the built world: structural, architectural, product, furniture design… Some considered their time in the office furniture arena only an experimental "dabbling" — but, with a disciplined ethic of work and gift of vision, still inadvertently created signature pieces that gave deeper roots to their legacy.
And it is at this nexus of experimentation and vision that we see how "custom" is a powerful ingredient for the phenomena of inadvertent legacy-building. Bespoke, co-created furniture options bridles this creative energy behind legacy-building to do what it does best: to create. Bespoke gives the designer command over every detail of the project: the finish on the desktops, the style of handles on the cabinet drawers, the slope to the office lounge chairs, and the drawer configuration to the storage units. With command over each shape, line, form, color, and feel; a designer has the honor and joy of completing a space with its furnishings rather than filling it with standard, ready-made pieces.
Modern Manufacturing:
Fast
, Affordable Customization
"The machine has liberated the beauties of nature in wood…"-Frank Lloyd Wright
Meeting budget and timeline is imperative. And to most, custom furniture equates to longer lead times, and a greater expense — especially custom office furniture with its complexity of functional requirements.
The concern is, of course, valid, and the stigma associated with "custom" (as equating to expensive and timely) is understandable; manufacturing custom office furniture did not even begin to become accessible or affordable to the masses until the turn of the century.
But advancing manufacturing processes have made bespoke, co-created office furniture accessible; "custom" is no longer reserved for those free from the constraints of time and money. Commercial interior and design and architecture firms have the opportunity to co-create their custom work on budget and timeline. With Formaspace, this opportunity is made better with the support of our in-house ID&E team to direct the process steadily along, from ideation to delivery or installation.
Design: The Essential Vision Behind Co-Created, Original Spaces
Design is the essential vision behind any space that serves its people.
And in our modern age, we have command over every aspect of the designs we bring to form in the world. This gives us a great opportunity to build signature work — such as the Eames's molded plastic chairs. It may be difficult, but certainly not impossible, to imagine leaving such a mark as theirs. To walk into an institution, for instance — a school, coworking space, office, university, or hospital — to find reproductions of a chair, table, or desk by your original design.
Not impossible to imagine, certainly, because modern technology makes custom office furniture co-creation accessible to all on the stage of architecture and design. And difficult only because we never know when our creations will strike a major chord with the public at large.
And in commercial interior design, with the advent of affordable bespoke furniture options, this opportunity to co-create signature pieces that might 'wow' the masses is made just as fast and economical as standard furniture delivery. And, perhaps most importantly, the process is made enjoyable, on account of the quality partnership between the A&D team and our ID&E team; a crew of professionals who respect the work and take on the vision as if it were their own.