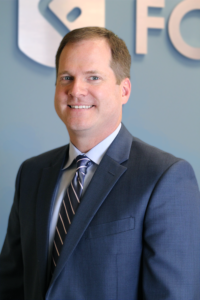 Austin-based furniture design and manufacturing house Formaspace scored a major coup in the contract furniture world during the lead up to this month's NeoCon show in Chicago. They've recruited the highly-respected office furniture executive Frank Bucher — known for his leadership roles working with BKM Total Office of Texas, Baker Manufacturing's JRB Studio, and HNI Corp.'s Paoli and Allsteel brands — to become Formaspace's new Executive VP of Sales.
The timing is right, according to Formaspace CEO Jeff Turk. "We're really fortunate to get someone of Frank Bucher's caliber and reputation as we launch our new Weldmarx collection at NeoCon (booth #8042 7th floor) and our new Formaspace Office branding (FormaspaceOffice.com).
"We think it may take quite a few people by surprise that office furniture is now our fastest growing business segment. It's a strategic direction that builds on our traditional strengths in the custom laboratory furniture market as well as the manufacturing and shipping/logistics market, where we serve name brand Fortune 500 and Fortune 100 companies."
New Opportunities for Contract Furniture Resellers As Formaspace Rolls Out Office Business Unit and Weldmarx Collection
"Formaspace Office is recruiting a wider distribution network," says new EVP Sales Frank Bucher. "At NeoCon, we will be meeting with major office furniture dealers who know how to connect with end customers. I want them to see the new Weldmarx collection in person and talk with them about how Formaspace works hand-in-hand with our dealers to make highly differentiated solutions for their clients."
A great example is the Weldmarx collection of office furniture that makes its world-wide debut at NeoCon this month. It's a direct result of the close working relationships we've had with several of our distribution partners — a collaborative process that's been years in the making.
Take a look at the Weldmarx I desk. It's a sit-to-stand desking solution that's done right. Unlike competitive products that rely on complicated work surface lifting mechanisms, the entire Weldmarx I desk raises and lowers as one complete unit — including shelves, drawers, storage, power and lighting components. It looks cleaner while avoiding problems with complicated mechanisms that can pinch fingers, accidentally crush things like smartphones, or tangle up your network and power cables. Once you see it in action, you'll never want to work with a flimsy work surface that cranks up and down again.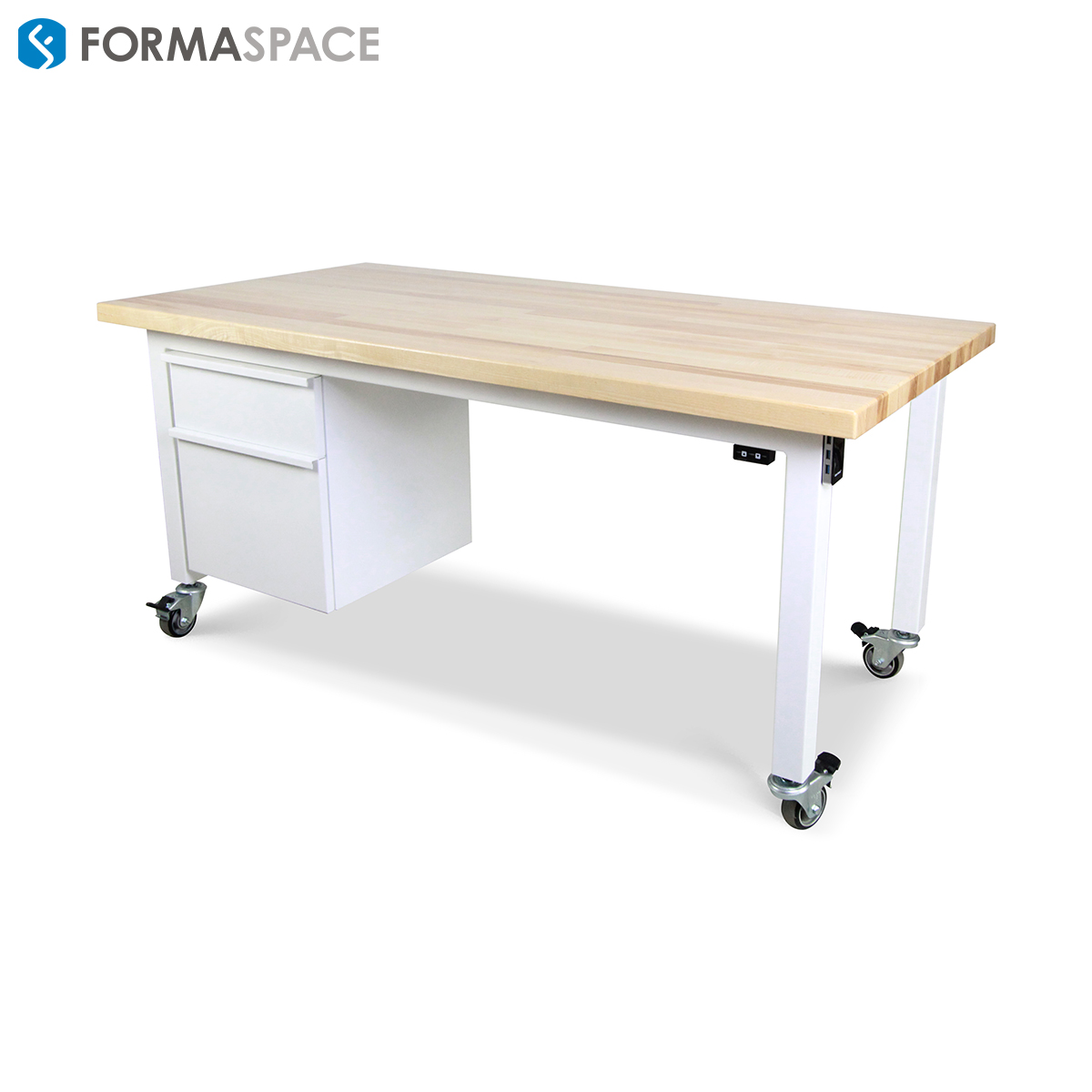 Weldmarx I is an example of a concept that came out of our partnership with OneWorkPlace in San Francisco. We worked together to create this unique product for CapitalOne's new open office facility where their software engineers develop new fintech (financial technology) products.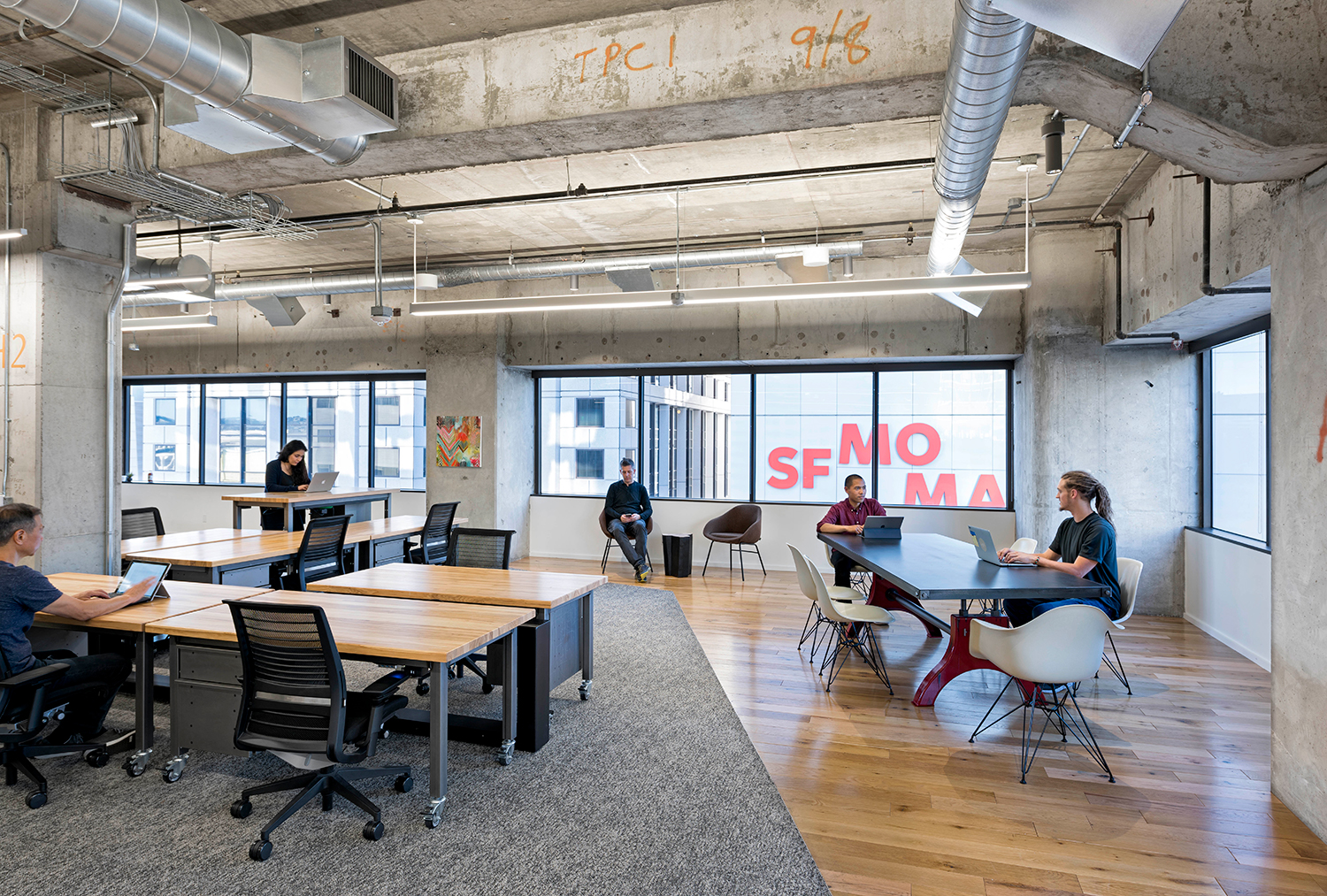 We also worked closely with TWO Furnish to create differentiated products for their customer Twitter, the micro-blogging software giant. Twitter was looking for an authentic industrial design aesthetic for their new Atlanta tech hub in Ponce City Market. Working together with TWO Furnish, we designed and built unique custom pipe-leg collaboration tables for the new Twitter Café, Lounge, and Breakout Rooms. These designs have inspired the tables and optional features found in the new Weldmarx collection as well.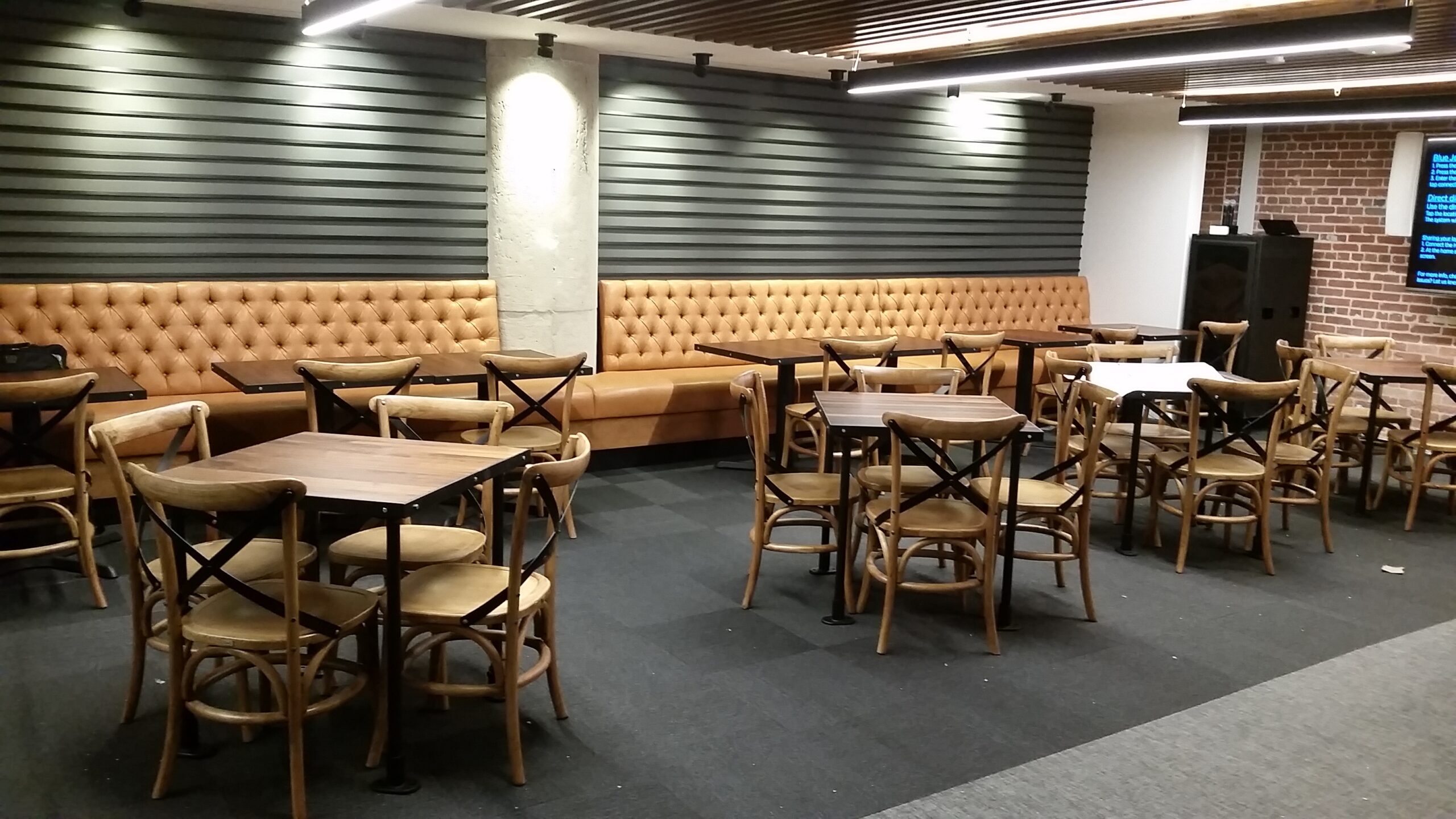 Make Way for the New Weldmarx Collection by Formaspace Office
The new Weldmarx collection from Formaspace Office makes a bold statement about the future of open workspace environments, delivering an authentic industrial look that's inspired by our heritage as producers of heavy-duty, industrial furniture built for use on the factory floor.
This new portfolio of office furniture features a coordinated system of mix-and-match components, all designed to work together to create a full range of work setting solutions — including individual private workstation areas, flexible and informal touch-down spaces, collaborative open desking and benching environments, employee break rooms, and cafeterias, and executive conference rooms kitted out with our unique industrial conference tables.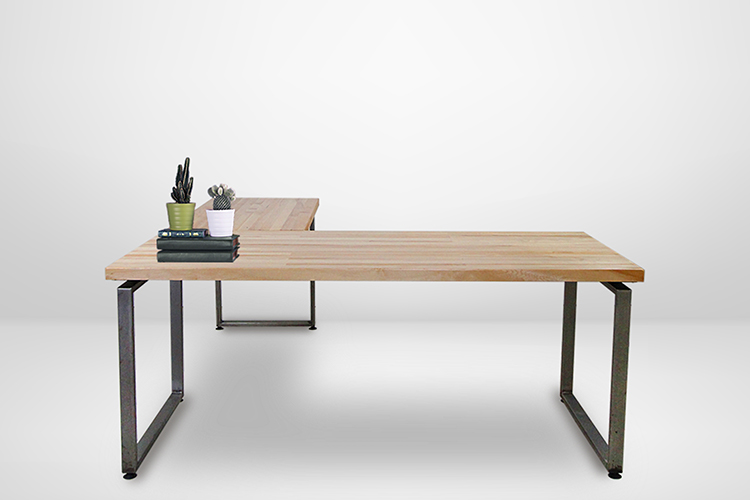 "I invite you to check out the Weldmarx collection in person at NeoCon in booth #8042 on the 7th floor," says Frank Bucher. "If you can't make it or would like to refer to the customization options, take a look at our new website www.FormaspaceOffice.com, where you can review all the standard options for Weldmarx products, as well as apply to become a Formaspace Office dealer."
At Formaspace, We Manufacture Your Creative Ideas℠
What if you want to create a one-of-a-kind signature piece of furniture?
In a world where customers are looking for authentic products and solutions, Formaspace can build custom furniture —made-to-order — based on your unique design specifications.
For resellers, this is like having a secret weapon in your arsenal to win over customers — Formaspace serves as your own personal factory that stands ready to build highly differentiated furniture you won't see anywhere else.
"To show off our bespoke product manufacturing capabilities, we're bringing two examples to NeoCon this year," says Greg Casey, Formaspace's VP of Industrial Design and Engineering. "The first piece is a stunning executive ping pong table made of solid African Mahogany hardwood — and we've made matching hardwood ping pong paddles to go with it. The ping pong net itself is crafted from an industrial perforated metal material. As a bonus, the entire table can be detached to form two height-adjustable conference tables when needed.
We'll also be showing a custom, height-adjustable trapezoidal conference table made of walnut, tricked out with a hidden console under the surface that rises to reveal an LED illuminated control panel with built-in Bluetooth controls, HDMI video connections, USB ports and power supply connections. We're very bullish on trapezoidal conference table designs because they allow meeting participants to view presentations without having to lean forward to get a proper view."
Formaspace Builds What the Industry Desperately Needs: Differentiated Products

— Jeff Turk, Formaspace CEO
To learn more about Formaspace, visit their booth at NeoCon (#8042 on the 7th floor of the Merchandise Mart) or visit FormaspaceOffice.com to see details of the new Weldmarx office collection.