Communication plays an unsubstitutable role in the world of modern work. As technology changes the way we interact in real time, at lightning speed, the nature of communication in the workplace changes in tandem. And we've become more appreciative for this role it plays in connecting and aligning our diverse teams who are often geographically dispersed.
And so maintaining communication effectively day in and day out has become critical.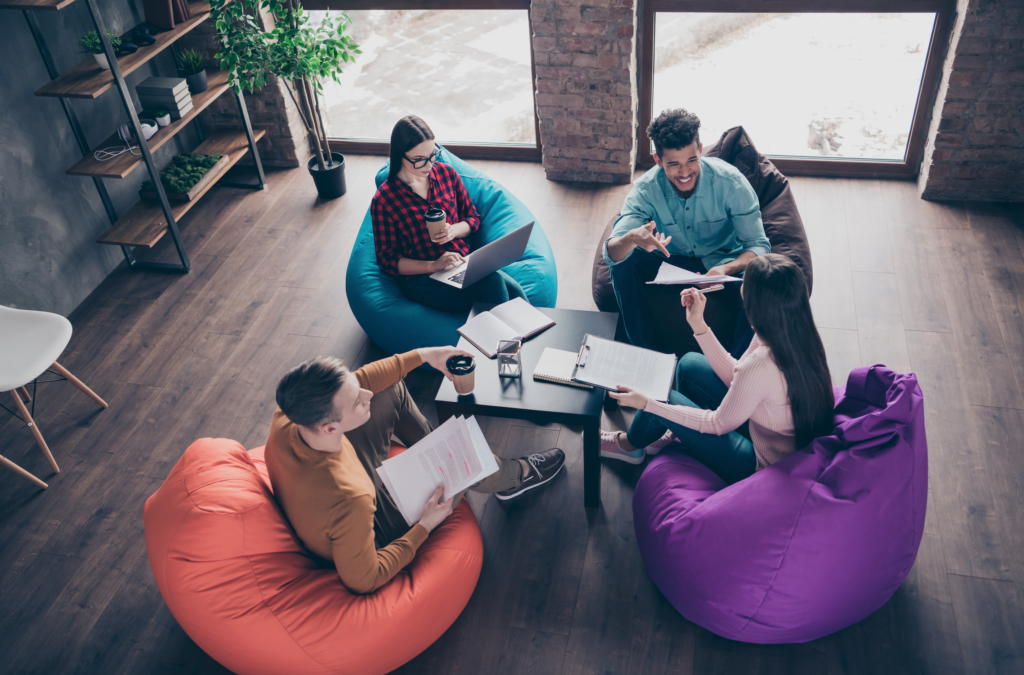 As both communication and collaboration are at a premium, we're asking more and more of the commercial office in terms of the role we expect it to play in facilitating both, by its design. To boot, according to our Work Life Awareness Survey, despite the trend toward co-working and working from home, the majority of millennials—the largest generation in the workforce—still prefer to work in the office. This means that there is both great power and potential within the office's design.
And because less time is spent in the office and a growing proportion of the workforce is demanding a work-life balance liberated from working after hours, the time spent on-site at the office is invaluable, and fulfilling this potential through good design, technology, equipment, and furniture is paramount. The following article outlines a few promising methods of design in creating an office that promises better communication and collaboration in the workplace.
Place flexibility at the center of the design philosophy for a space that adapts
The modern office should be built to flex in every sense; capable of adapting with the ongoing shift in how we communicate and collaborate. This 'flexibility' can be built into a working space through the following features and methods:
'Zone' the office's working areas to support varied working styles for optimal communication at work
Collectively, an office's working spaces should comprise an artful and intentional mix of quiet, dedicated workspaces and open, shared workspaces designed for collaboration. This mix lends a powerful competence for supporting work in its dynamic forms—and embracing communication and collaboration. Quiet, dedicated workspaces can take the form of silent or soundproof work areas, conjoined and alterable cubicles, napping pods, and traditional individual workstations. While open, shared areas designed for collaboration can take the form of huddle rooms and pods, and meeting and conference rooms.
"73% of employees think their organisation would be more successful if they could work in a more flexible and collaborative way."-Google for Work
This mix of work area styles allows workers to find the level of privacy, noise level, and focus that best serves the work task at hand, whether solo or collaborative. Having this choice over every detail of your working atmosphere is a strong contributing force to the kind of positive morale that unlocks authentic, flowing communication and collaboration and drives progress.
For an idea on the form of this mix, consider an array of the following styles of workstations and set-ups, each with elements in their build that foster both communication and collaboration at work. Notice the feature of the sofa within the collaboration area—a style of furniture not to be written off, for it brings levity and relaxation to the space.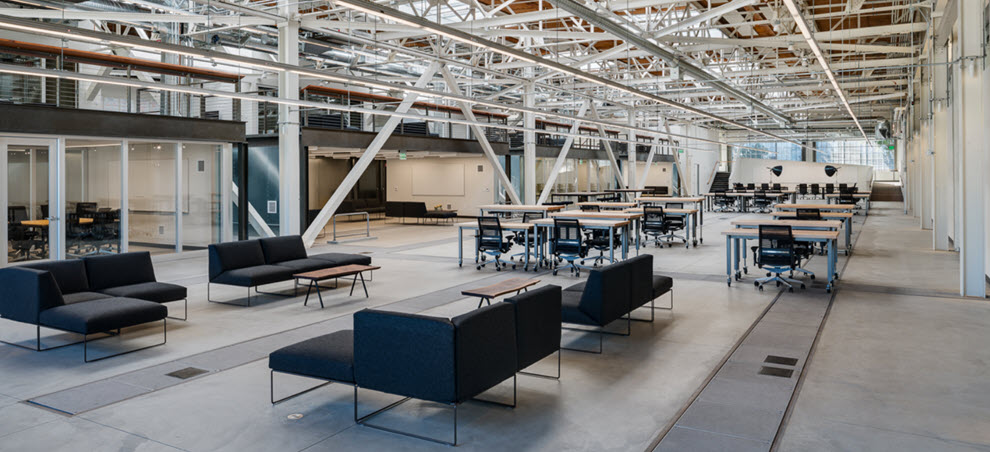 Use modular furniture; configurable as times and needs change
Opting for a tilting training table and putting it on wheels for maximum maneuverability is an excellent example of implementing 'configurability' within the space's interior design. Opting for height adjustable working desks, manually operated by hand crank, and easily fixed at the ideal height for any variety of user is another tactic. Seeking out furniture that adjusts, tilts, collapses, rolls, and reconfigures is the key here.
Make collaboration at work mobile through the use of the right tools
Tools designed for collaboration should be close at hand wherever and whenever collaboration needs to spark. The mobility here is a principal key to driving raw, thorough communication of organic ideas that can mature into sound solutions and strategies. When we talk about mobile collaboration tools, we're talking about pegboards and whiteboards and the kind of tools that deliver on the promise of 'flexibility' in their mobile, modular, configurable, adaptable nature.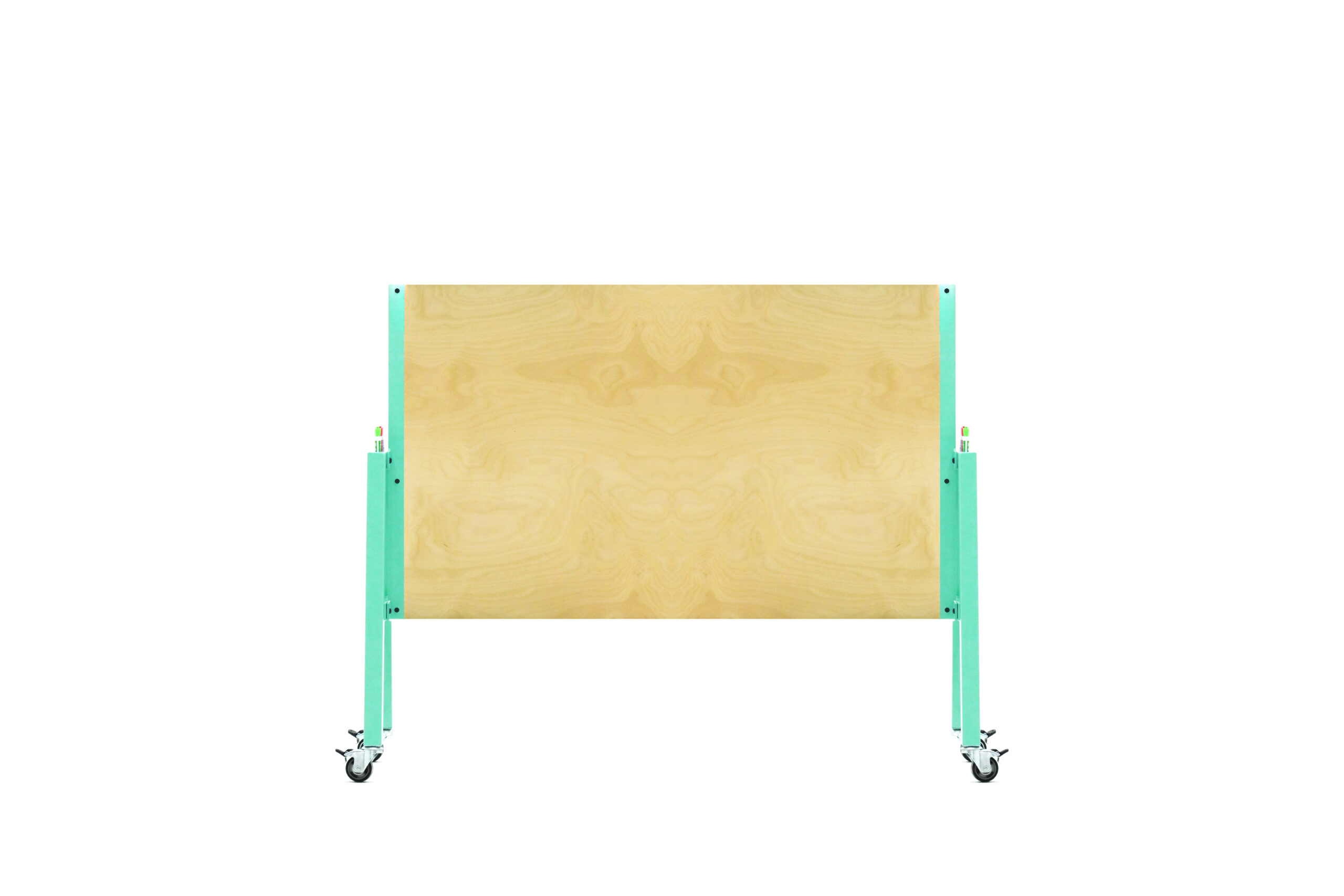 The use of wheels and casters in communication boards such as these is a simple method of making communication mobile and fostering greater communication and collaboration through office design.
Design for relationship-building across generations
Designing office spaces that support communication and collaboration is the challenge raised by the workforce being multi-generational. Five generations are now working together, each with their own preferences for communication. Differences here can lead to disconnect and tension as parties fail to understand one another. This tension can be avoided or amended by designing for relationship-building within the space.
One strategy for combating this is to complement the work-denoted spaces with communal, ancillary spaces that are meant for relaxation, conversation, and social connection. By engineering vibrant and natural areas, such as patios, lounges, and kitchen cafes meant solely for taking a break from work and connecting with one another, colleagues are encouraged to create deeper relationships with one another. This critical feat of relationship-deepening is what allows individuals of differing backgrounds to better understand how each communicates, nuances and all.
These kinds of spaces are best realized if complete with furniture built to support the endgame of bountiful social connection.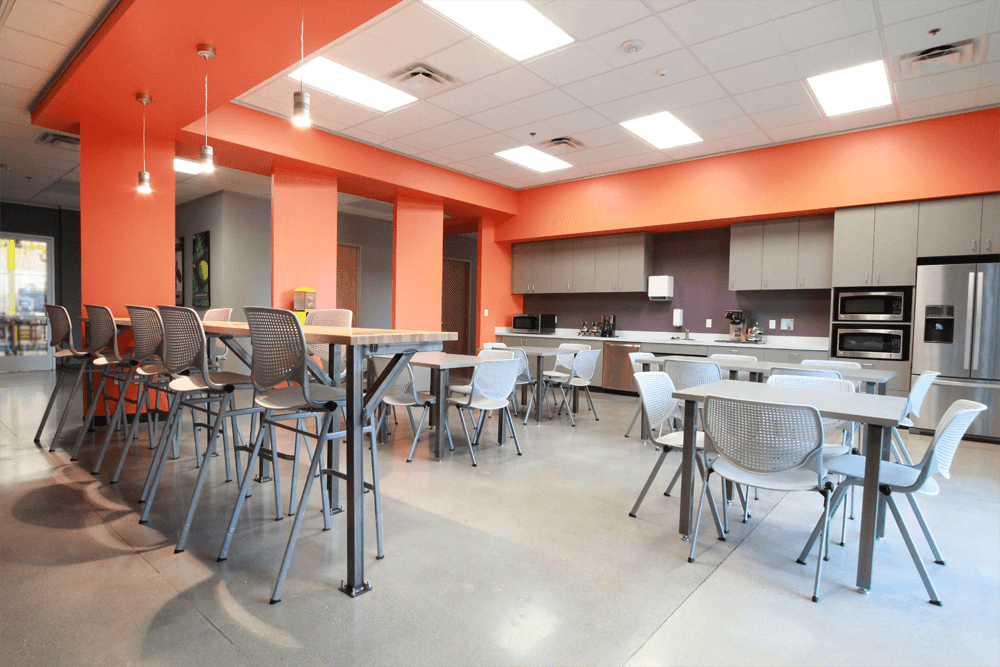 Another strategy for designing an office space fit for relationship-building is to make the space partially open (free of dividers) to foster spontaneous, water-cooler-style conversations. Spontaneous conversations and chance encounters with co-workers—an idea so important that it's been coined 'culture-collision'—are valued aspects of modern office coworking because they seed new relationships between colleagues from disparate departments. Enriching these relationships across departments is a strategic means of improving communication organization-wide through connection.
Take note of the furniture below, designed with this divider-free element of the open office; an element that stirs this natural, spontaneous conversation across teams and colleagues.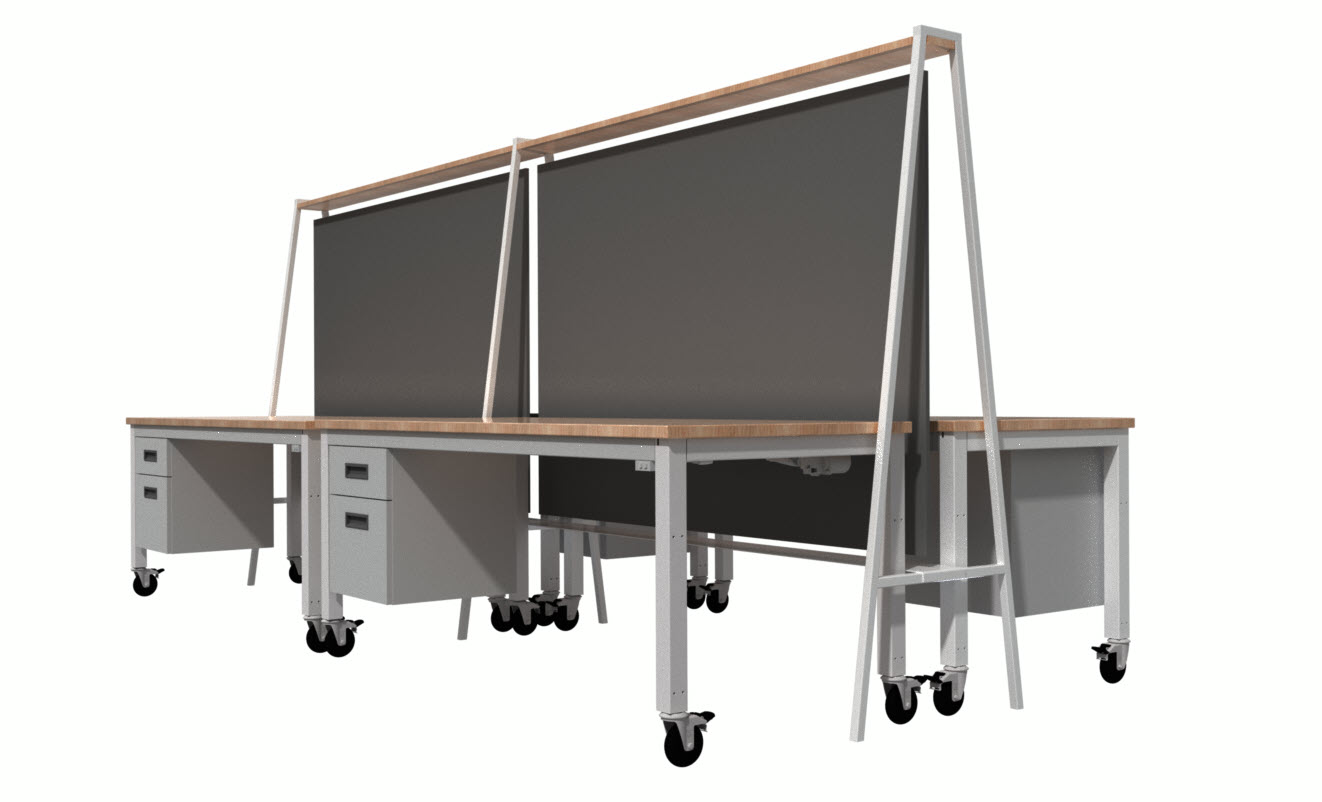 Another consideration is to design for 'fun' at work. Having fun has been proven to improve relationships at home for years—and fun activities at work improves relationships with co-workers in the same way, helping to develop bonds with colleagues that contribute to improved performance and productivity. Additionally, 'fun' improves our cognitive functioning; the reduction of stress that results from doing something enjoyable improves memory and concentration.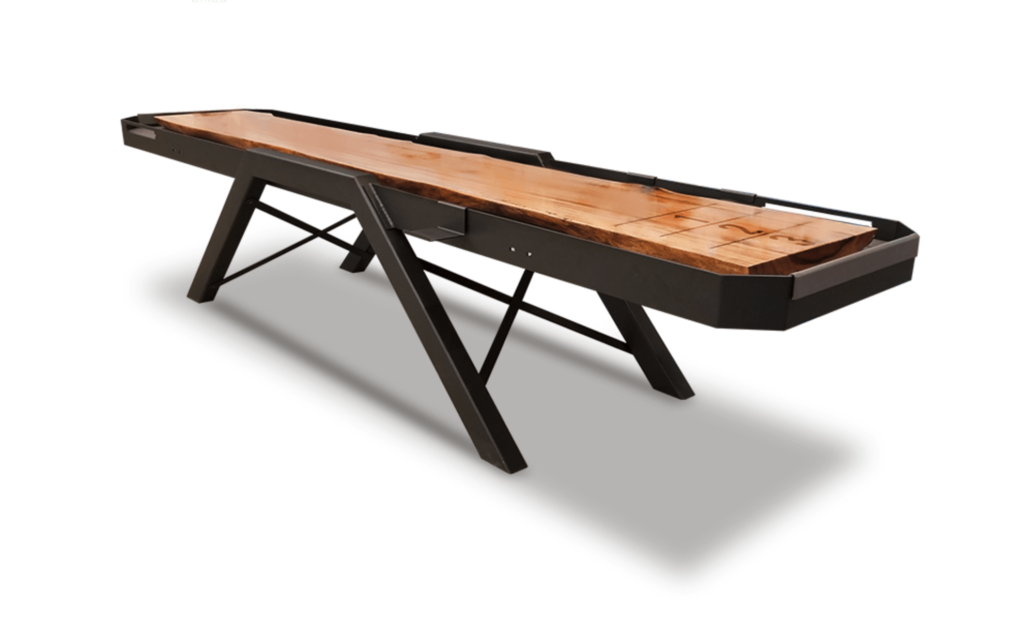 This stunning shuffleboard table, custom-designed by the Formaspace team, was showcased at last year's NeoCon. The pecan live edge slab top, leather insets, built-in USB ports, modular phone and drink trays, and custom frame inspired by the Austin-famous Pennybacker Bridge earned the piece much admiration from the crowd for its elegant yet pragmatic design.
"Fun in the workplace is good for your state of mind, according to our survey. Employees who took part in fun activities in the workplace were 'significantly more likely' to feel a greater level of psychological wellbeing than those who hadn't."-BrightHR, It Pays To Play survey
Curious what role furniture can play in this creation of adaptive spaces that cater to both to work and play? Check out our #NETWorking 5-in-1 Ping Pong Conference Table below that adjusts to support either sitting or standing solo work, small group collaboration, or a game of ping pong.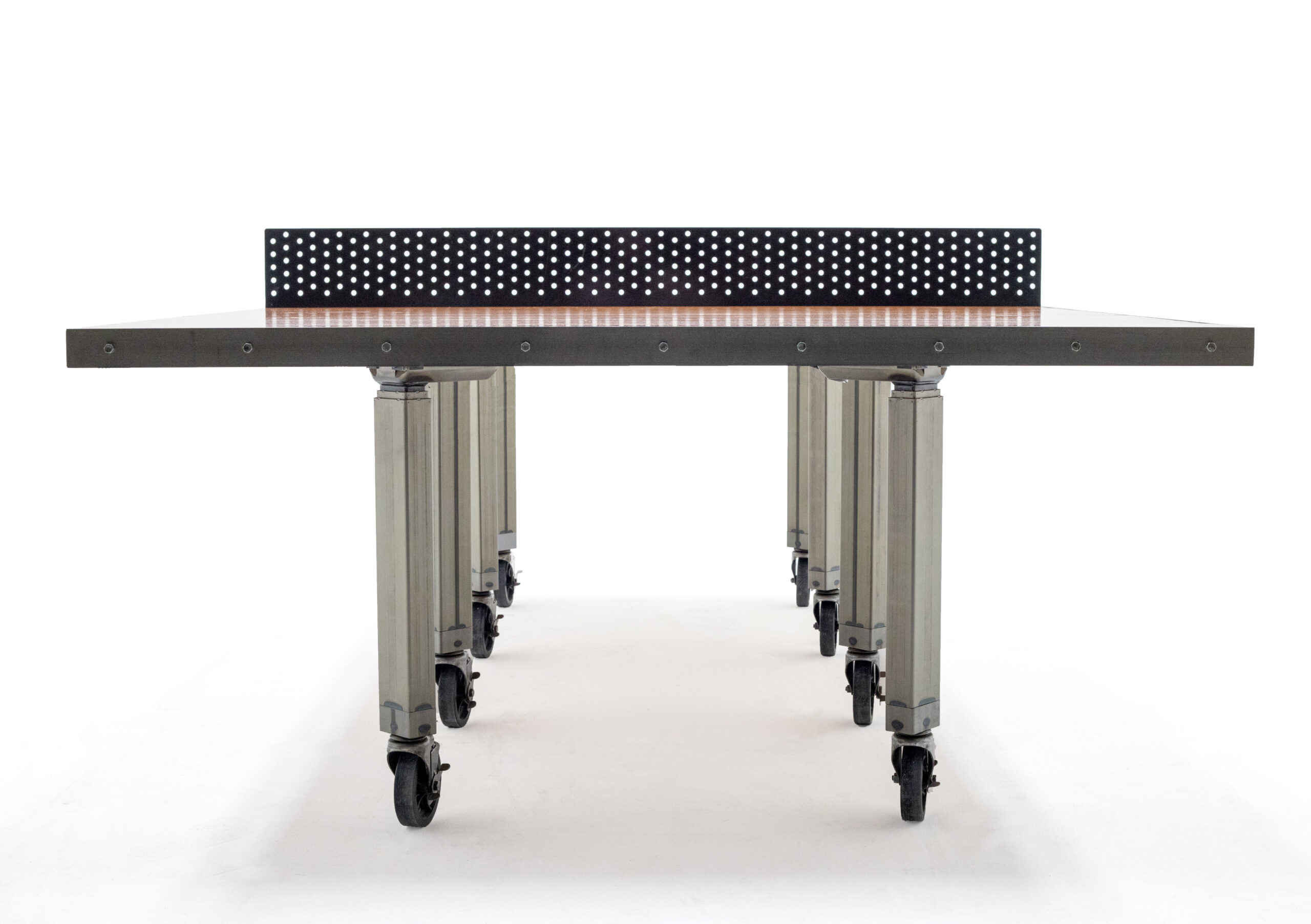 Make tech accessible within the office's build
Technology is the tool of all tools that unlocks communication and collaboration if leveraged properly.
"Technology is best when it brings people together."-Matt Mullenweg, developer of WordPress
Again, millennials have the greatest preference of all the generations for being able to seamlessly switch between devices in the office—mobile devices, personal computers, and displays within collaboration areas—to get their work done. This preference reveals the need to make tech accessible and easily leveraged by the design of the office's space.
Simple methods here include featuring clutter-eliminating wire management and making power accessible. Easy access to power enables the kind of mobility sought to support a mobile, remote, fast-paced workforce. Accessible power can take the form of battery-powered USB ports or a power data strip or plate built into each furniture piece that is to be used for work. Cable management enclosures can take many forms and should always be built in with a methodical approach that hides the eyesore of cables and wires.
As with any comprehensive project, these kinds of details are fully expressed when custom-designed and custom-manufactured is the route taken for furnishings.
Build joy into the details through the use of light, color, and nature
Joy relieves stress and improves morale. And positive morale is proven to improve work performance; the natural product of communication, collaboration, and related work activities that depend upon positive, conductive relationships between people. An invaluable and delightfully easy way to bring more joy to the office is through color, natural light, and the inclusion of nature in design.
"Exposure to greenery and sunlight yields a 15% increase in well-being and creativity and a 6% increase in productivity."-Human Spaces. Biophilic Design in the Workplace
Natural light can be brought into and dispersed throughout the office space by removing those dividers—the physical walls, barriers, and partitions—that would otherwise block light from reaching colleagues situated away from windows. Better yet, furniture that is alterable, with partitions that can be removed and adjusted as needed, can be optioned to give workers authority over the level of privacy, noise, and light that meets their personal workstation.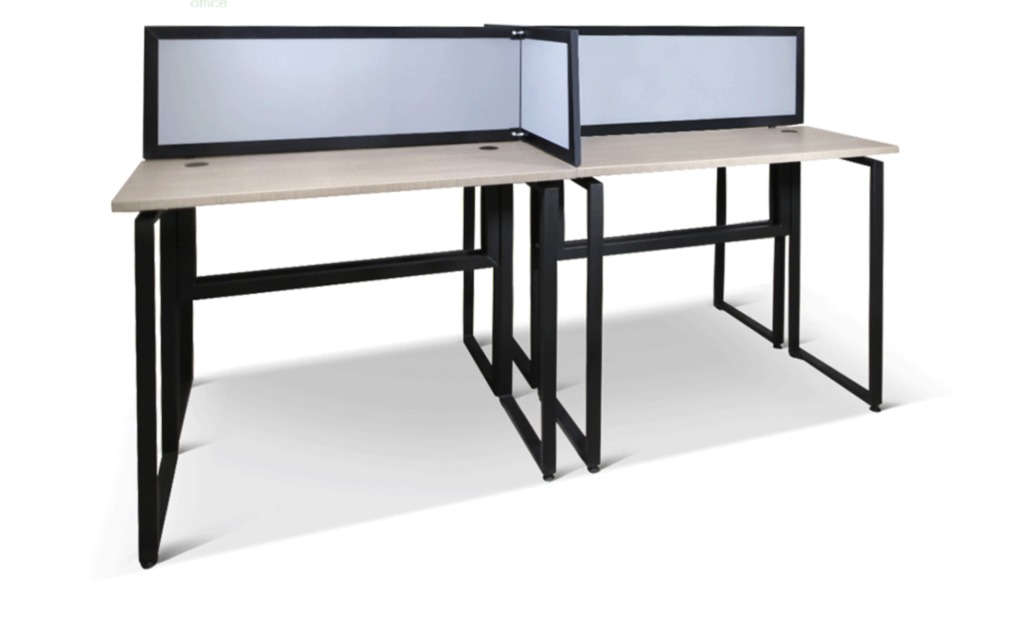 The acoustic panels attached to this standing height series benching can be stacked, allowing workers to adjust the level of privacy, noise, and light that reaches their workstation.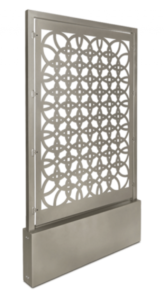 Similarly, a custom-designed dividing panel such as this one is an effective way to give each worker control over the level of privacy, noise, and light that meets their work area.
Relatedly, color is an accessible remedy to the stagnant, stifling quality of the old-school office aesthetic—one that improves morale, fostering greater communication and collaboration in the workplace. And within commercial office interior design, whether beige, bellini blue, solid grass green, regimental red, or slate grey, the core and accent colors can be expressed within the furnishing frame finishes, surface materials, and the like, to deliver this remedy subtly.
For inspiration, consider that nature can be brought inside with a furniture piece like a live edge table: a true beauty of a statement piece surfaced with reclaimed wood slab, crafted to highlight the wood's natural grain, knots, voids, and surface imperfections. Such a piece is not only a creative form of 'upcycling,' but brings nature, in one of its most impressive forms, indoors.
Nature can also be built into the detail of a commercial office's more standard furnishings: storage solutions, conference and meeting tables, and traditional desks. Take the furniture duo below: a hand-cranked conference table complemented by a custom-designed storage unit. Each is designed with space reserved solely for the display of nature.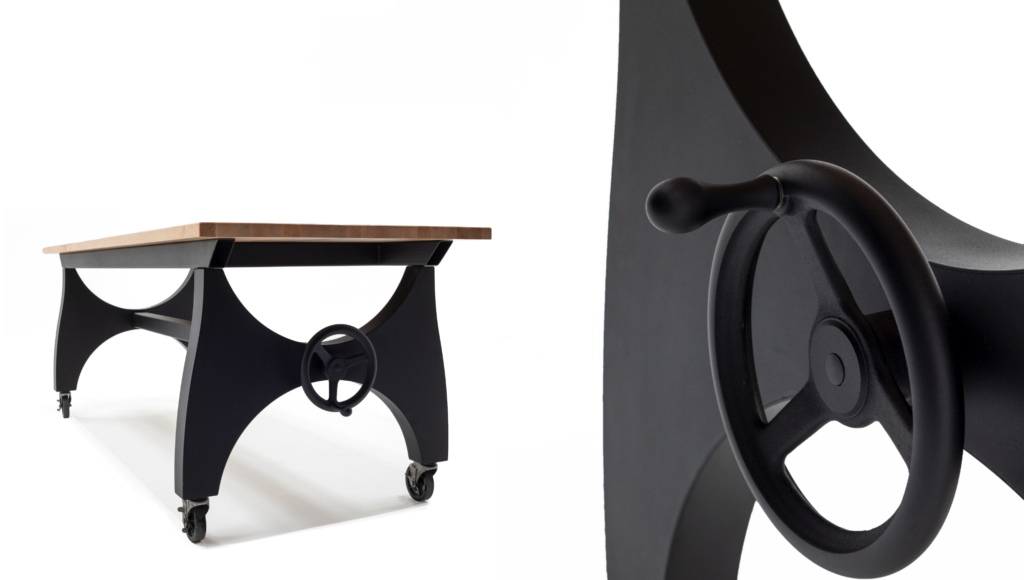 Opting for natural wood over a synthetic finish in the final build of a space's custom furnishings is another tremendous way to bring more of that restorative natural element to the office. What's beautiful about working with a custom-furniture manufacturer to complete an office space is that such details—the finish to signature furniture pieces, for instance—are true to the client's original vision through the conscientious design process. Whether walnut, oak, or maple is the wood that actualizes this original vision, the dream can be built true to itself through the details.
And it is through such details that our Industrial Design & Engineering team shines in co-creating unique, stand-out furniture solutions that delight and deliver at a rate and pace comparable to that of standard furniture delivery. Our team of experts works beside you on your project, from ideation to installation, to bring that original vision to life through custom, signature works.
Want to learn more about co-created office design?
Contact your Formaspace reps to get started on your first custom furniture project today.