Formaspace toured the international office furniture exposition ORGATEC 2018 held in Cologne, Germany. Here is our report on the top trends in European office design. 
As 2018 comes to a close, Jeff Turk, Formaspace's CEO, and Jodi Gaines, Formaspace's Office Brand Manager, crossed the pond to attend the biennial office contract furniture exposition ORGATEC 2018, which is held every other year in Cologne, Germany.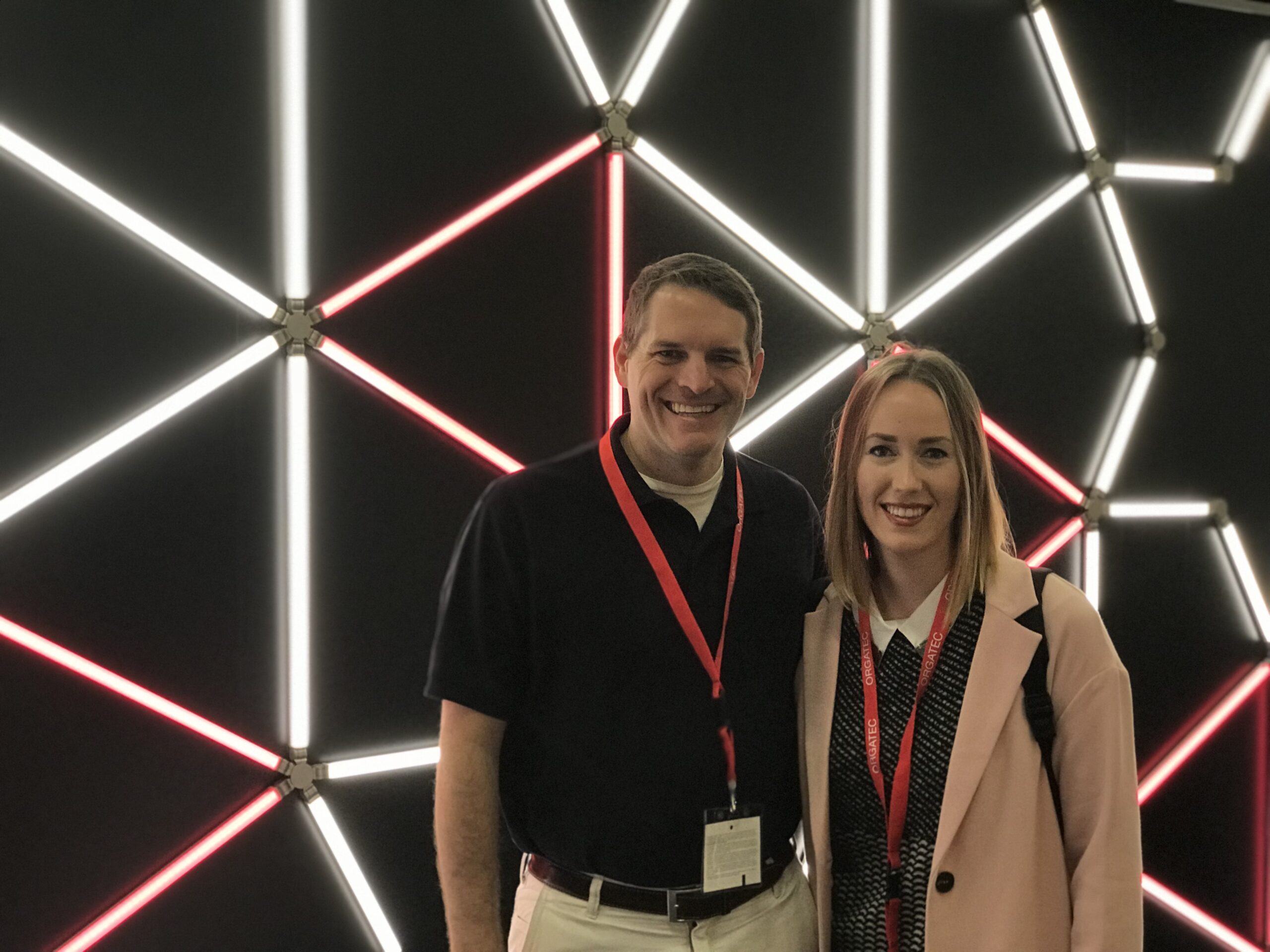 With ORGATEC 2018 taking place in October (roughly eight months before NeoCon 2019), we felt it was a good opportunity to take the pulse of current European office design trends as we prepare our new Formaspace exhibits for NeoCon 2019 in Chicago. We wanted to see if the new trends taking root overseas are similar to what we are seeing here at home or if they are somehow diverging into new, uncharted territory.
ORGATEC 2018: Rethinking Business Culture and the Future of Work
Fortunately for us, the organizers of this year's ORGATEC sought to broaden the scope of the exposition beyond just product introductions to create a conversation about the changing face of the new work culture, commonly referred to in German as "Arbeit 4.0" (Work 4.0).
So this afforded a very good opportunity for us to make the trip and find out if the major structural changes taking place in North American offices — including the rapid shift toward open-plan workplaces and the rise of "resimertial" design influences  — were trending in European offices as well, and if so, to what extent.
To add English subtitles, click "CC" on YouTube task bar and then click the settings icon. Click on "Subtitles/CC German" and select "Auto-translate" and then "English".
Robert Nehring, chief publisher of the office blog OFFICE-ROXX.de gives his impression (in the German language) of the top trends at ORGATEC 2018, including changing culture at work, the influence of communication and collaboration, "new work" spaces that exhibit a startup feeling, the return of wood materials in furniture, and the first annual ORGATEC office chair hockey competition.
Work 4.0 Means Working from Anywhere
To kick off our reporting from Orgatec, we'd like to relay the story of two designers behind the UK-based industrial design consultancy Barber & Osgerby.
Edward Barber and Jay Osgerby spent a day observing people working at their computers and smartphones while seated in the lobby of the Ace Hotel in London. Their conclusion?  "We got to thinking, there are just so many people that work this way," Barber explained to Architectural Digest. The two realized there was a market for a new product concept.
Designers Edward Barber and Jay Osgerby talk about how the nature of work is changing. They introduced their new Soft Work ergonomic sofa line for Vitra at ORGATEC 2018.
So what did Edward Barber and Jay Osgerby come up with? They hacked together a solution that combines a work desk with the comfort of a sofa. Their new concept, which debuted on the Vitra stand at ORGATEC 2018, goes by the name Soft Work. It's a structured sofa seating environment built for working. Unlike ordinary sofas, the support is firmer and the height is a bit taller. (If you roll up a standard office task chair next to it, it's the same height, for easier collaboration.) Soft Work also has built-in folding tables for use with laptops, tablets, and phones, as well as convenient power outlets and induction charging stations for mobile devices.
The experience of Edward Barber and Jay Osgerby at the Ace Hotel was not unique. In Europe, just as in North America, work happens anywhere and everywhere. Once an end-user has experienced the nomadic work lifestyle, they want more of that and less of the assigned-seating office environment. (Leading-edge hotels are reacting to this trend by increasing the size of their social/work spaces and common areas.)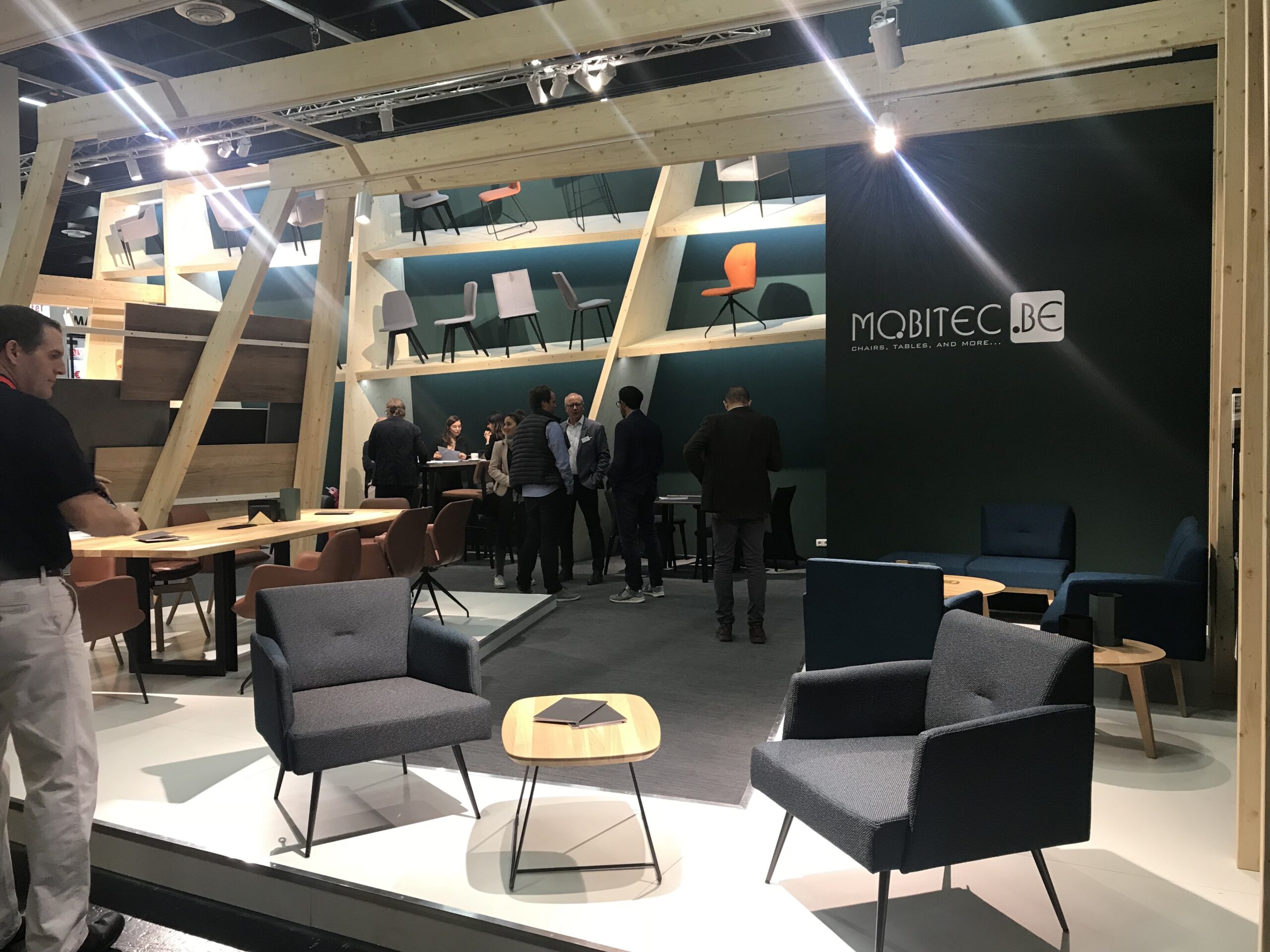 As we learned in an ORGATEC panel on the changing nature of work, employees are starting to 'hack' the workspace to fit their needs, not the other way around. When employees become empowered and take ownership of their space, it's incumbent upon architects and designers to ask themselves if the office spaces they create are saying "work like this" or "work how you want." The solution? Use more flexible, multi-function furniture so that workers can modify their environment to fit their needs. (That's a message we've been promoting for a long time at Formaspace!)
Movement Away from Traditional Office Desks in Favor of Soft Seating Solutions
As we walked around the different stands in the Cologne convention center, we realized something was missing. Office desks. Traditional desking solutions were far and few between at ORGATEC 2018. (Those desks that we did see at the show were mostly sit-to-stand versions, typically integrated with apps, such as YoYo, which allow users to reserve their workspace or to track how long they have been working at their desk.)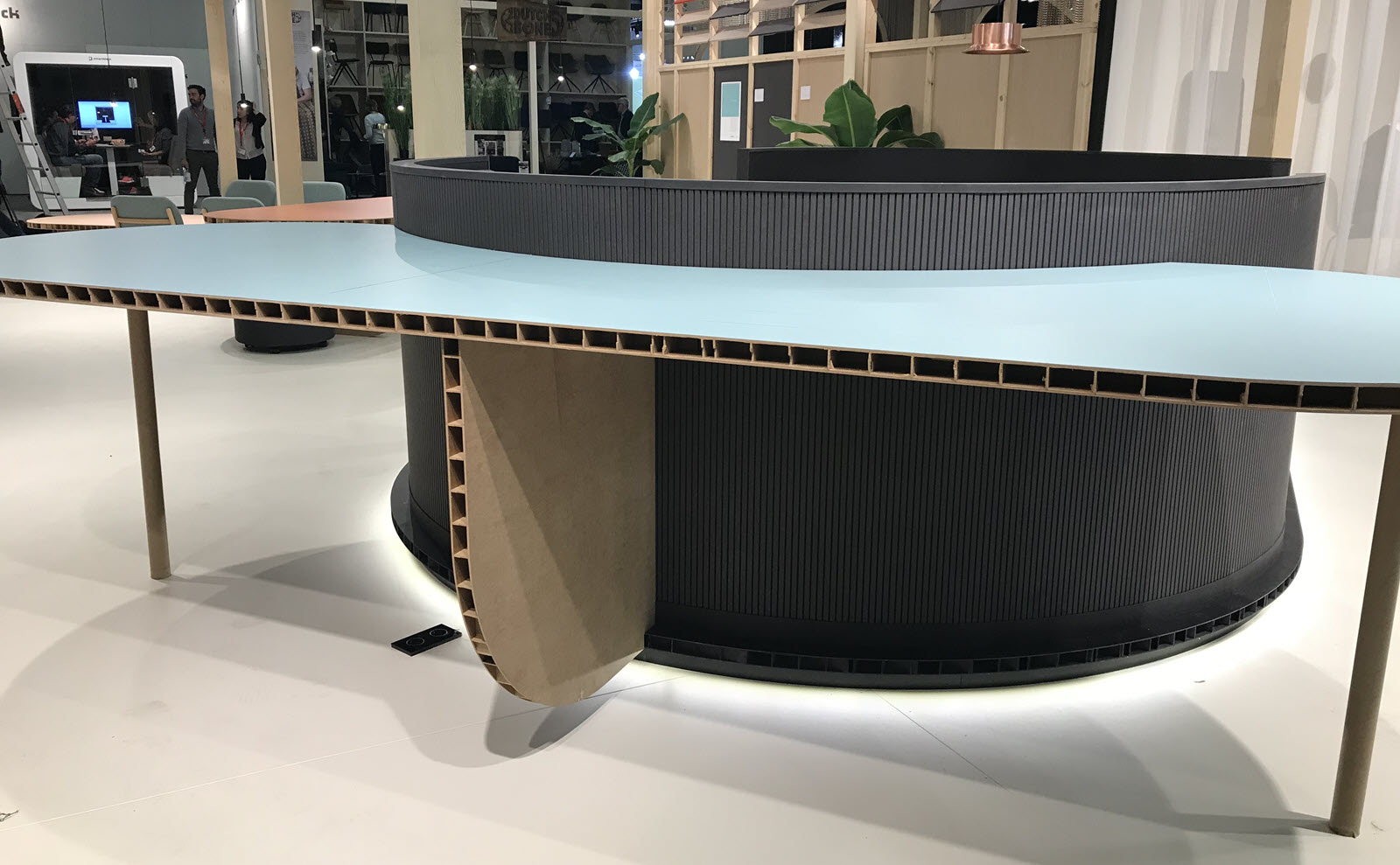 What we did see – instead of desks – was a tremendous number of upholstered furniture concepts, which, like the Soft Work concept on the Vitra stand, featured comfortable seating with integrated, stowaway table trays and built-in panels for privacy and sound control.
Indeed, the soft seating genre (which we nicknamed the "cocoon" chair concept) took the show by storm. Nearly every manufacturer seemed to offer at least one take on this concept. To illustrate our point, here is a handsome "cocoon" design, called "Plenum," by the Spanish designer Jamie Hayon that was on display in the Fritz Hansen stand. Like many other soft upholstered solutions at the show, it also features built-in power and USB connections plus a matching work table for your smartphone or laptop computer.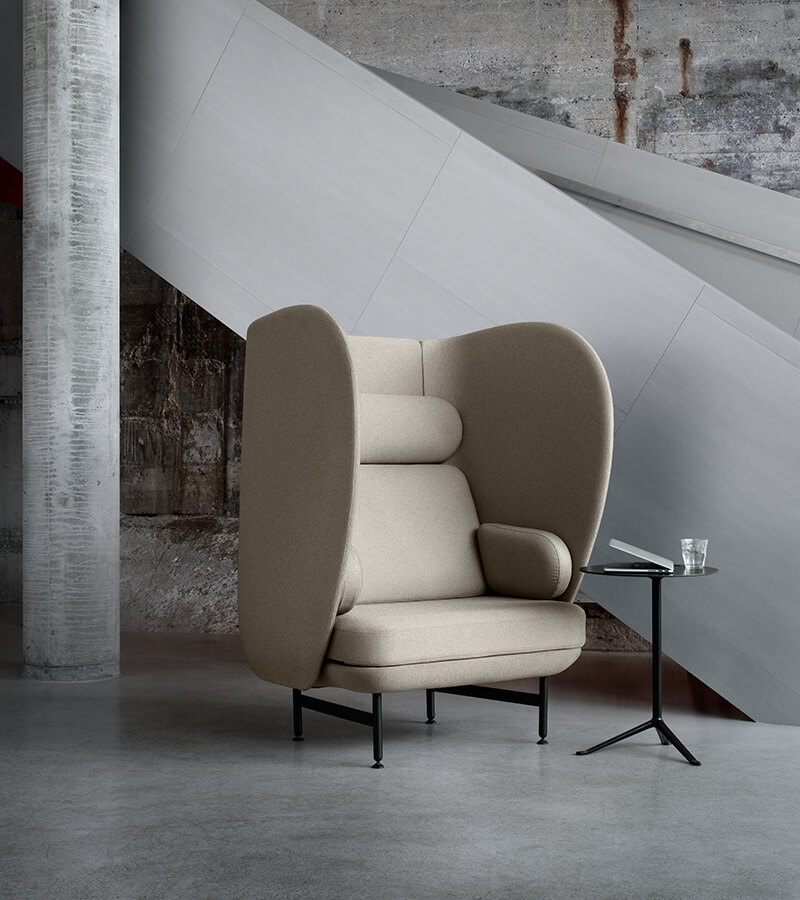 Avoiding Open Office Distractions with Room-in-Room Phone Booths and Other Novel Noise Control Solutions
As European offices move toward open-plan layouts, the issue of controlling unwanted noise and distractions is becoming more important, just as at home.
(See our report on how to reduce unwanted noise in your office.)
As we saw at the NeoCon 2018 show in Chicago, Room-in-Room solutions (often called Phone Booths) are a good way to keep conversations private (and the noise down) in open-plan office environments. There was a big push by manufacturers at ORGATEC to showcase different variations of these Room-in-Room concepts. Here are two examples: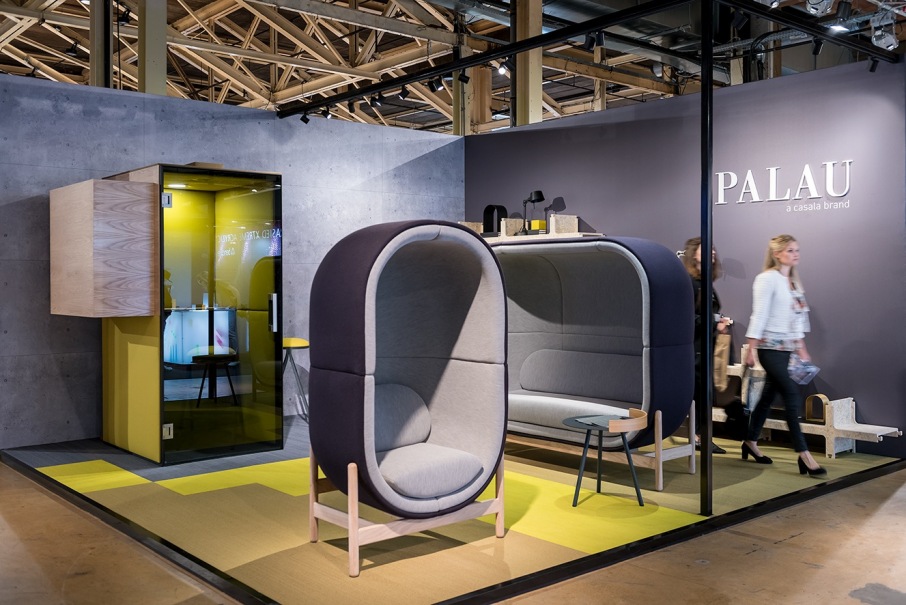 A particularly eye-catching example comes from the Dutch company Palau (now owned by Casala). Their room-in-room phone booth concept is called "Boston" (rear left). Also on display are two different examples of "cocoon" style seating by Palau.
We were also intrigued by some novel, stand-alone acoustic control products on display at ORGATEC.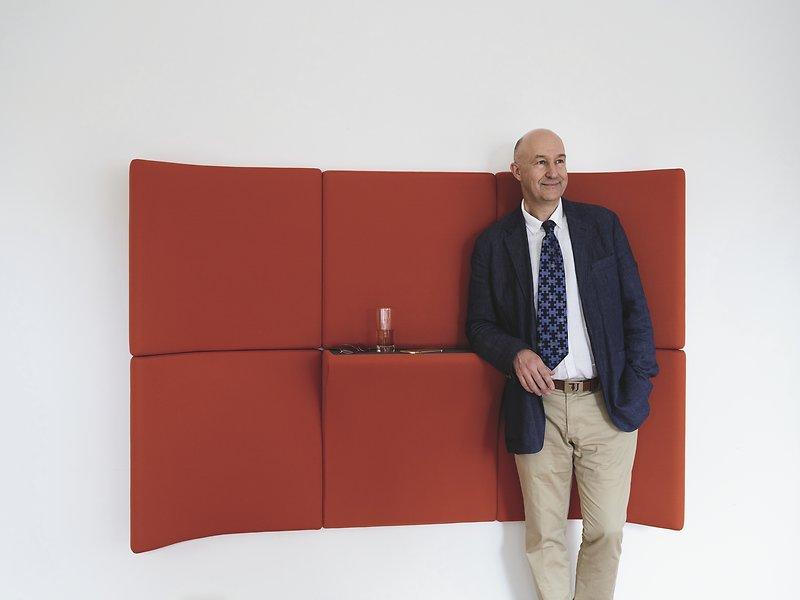 For example, the German company Wilkhahn showcased a soft padded wall solution designed for leaning against. This sound-absorbing solution can serve as a landing spot, with an optional integrated bump out shelf designed to hold your phone, tablet, or a beverage.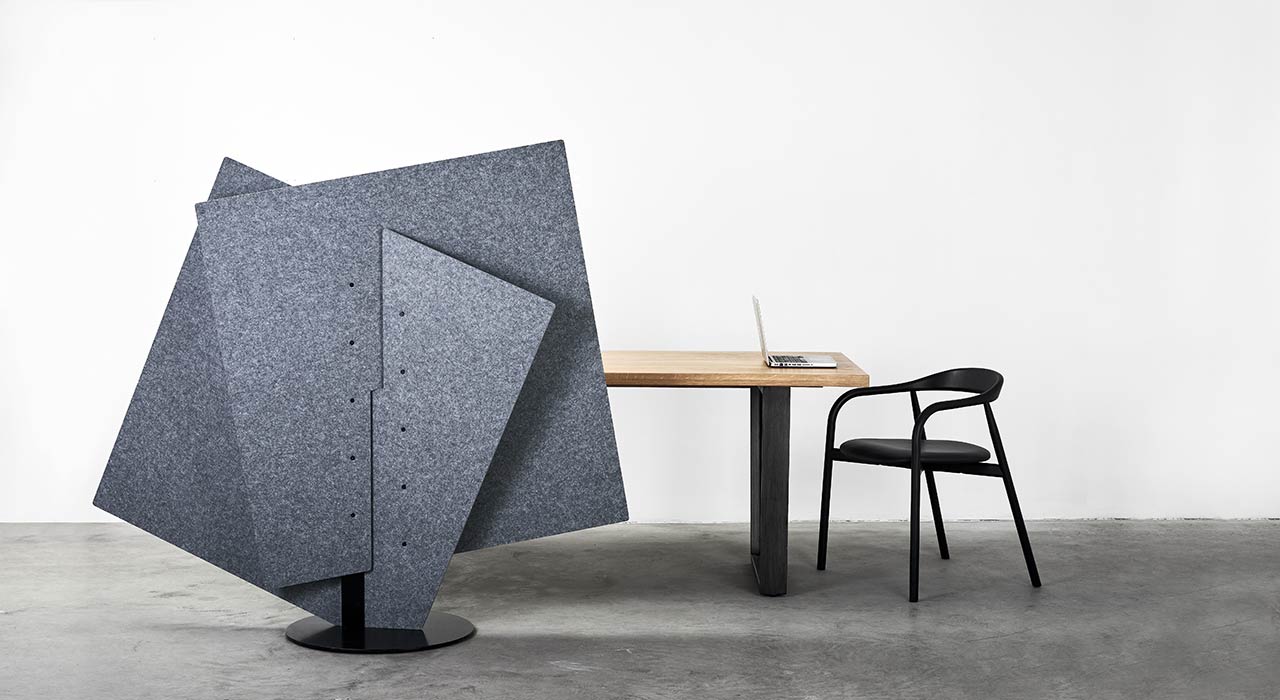 Other sound control solutions on display at ORGATEC included free-standing sculptural designs, such as this partition design from the Ecoustic collection from the Australia-based manufacturer Instyle.
Wellness, Exercise, and Play in the Office
If you've been following developments at Formaspace, you already know we are big advocates of making office spaces that combine the best of work and play. So we were on the lookout for ideas at ORGATEC that promote healthy, physical activity in the workplace.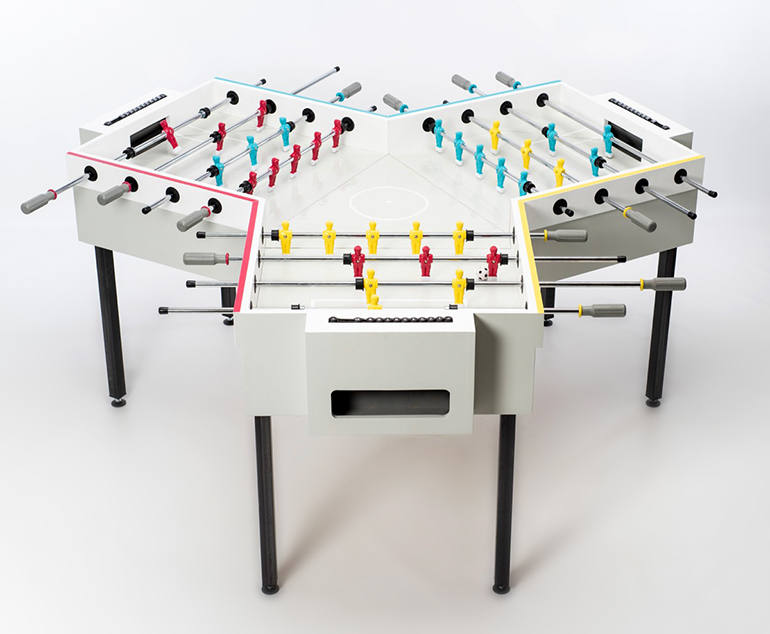 One piece of furniture that caught our attention was the unusual Y-shaped foosball table created by Ben Beyer of the Orange Council agency. Known as the Y-Kicker (Kicker being the German word for a foosball table), the design breaks the conventional rules of the game, allowing three players to play against one another.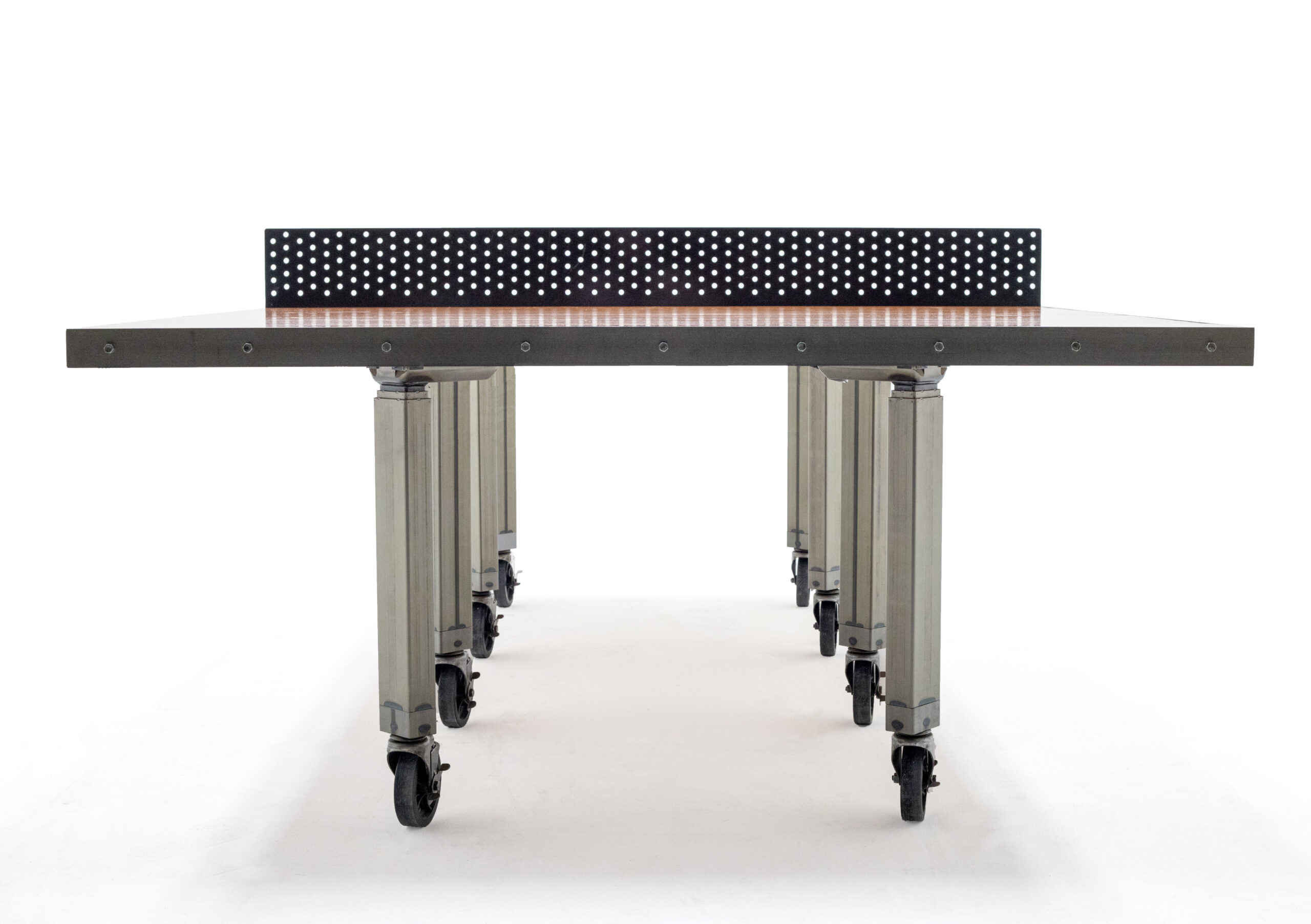 (This design reminded us of some of our own office furniture designs, including our multifunctional #NETWORKING table which converts between a table tennis game and standalone conference table, or our Shuffleboard Gaming Table, both of which were launched at NeoCon in Chicago.)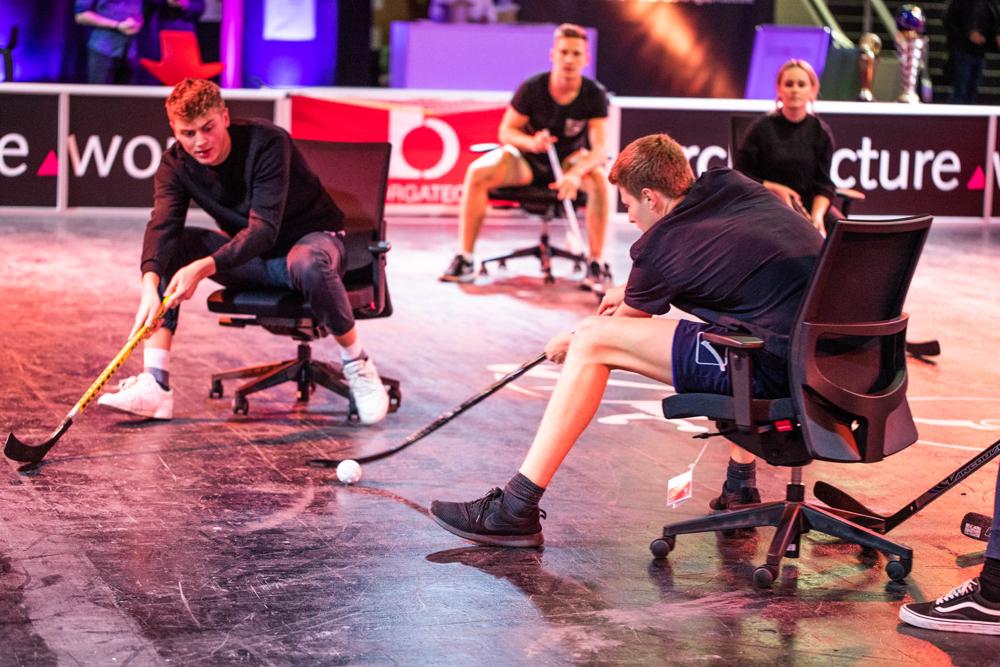 But the big gaming news at ORGATEC this year was the debut of the World Champion Chair Hockey competition. The tournament, created by Jens Fislage (owner of the space planning consultancy BKE Fislange), pitted competitors from around the world. This year's winner was the team from the chair manufacturer Interstuhl, who competed under the moniker "Chair Force One".
The Top Furniture Styling Trends as Predicted by ORGATEC Exhibitors
To answer the question whether our North American office design trends are converging or diverging from those of our colleagues in Europe, we took careful note of the furniture styles, colors, shapes, and materials on display at ORGATEC.
By our reckoning, there was a surprising amount of coherence between what we'd recently seen at the NeoCon contract furniture show held in Chicago earlier this year with what was on display in Cologne.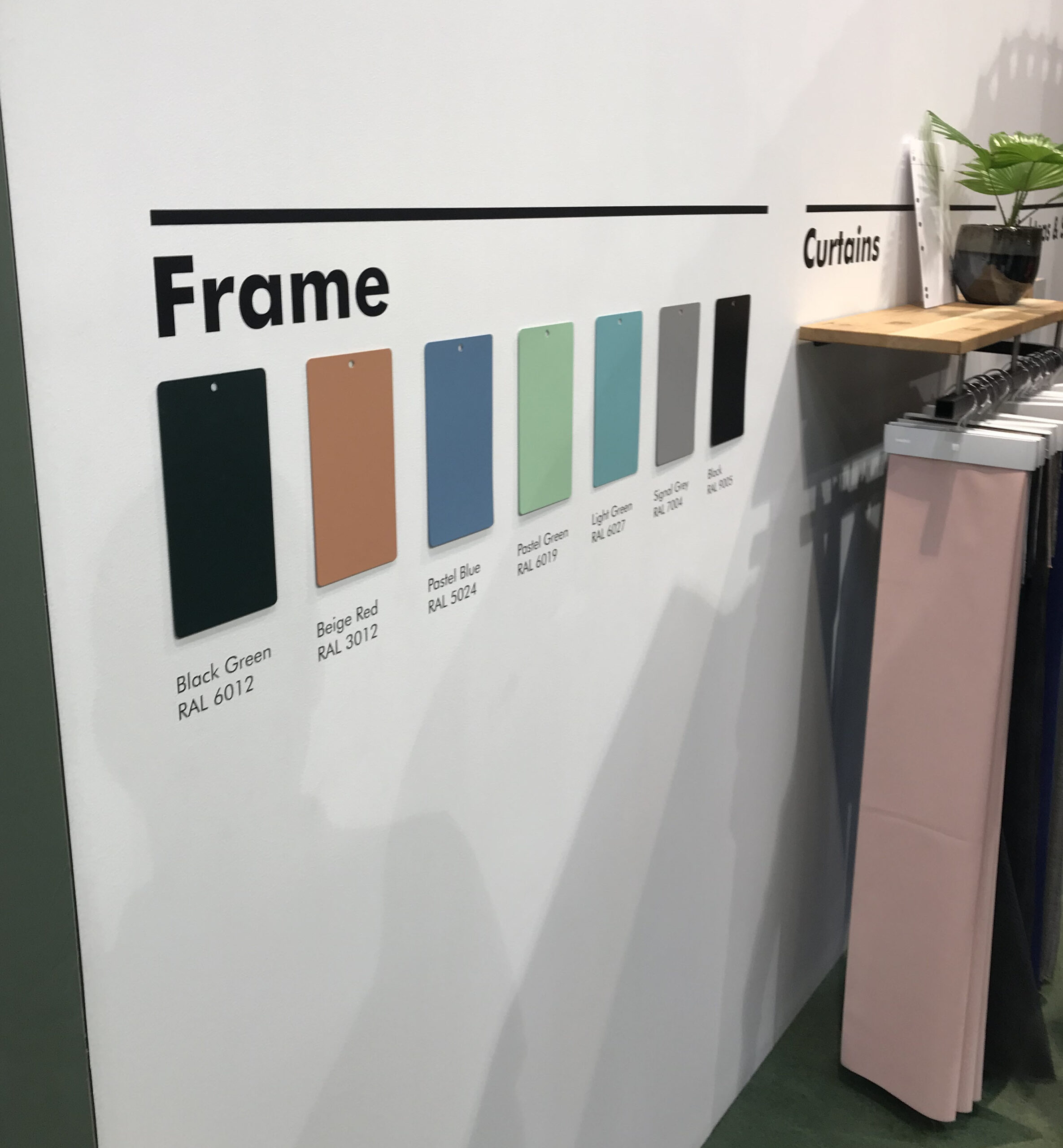 For example, we saw very similar color palettes — based on matte black, mid-century color palettes, as well as gold, rose gold, and brass details accented with pops of color. The accent colors on display included jewel tones as well as muted bright colors, such as blush pink, mauve, pale green, pale blue, and so forth.
These color schemes on display at ORGATEC surprised us; not because they were different, but because so many of them were identical to colors Formaspace had presented on our own display stand at NeoCon 2018.
Of course, we were able to identify important differences between European and American office furniture. For example, it seemed to us that the US office furniture market has been quicker to adopt multi-functional furniture designs. And the European offerings continue to lead in design aesthetics and attention to detail; however, in our view, the US market has generally caught up – if not exceeded our European colleagues in product design innovations.
What gives? To be honest, we're frankly a little disappointed that there were not more differences. But in a way, it makes sense. Internet-based communication technology has really accelerated the globalization of design concepts, to the point that there aren't as many distinctions as there once were between American and European design sensibilities.
This reminds us of one of our favorite quotations we recently came across:
"The danger of technology and globalization is uniformity. The solution is to design with love and purpose."

– Susana Covarrubias, Design Principal, Studio Director, and Design Director of Gensler in Seattle
https://www.instagram.com/p/BpURlZegfum/?utm_source=ig_web_options_share_sheet
The Resimercial Trend, Known as Hospitality or Homliness in German, Has Taken Hold in Europe
Another possible explanation for the convergence of American and European aesthetics is the increasing influence of residential and hospitality design sensibilities on the contract furniture market. Yes, the mashup trend known in North America as resimercial has taken root in Europe as well. In Germany, this process of residentializing office (Verwohnzimmerung des Büros) goes by the somewhat confusing English terms hospitality or homliness. In the view of Jeff Turk, CEO of Formaspace, "Offices in Europe are taking on a more comfortable, casual feel that's reflective of European residential design elements, which have seen a strong retro revival of Scandinavian and Mid-Century Modern design elements. That's in contrast to the resimercial influence on office design that we're currently experiencing in North America, which is centered around comfort and casualness, such as incorporating oversized sofas or home style lighting elements in the workplace." To give you an idea what Jeff is referring to, take a look at this video from the IMM Home Furnishings show that took place in February 2018. (FYI this exhibition was held in the same convention halls as ORGATEC.) From the video you can see the extent to which European residential design has adopted the type of Mid-Century Modern design elements that would fit right in within an office environment.
Here the presenter Elisa from OTTO.de calls out six residential design trends that could just as easily apply to the office furniture designs on display at ORGATEC:
Minimalism
More is More (especially mixing different elements, materials, and styles)
The Classics (including Mid-Century Modern)
Bring the Outdoors Inside
Color (warm and cool)
Materials (leather, velvet, wood)
Experimental "Plant 10.1" Exhibition at ORGATEC Provides a Sneak Peek of the Future of Work
We now turn our attention to one of our favorite exhibits, one that was organized by ORGATEC to allow artists and designers to express their concepts and ideas for the future of work in a non-commercial setting. This exhibition-within-an-exhibition, known as Plant 10.1, was put together by the creative agency Orange Counsel, the consultancy firm Detecon, and an artist's collective known as FREETERs & Friends.
This was the one section within ORGATEC that stood out, where new ideas flourished with genuinely differentiated product concepts.
Here are just a few photos from Plant 10.1 that illustrate the breadth of new ideas on display.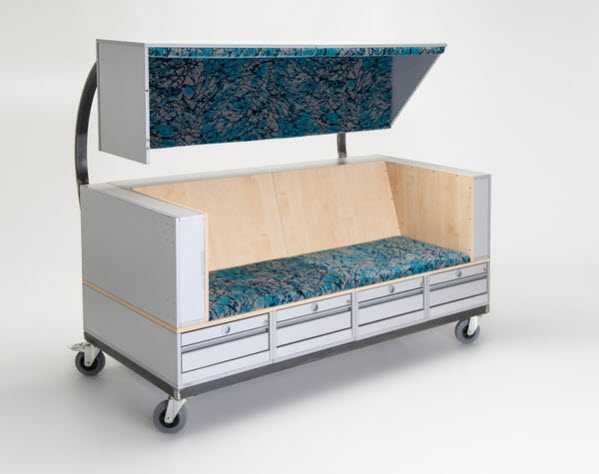 New Furniture Solutions at ORGATEC Address Sustainability and Environmental Concerns
Given our awareness of heightened European Union standards for sustainability, especially the recycling of materials, we were on the lookout for interesting examples of office furniture product success stories.
Our instincts were right. The ORGATEC show coincided with the launch of the new European "Level" certification, organized by the European furniture manufacturing association FEMB. Their new "Level" standard certifies furniture products for suitability according to the selection, longevity, and re-usability of the material components. It also evaluates other sustainable characteristics, such as how much energy is used in manufacturing and distribution.

Among the solutions we saw on the show floor, we were most impressed by the furniture manufacturer Vepa, who worked in collaboration with the Dutch organization Plastic Whale. The high-end furniture projects are actually made from discarded plastics collected from canals in Amsterdam. Their designs include a boardroom table and a lamp — both made with components made from recycled PET plastics.
Congratulations to the ORGATEC Show Organizers and Exhibitors
That concludes our roundup of what we were able to glean from this year's ORGATEC contract furniture exhibition in Cologne, Germany. We would like to congratulate the show organizers for a job well done and to express our thanks and appreciation to all the exhibitors who took the time to introduce us to their product. We really appreciate it, and we hope to return the favor in June 2019 when Formaspace returns to the NeoCon contract office furniture exhibition in Chicago.
Stay Ahead of the Trends with Formaspace
You imagine it. We build it.
That's our promise to you.
Here at our Formaspace factory headquarters, we are dedicated to fostering the spirit of discovery and creation through the design and manufacture of unique furniture solutions. So whether you are looking for furniture for your office, conference rooms, makerspaces, cafes, lounges, or creative spaces, we are ready to work with you, from ideation to installation.
Want to learn more?
Why not contact your Formaspace Design Consultant today to see how we can work together to make your next office project a success.