Has the widespread adoption of computer-aided design (CAD) technology made drafting tables obsolete? The answer is a resounding NO! While many designers and drafters rely on CAD software tools for their production work, more and more creative individuals are rediscovering the spontaneous creativity that comes from drawing by hand. As a result, drafting tables are once again experiencing a resurgent "moment" that's reminiscent of the recent rebirth of the vinyl records (another old school technology once given up for dead.)

Once upon a time, the drafting desk reigned supreme as the one piece of furniture you could always count on spotting in nearly every engineering department or architectural office across the land.
As evidence of how common they were, we say "back to the drawing board" when we encounter a setback or failure.*
(*This phrase comes from the caption of a WWII-era New Yorker Cartoon by Peter Arno.)
But, within a single generation, most of our drafting tables were gone, discarded to history like their outmoded companions, the slide rule.
What happened?
Since the initial widespread adoption of computer aided design (CAD) software began in the mid to late 1980s, there's been an ongoing debate between the value of drawing by hand versus using the computer — and without hand drawing, why would you need a drafting table anyway? (Or so went the thinking at the time.)
The absolutist advocates of CAD software would argue:
Printed drawings are for dinosaurs because everything can be done on the computer in 3D.*
Student architects need to start out learning CAD software (rather than hand drawing/drafting skills) in order to keep up with the latest technology.
With the advent of CAD software, furniture designed to accommodate computers, mice, and monitors should be moved in while traditional drafting tables for pencil and paper should be moved out.
*In reality, it took several years for PC-based CAD software to match the capability of traditional hand drafted drawings. For example, the most popular CAD system, AutoCAD, didn't have the capability to manage very large format production drawings (commonly used in aircraft design, for example) until the introduction of the Paperspace feature in 1990.
On the other hand, advocates of drawing, sketching, and drafting by hand — led by architects — supported the counter-argument:
The late Post-Modern architect Michael Graves stated his case for the power of drawing sketches in his 2012 New York Times essay, "Architecture and the Lost Art of Drawing," where he rails against parametric, rules-based CAD software which in turn leads to "blob architecture."
Computer Versus Hand Drawing on Drafting Tables: Who is Right, Who is Wrong?
So who is winning the argument?
If you look purely at the financial numbers, you'll find that Autodesk, the makers of AutoCAD software, is now a 2.5 billion dollar company with a claimed 120 million users.
But in 2017 that may be a little beside the point.
Sure, the introduction of CAD software ushered millions of drafting tables into early, unplanned obsolescence. Admittedly, we have recent generations younger engineers, architects, and designers who don't know how to properly sharpen a pencil, much less master the use of a T-square or a drafting machine.
But ironically, thanks once again to technology, the gap between the worlds of traditional drawing and CAD software is closing fast.
The latest iterations of computer styluses with super sensitive pressure activation are ushering in the return of the halcyon days of sketching and drawing.
Many professional graphic software packages now emulate the 'feel' of designer pencils, paper surfaces, and artist brushes.
And, lo and behold, today we have high-end hardware, like the glorious 27" inch Cintiq from Wacom, which allows you to draw at full speed directly on the surface of its brightly illuminated glass computer screen.
So Why are Drafting Desks Tilted Anyway?
Just as many artists and designers are rediscovering the joy of drawing, there's also been increasing interest in traditional drafting desks.
But there's one question that we're beginning to hear from those who did not grow up with using drafting tables: Why is the work surface of a drafting table tilted?
Is it because it's more comfortable? Or is it something else?
Many assume it's a more natural way to draw, but that's not actually true either. (Drawing on a tilted drafting table or an artist's easel requires different muscular movements, so it takes some getting used to.)
The reason drafting tables are tilted is due to their evolution in furniture history, the limits of our physical reach (ergonomics), and our ability to see (visual perception).
The origin of drafting tables goes back to the 17th century. More commonly known as drawing boards at that time, they were (like most fine furniture at the time) considered luxury items for the upper classes. You would find drafting boards in a private gentleman's study or library*, where they would serve as an accessory work surface for reading large folio documents or for sketching technical illustrations.
*But, ironically, not in a drawing room, which the shortened version of withdrawing room, e.g. a private salon located away from public reception areas, such as parlors.
These early drawing boards (and the 18th-century architect's tables that followed) often had elaborate, yet delicate, wood supports that allowed the board to open up to a tilted angle yet fold away for tidy storage — much like today's portable artist easels.
The tilt is necessary to allow for closer inspection of detailed areas that would otherwise be far away from our eyes and hands if located on a flat surface.
Tilting the drawing board's work surface was also necessary to accommodate our eye's visual perception of perspective and foreshortening. If you've ever taken a life drawing class, you may be aware of the subtle disadvantages of drawing on a flat, horizontal surface. Drawings created this way will have a tendency towards incorrect, exaggerated perspective in the vertical direction — for example, in a life drawing, the heads will be too tall, especially toward to the top of the drawing.
Drawing, painting, or sketching on a tilted work surface helps eliminate this visual perception problem, which is why artists have worked from easels for centuries  — even before the development of the early drawing board and drafting table furniture.
Is there a "preferred" standard angle for drafting tables? Once again this depends. The more vertical the work surface, the easier it is to stand up and step back to check your work. Some prefer to work at a 45-degree angle or more, while others find 30 – 40 degrees to be ideal. Your choice of seating (such as drafting table stools) or standing will also influence your choice.
Not sure if you want to stand all day or sit at a high drafting table stool? Why compromise when our height-adjustable drafting tables allow you to change the height of your working position from a sitting to standing position at the touch of a button.
Drafting Tables: Not Just for Architects and Engineers Anymore
While yesterday's drafting tables were once solidly in the domain of architects and engineers, that's no longer the case today.
As the maker movement has taken hold across the nation,  it's driving demand for equipping maker spaces with drafting tables for drawing and sketching.
Modern drafting table designs provide maker space operators with a lot of flexibility in a single piece of furniture. For example, when stowed in a flat position, the work surface can be used for a wide range of projects, ranging from crafting, to model making and prototyping, to sewing and quilting projects. By tilting the table surfaces upwards, drafting tables are transformed into an ideal solution for life drawing and sketching sessions. And, when it's time to make formal presentations, drafting tables can be locked in their upright position to present drawings and other finished works of art for critiques or public gallery showings.
Other educational institutions, such as those with programs in architecture, product design, fashion, game design, storyboarding, graphics, illustration, and even comics design, can also benefit from using highly flexible drafting table furniture in their facilities as well.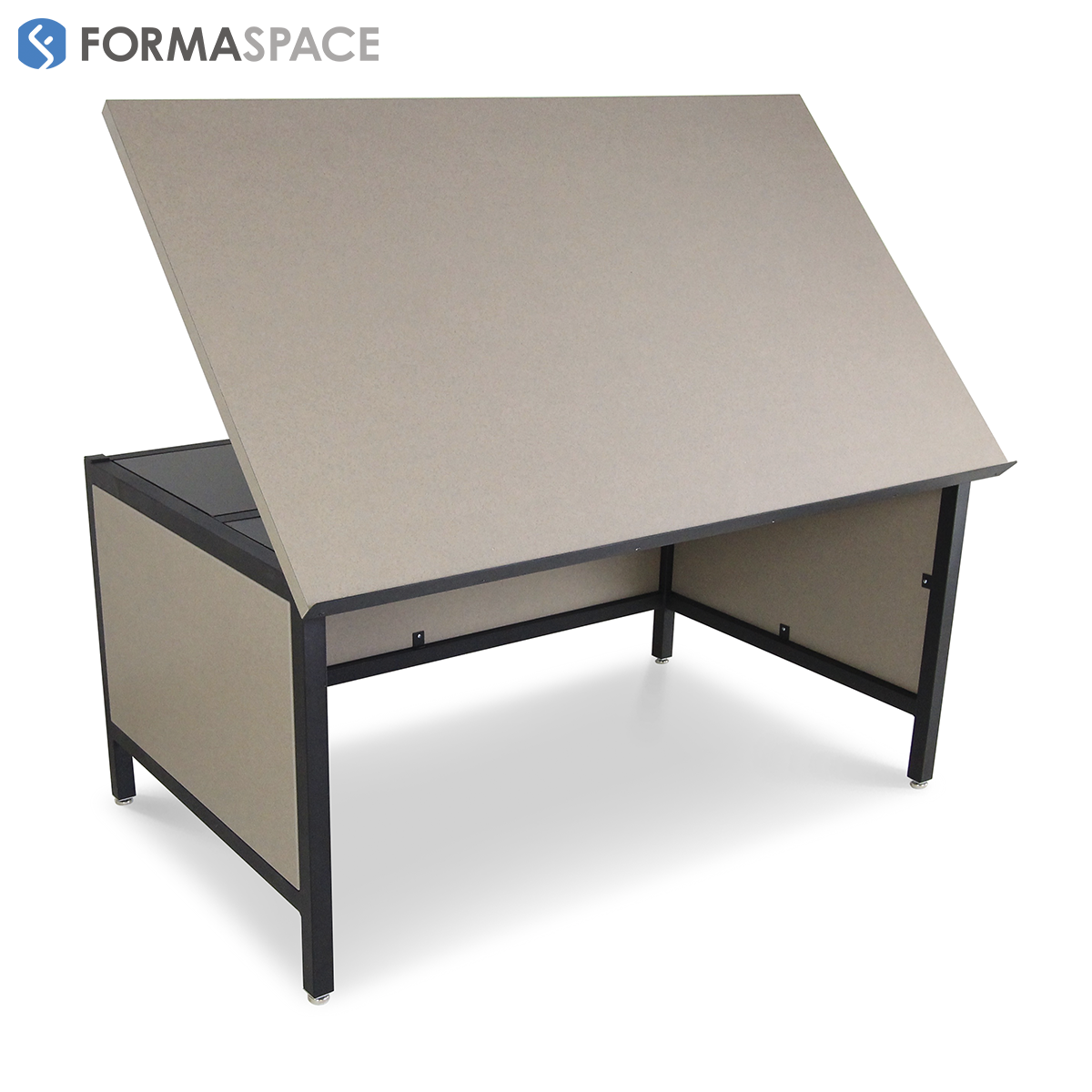 Can We Build the Perfect Drafting Table for You?
At Formaspace we custom build each piece of furniture in our Austin, Texas factory to your individual order. As a result, we can offer you a practically unlimited amount of choice in drafting table designs.
We offer semi-customized drafting tables (available with many useful options that we'll outline below) as well as fully bespoke drafting tables, made-to-order to meet your exacting specifications.
Traditional Adjustable Drafting Table
Our line of adjustable drafting tables features full-width tilting work surfaces mounted on a heavy-duty four post table base. Desk components including traditional drawers and other storage components, such as racks and shelves, can be mounted underneath the work surface.
Combination PC Workstation / Architectural Drafting Table
This configuration has a split personality. On one side, the work surface tilts up to form a drafting table, while the other side is a fixed desk kitted out to support a computer workstation and monitor. This allows professionals like engineers and architects to have the best of both worlds: easy access to a drafting table and computer aided design software.
Drafting Table Surfaces Choices, from Ash to Walnut and Everything In-Between
Customize your drafting table by choosing from a range of hardwoods, including ash, maple, and walnut. We also offer durable laminate and Baltic birch core surfaces.  If you have a signature piece of material, such as reclaimed hardwood, we can incorporate that into a custom surface just for you.
Collaboration and Presentation Configurations with White Board or Backlit Glass Surfaces
Want to collaborate with colleagues or present your designs to stakeholders? We offer erasable "white board" surfaces as well as a unique glass surface drafting table with back lighting that allow you to view architectural drawings, transparencies and other presentations in an eye-catching, sophisticated manner.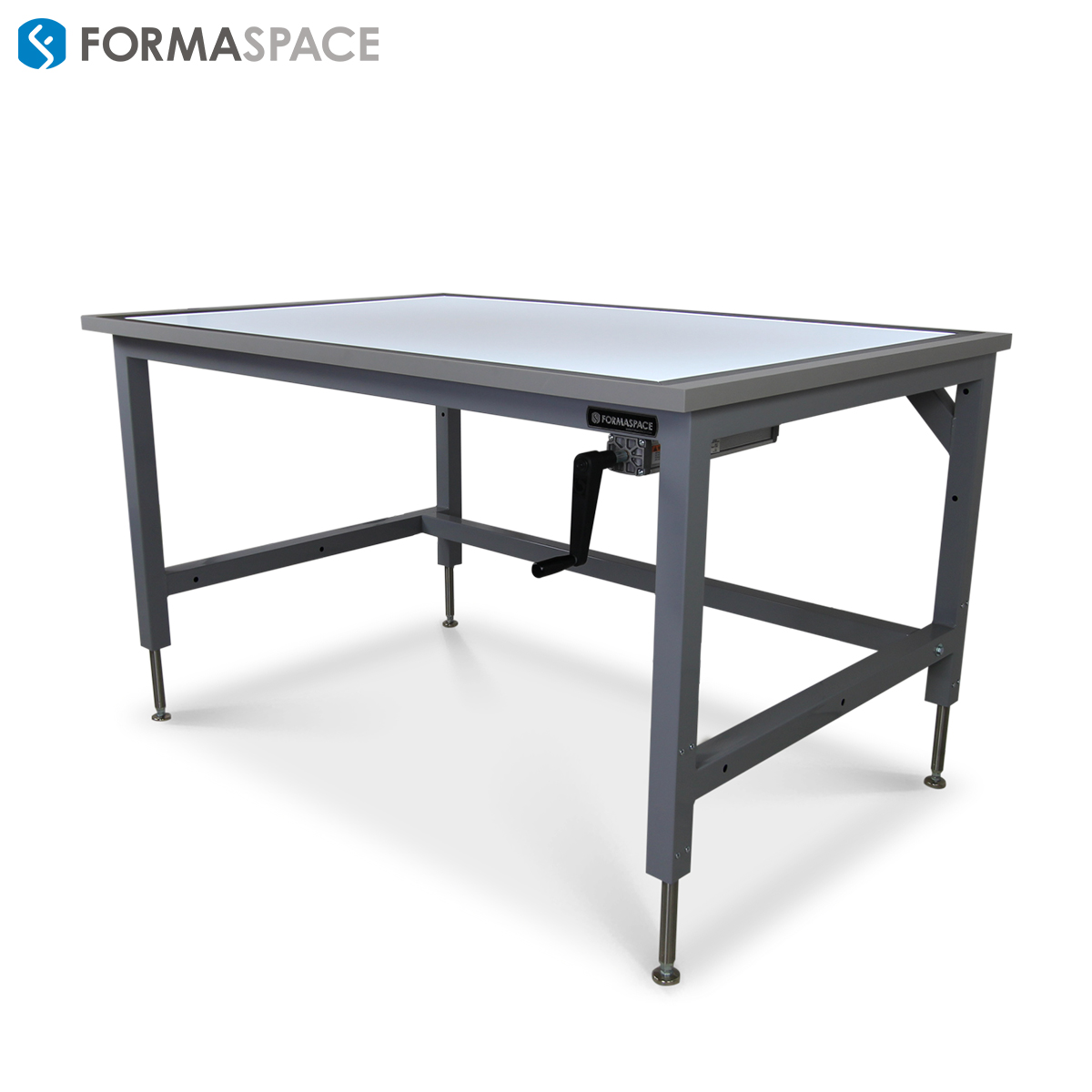 100% Custom Drafting Table Solutions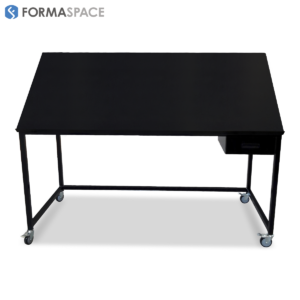 Want to make a design statement to your clients? Why not commission a signature piece of custom furniture. We are happy to take commissions to build individual pieces of furniture to your exact requirements, or you can work with our product designers to have them create a custom drafting table design (or other furniture) that's unique to you alone.
Take the Next Step: Contact Formaspace Today
Why not contact a friendly Formaspace Design Consultant today?
It's simple. Just fill out the quick form below, and we'll contact you right away.
This article was originally published at Formaspace.com