In a world of cookie-cutter furniture designs, Formaspace Contract breaks the mold by allowing its clients deep into the custom furniture manufacturing process — to produce creative, flexible office environments that speak to each client's unique, authentic brand vision and message.
As the world's architects, interior designers, and office planners convene at the annual NeoCon expo in Chicago to discover the newest commercial design trends, Austin-based Formaspace Contract will exhibit six client-driven projects that showcase its unique "Co-Creation" furniture manufacturing process.
NeoCon attendees are invited to learn firsthand how they can create their own unique office furniture designs —manufactured by one of America's leading custom furniture companies — by meeting the Formaspace Contract executives and the engineering & design team in person at NeoCon booth #7-7062 on June 10, 11, and 12th. Attendees are also cordially invited to attend a special "Co-Creation Cocktail Hour" held at the booth on June 10 (3 – 5 pm) and June 11 (2 – 5 pm).
"Since we launched the Formaspace Contract brand at NeoCon in Chicago two years ago, it's helped us grow our overall business by 60%, making Formaspace one of the fastest growing manufacturing companies in America," says Formaspace CEO Jeff Turk. "Our strategy is simple: as a custom office furniture manufacturer, we can build whatever you can imagine — in large or small quantities — by working in direct partnership with YOU as part of our unique 4D (Discover, Design, Develop, Deliver) Co-Creation manufacturing process."
"It's simple: no two companies are the same, no two clients are the same, and very few physical locations are the same. That's why it's difficult to create a modern, flexible office design with standard off-the-shelf solutions, you need an element of custom solutions for each project," explains Frank Bucher, Formaspace EVP of Sales. "And to get to a custom solution, you need a special partnership with a custom manufacturer — that's why we've developed the 4D Co-Creation process. It's become a key to our success, helping to make Formaspace furniture a favorite choice of many leading Silicon Valley-based high-tech firms. These companies understand the power that custom furniture design brings to the office environment and how it helps them convey an authentic, visually coherent brand message."
"What can we build for you?" asks Bucher. "By Co-Creating with Formaspace, you can take complete control over the development of a coherent visual design and branding message for your entire office. And you can simplify your project management workload by working with a single furniture manufacturer that delivers exactly what you want, when you need it – from project management to production to professional on-site installation. Be sure to visit the Formaspace booth #7-7062 to see our custom manufacturing capabilities first hand and to meet our engineering and design team."
Visit the Co-Creation Projects On Display at Formaspace's NeoCon Booth #7-7062 June 10 – 12, 2019 at Chicago's Merchandise Mart
NeoCon visitors are encouraged to visit the Formaspace booth #7-7062 located on the 7th floor of Chicago's Merchandise Mart from June 10 through June 12, 2019. Architects, designers, space planners and more can meet the company's engineering and design team in person to learn more about the company's custom manufacturing capabilities and tour the Co-Creation projects on display, including the following: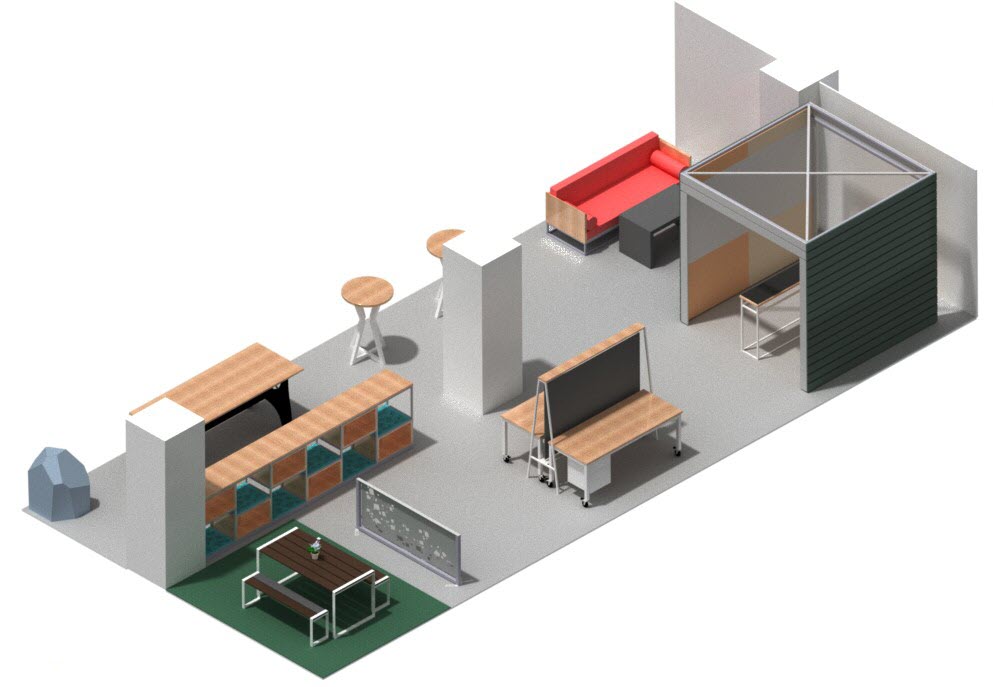 Collaboration Zone:
When it's time to get down to business, the Collaboration Zone provides a dedicated space for the hands-on project and brainstorming sessions, with built-in whiteboards, video screens, and more.
Flex Office:
Fast-growing companies know the challenge of keeping up with ever-changing employee workspace needs. These mobile Weldmarx™ work desks, originally developed for the fintech division of major finance company, allow employees to take back control and "hack" their own layout configurations.
Outdoor Lounge:
Today's employees want to take their work with them wherever they to go, including the great outdoors. The Outdoor Lounge offers a durable work environment built to withstand exterior conditions while maintaining a coherent visual look that connects the exterior and indoor design elements together into a unified design.
Team Zone:
Encourage collaboration by adding a Team Zone to new construction or to an existing office space. The custom vintage-looking table on display at NeoCon is a prime example of Formaspace's 4D Co-Creation process; it was designed in partnership with (and manufactured for) a major West Coast media company.
Huddle Zone:
When the conference room is too big and too far away, it's time to move to the Huddle Zone for a quick conversation between colleagues. Huddle Zones with bar stools and cocktail height tables can also serve as hospitality areas for casual office meetings and receptions.
Lounge Zone:
Employees looking to move around during the workday are attracted to casual environments that blend the best characteristics of residential, commercial, and hospitality design. The Lounge Zone serves as an alternative work area that offers the opportunity for more spontaneous interaction between employees, helping to break down departmental "silos" at work.