After more than two long years, it was good to be back.
That's the sentiment of Jeff Turk, CEO of Formaspace, and it's a feeling we're sure is shared across all sectors of the furniture market, and it's a feeling shared throughout the industry.
A+D professionals, contract dealers, facilities managers, and prospective buyers have been waiting since 2019 to return to Chicago to the crowded halls and elevators of the Merchandise Mart for NeoCon, a tradition of over 50 years showcasing the latest and greatest from 500 exhibitors in one million square feet of exhibition space.

For Formaspace, the wait was well worth it.
We were finally able to invite guests to our new showroom (Suite 11-124) on the 11th floor of the Mart (as it's now known).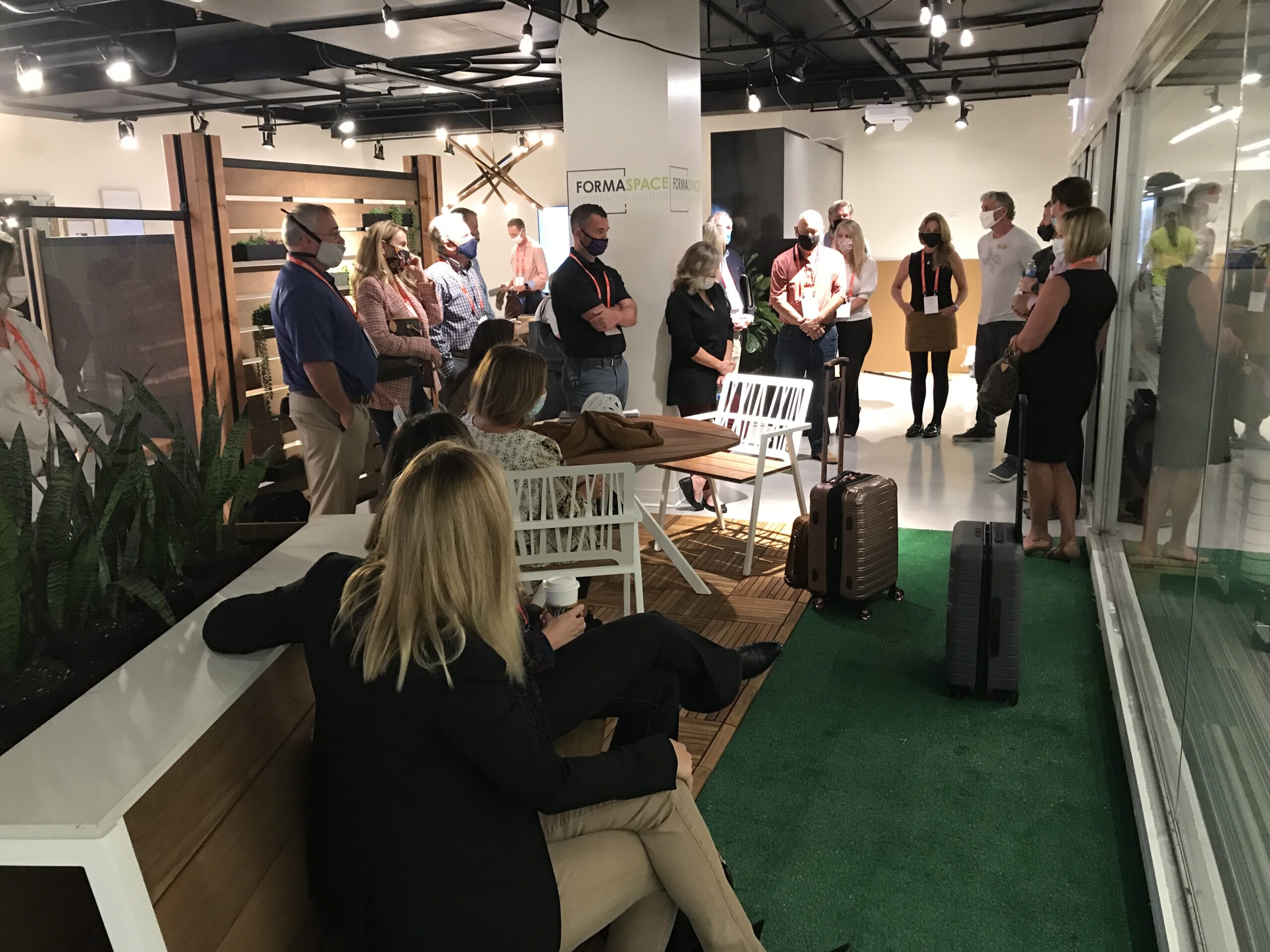 "Like others across all industries, we had to put our plans on hold due to the pandemic, but we're very excited to finally open the doors to our new showroom," said Jeff Turk. "And we're very pleased that the space serves as a custom design studio showcasing the breadth of our capabilities in all types of environments and any type of application. Formaspace Contract is uniquely positioned to address today's challenges including hybrid workspaces, outdoor furniture needs, hospitality applications, even the booming life sciences sector and the specialized needs of those facilities."
"That's our secret sauce," explained Jeff Turk. "Formaspace can build exactly what customers need. That's why we challenge all our furniture dealers and A+D partners – if you can't find what you're looking for from the standard pieces others provide, then you need to contact Formaspace Contract. We can build exactly what you want at our factory headquarters in Austin, Texas."
Austin's Chill Vibes and Outdoor Lifestyle Influence Designs at Formaspace Contract Showroom
The Director of Business Development at Formaspace, Claire Redsun, was highly involved in the design and planning of the new showroom and wanted to share a little Austin energy and spirit with NeoCon attendees by recreating a famously photographed spot. Spray-painted on the wall of Jo's coffee shop in a hip district of Austin called SoCo (South Congress), you'll find a love note left for the owner that says, "I love you so much." It has been recreated in red neon lights to show some love to all NeoCon attendees and provide that perfect photo opp.
Austin is a city famous for its quirky style, amazing music scene, great food, and creative people and companies alike, making it one of the fastest-growing cities in the US. This growth won't be slowing anytime soon with companies the size of Tesla and Oracle moving in.
"In the new showroom, we wanted to highlight what makes us unique by showcasing the signature industrial-chic aesthetic we are known for while expanding the possibilities by showing outdoor, hospitality, home, and even laboratory solutions. Our versatility in materials and designs sets us apart from other contract manufacturers. And our Austin background provides us inspiration for new designs and creative solutions in any environment."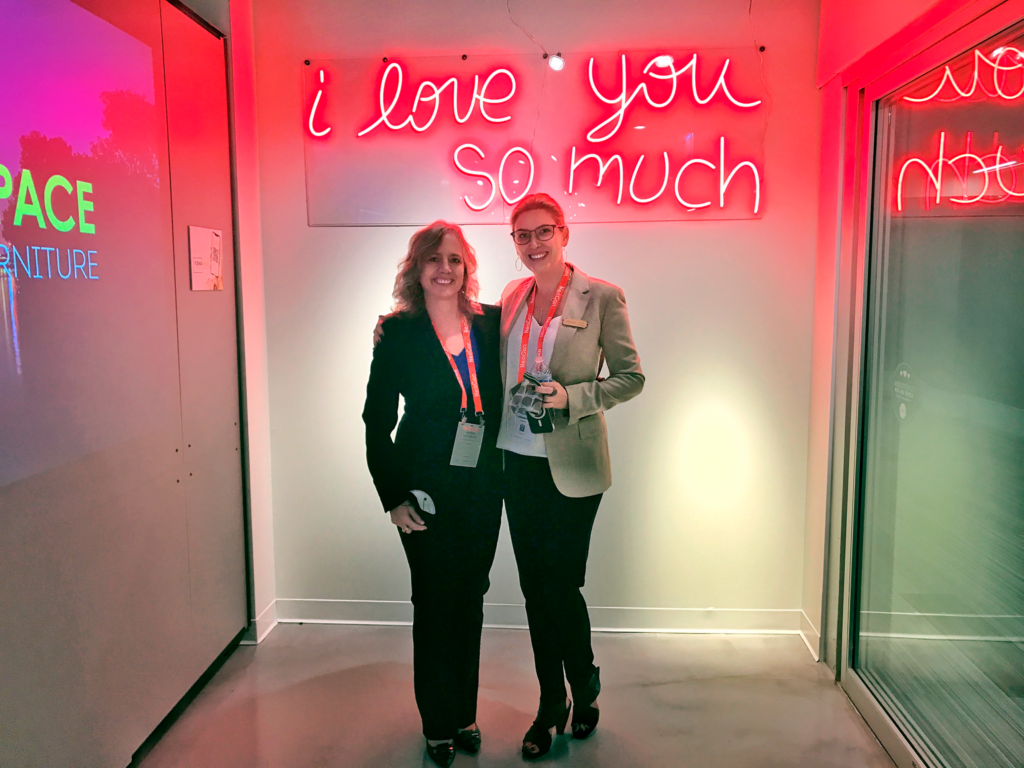 Judging by the huge number of NeoCon attendees who stopped by the Formaspace Contract showroom to get a selfie (to post on Facebook or Insta), the "I love you so much" sentiment seemed to resonate with everyone at the show.
Another prominent branding element in the showroom was the retro Austin postcard. Blown up to super-graphic size, this eye-catching design featured well-known Austin landmarks – as well as one of Formaspace Contract's brand taglines – Custom is the New Standard.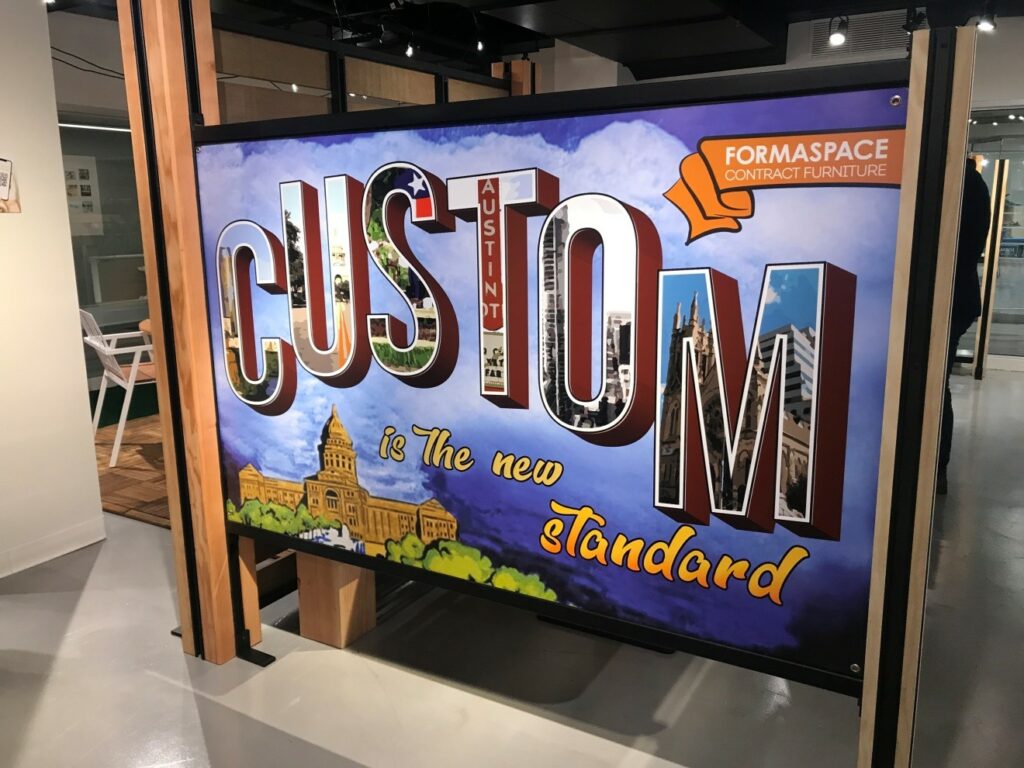 New Diversiform Wall System
The super-graphic also served a dual purpose – it shows how the new Diversiform Wall System from Formaspace Contract can be used to create eye-catching branding elements within a work, hospitality, or resi-mercial environment.
"The new Diversiform Wall system that we debuted at NeoCon 2021 got a lot of attention," says Claire Redsun. "We were able to convey how flexible the system is by mixing and matching panel components in the display, from supergraphics on one side to a whiteboard on the other."
The Diversiform Wall system at the Merchandise Mart featured solid panels with graphics or dry erase writing surfaces, transparent glass panels, wood slats mounted with planters, as well as panels with integrated shelving systems.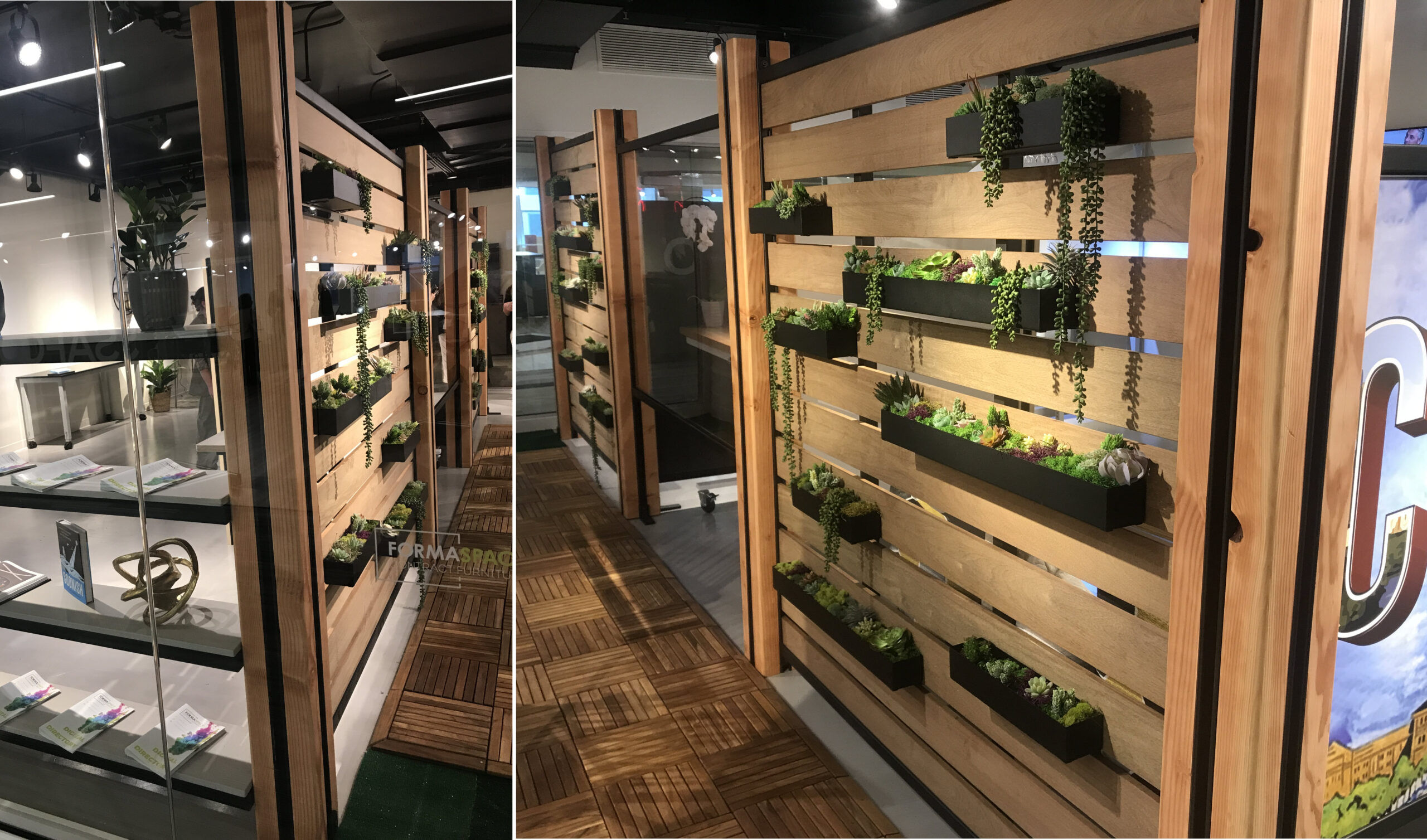 "Because we can customize and manufacture nearly everything in our Austin factory, we can produce exactly what you need and want. Working with our in-house designers and engineers, we can take an idea or design from concept to creation. We have all our own in-house equipment and welders and soon will be introducing even more capabilities that will allow us to keep more specialized types of manufacturing in-house. Our production is set up to manufacture a single design or scale up to mass-produce a product when a client needs larger quantities. At Formaspace, we put the customer's needs first, and it shows in the variety of solutions and the creativity of those designs."
Custom Indoor/Outdoor Seating Solutions
In keeping with the active Austin lifestyle, Formaspace Contract also brought some new indoor/outdoor solutions that are perfect for transforming exterior spaces into casual gathering places or work environments – or both!


One of the key products introduced at the NeoCon show was a bench seating solution with a built-in planter (and standing desk work surface), nicknamed the ZigZag. This is an ideal solution for turning outdoor spaces into attractive multi-purpose environments for entertainment as well as working on a laptop.
Keeping with the wood theme, three white powder-coated steel café chairs were on display with a matching wooden three-sided table. These designs offer a modern take on mid-century modern designs while providing durable steel construction that will stand the test of time.
Modern Multi-purpose Meeting Table and Credenza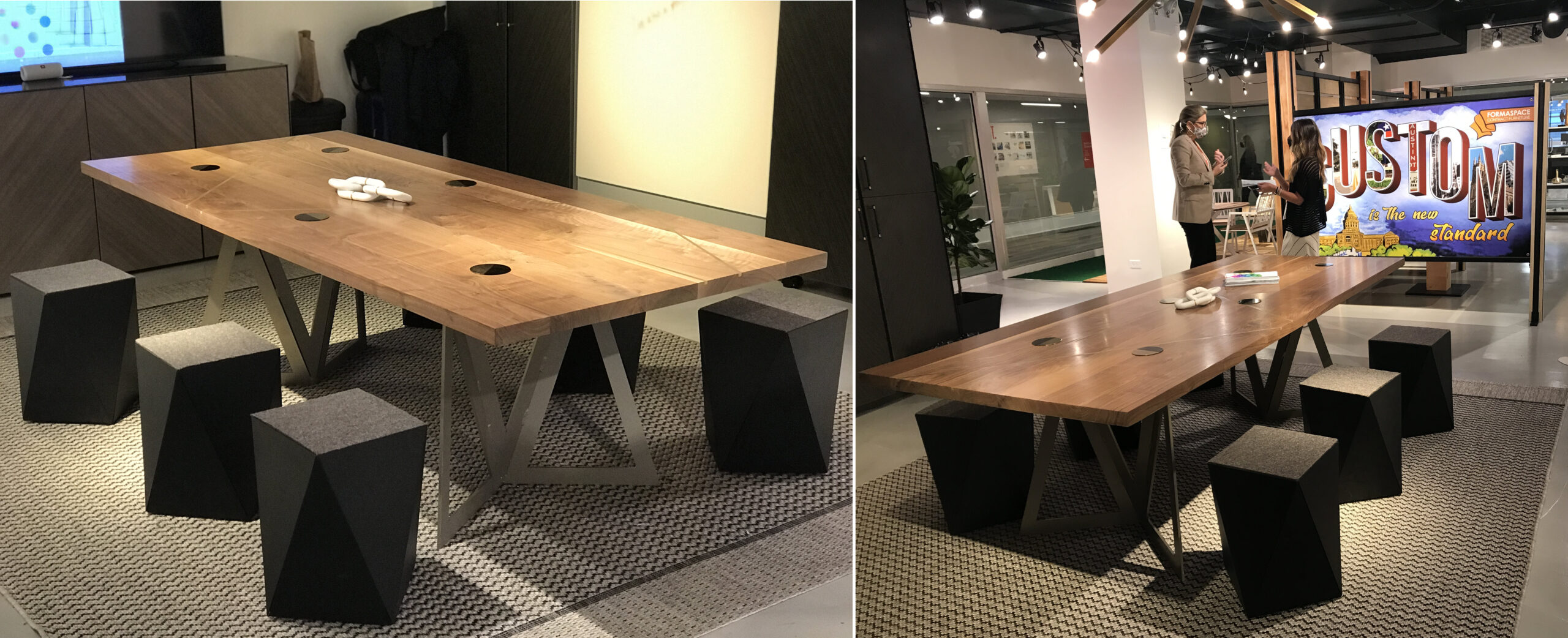 Formaspace Contract also debuted a new multi-purpose meeting table concept that would make a statement in any conference or residential setting, featuring a heavy-duty wood surface with brass inlays and modern angular steel legs. This was accompanied by unique geometric steel stools with felt tops and rollers for ease of movement, as well as a full-size credenza featuring steel sheets on both sides and top and a book-matched herringbone pattern on the wood laminate doors – for the perfect blend of beauty and brawn.
Mobile Divider Solution Custom Manufactured for a Silicon Valley Client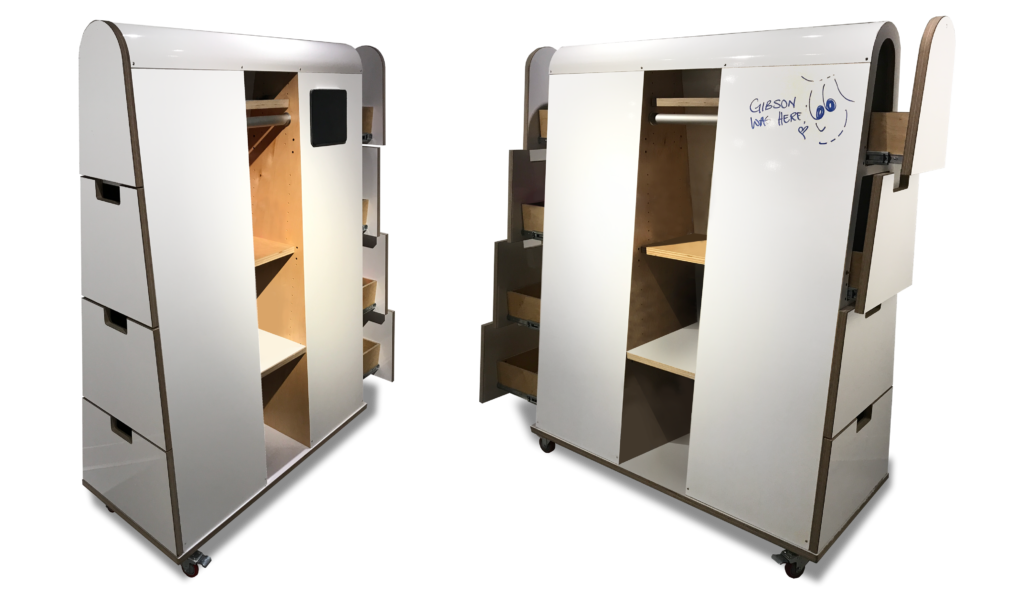 Many visitors to the Formaspace Contract showroom at the Merchandise Mart were intrigued by the , which featured white dry-erase writable surfaces, end-mounted storage drawers, and a large radius curve at the top.
This multi-purpose, unique design is the perfect example of the type of solutions Formaspace can provide by putting the client's wish list front and center in the development of the final design. This piece will be manufactured in the thousands for a high-profile Silicon Valley client. It is also the first Formaspace product to be Declare certified by the International Living Future Institute.
Renewed Focus on Resi-mercial Solutions
The nature of work is changing, a trend that has only accelerated due to the Covid pandemic.
As a result, many of us are adapting to hybrid work environments, which is further accelerating the resi-mercial design trend that blends the office/hospitality/residential design elements into one cohesive style.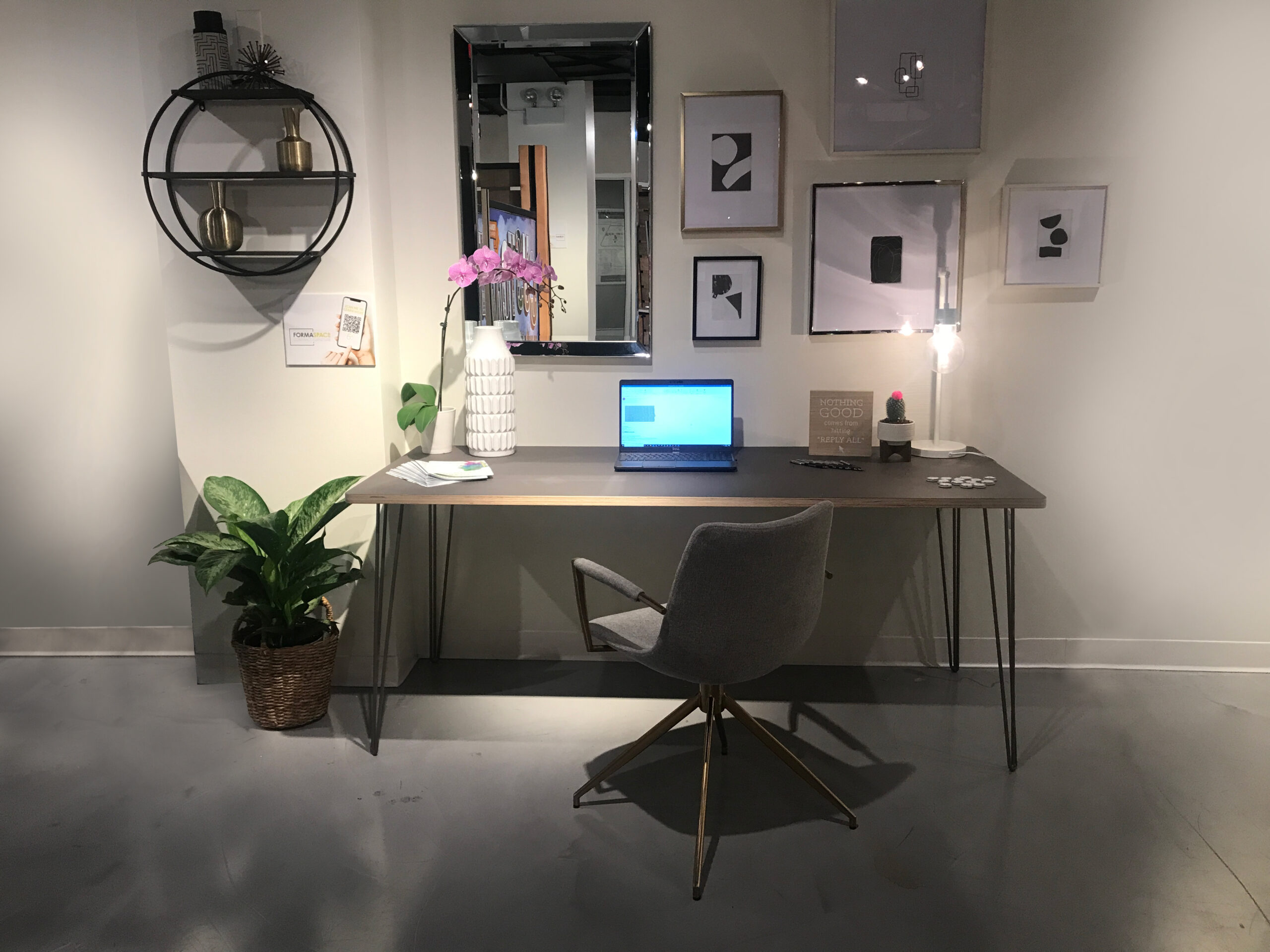 Responding to the demand for resi-mercial solutions, Formaspace Contract introduced this clean, simple, yet functionally beautiful desk. It takes its inspiration from mid-century modern design, including the metal hairpin legs first popularized after World War II. This table could be a desk or dining table, even a kitchen island. The size, height, and finishes are fully customizable.
Industrial Solutions: FLX Lab Benches for Life Science Facilities
Industrial furniture inspirations come naturally to Formaspace Contract, thanks to our long heritage as a major supplier of industrial furniture for factories, clean rooms, assembly plants, warehousing and distribution centers, as well as laboratory and educational facilities of all kinds.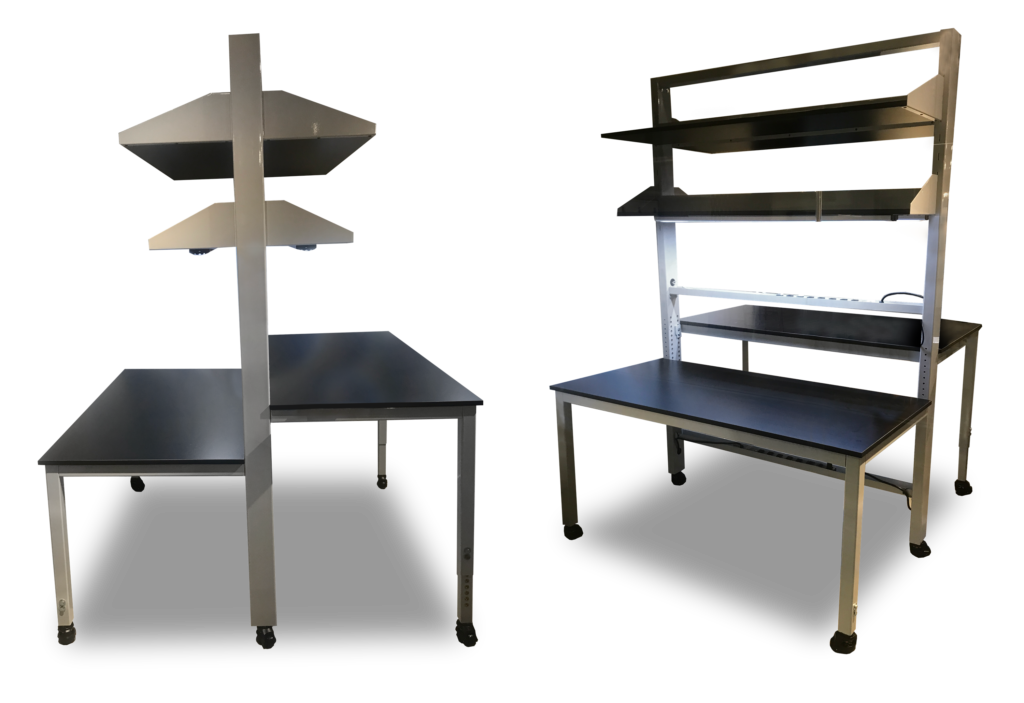 The boom in the life sciences sector brought much success to Formaspace in a year when most other manufacturers' numbers were declining. In fact, we had the best year in the history of the company in 2020, mostly fueled by laboratory business.
For this year's NeoCon, we decided to showcase a small lab display that brings with it limitless opportunities, starting with
To most furniture dealers, this is a new type of product they haven't been able to offer previously but can now add it to the furniture package by partnering with Formaspace.
Several people at the show remarked, "Feel how solid this is!" while kicking the tires, as they say in our industry.
The FLX will be a flagship lab product easy for dealers to understand and position to all types of clients they have not been able to sell to in the past. Having laboratory solutions American-made and fully customizable will make Formaspace a secret weapon for dealers looking to expand their opportunities.
Major Trend at NeoCon 2021: Space as a Service (SaaS)
According to Claire Redsun, one of the major trends at NeoCon 2021 was the realization that the contract furniture market is quickly moving away from the concept of one-to-one correspondence between an employee and a dedicated workspace.
What's driving this change?
For the most part, it's due to hybrid working as a result of Covid, which has accelerated an ongoing trend toward flexible workspaces (such as hoteling or touch-down spaces.)
"This trend has accelerated even further, in what many are calling the new Space as a Service (SaaS) trend," says Claire Redsun. "The best way to think of SaaS is as a fundamental shift in how you allocate space. Because of hybrid working, we are moving away from the long-standing one-person equals one-desk equation in favor of space planning that revolves around serving multiple functions that might be used by different people on different days or even at different times of the day.
When you think about designing spaces to serve different functions at different times, it's a different mindset, one where providing access to space truly becomes a service – one that allows real estate to be monetized around providing 'access' and 'services' – rather than provisioning permanently fixed spaces assigned to single individuals."
Want to know what's happening next?
Be on the lookout for Formaspace Contract's upcoming CEU class, titled "Now & Why, The Trajectory of Work," which is expected to debut in early 2022. This continuing education class will delve into the changes in how and where work is happening, and it will dig into the impact that new, emerging technologies and changing work policies are having on work and the workplace.
Take the Next Step. Contact Formaspace Contract for Your Next Project.
We hope this peek at our new showroom at the Chicago Merchandise Mart has piqued your interest.
Contact your Formaspace Contract representative to find out how we can help make your next project a success.
Remember, if you can imagine it, we can build it, here at our factory headquarters in Austin, Texas.
Find out why leading companies, including Apple, Capital One, Dell Computer, Google, SpaceX, Twitter, and more, choose Formaspace.