The Covid-19 pandemic has created an unprecedented series of challenges for businesses across the country and around the world.
One of the key challenges, now that stay-at-home orders are being (or will soon be) lifted by many different states and jurisdictions, is how to create a safe working environment for returning employees.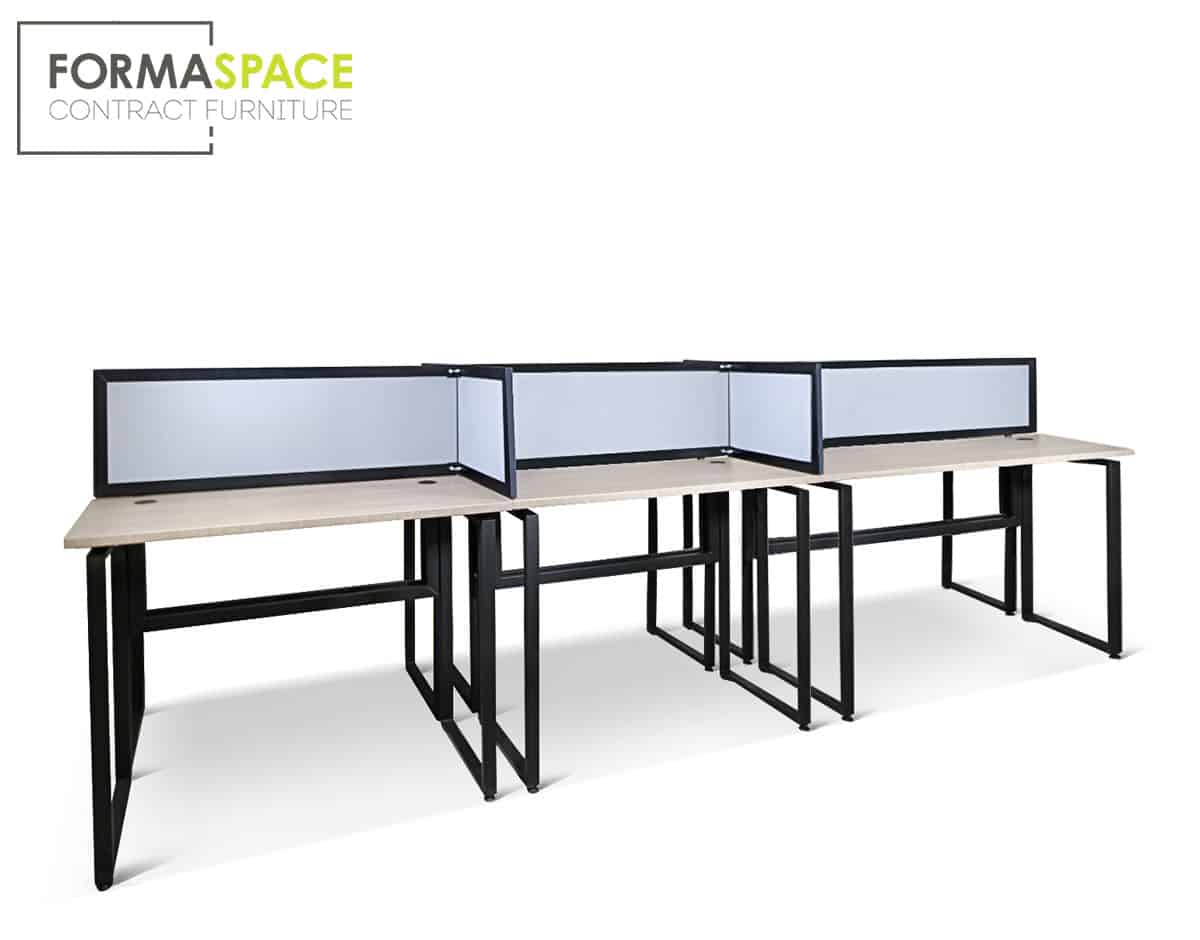 The New Normal Starts with Good Hygiene in the Office
Things will be different for office workers returning for the first time since stay-at-home orders were issued back in March.
The first step in creating a successful re-entry plan is to face up to what many are calling the "New Normal" — a new way of working that emphasizes hygiene and worker safety.
A good place to start is to develop a thorough cleaning and sanitizing regimen for your office environment.
It's especially critical to sterilize all commonly touched items (including door handles, shared countertops, dry erase boards, and computer keyboards).
Performing these cleaning operations three or more times a day is now considered good practice in the "New Normal."
The CDC keeps an updated list of cleaning products that are recommended for disinfecting surfaces.
And employers will want to know that OSHA has created a high-level Coronavirus safety program that outlines steps companies should follow to help protect workers.
The Physical Environment in the Office Needs to Change. Here's How:
Proper hygiene is a must in the "New Normal," but sanitation procedures alone are not sufficient.
The second area that many businesses will need to address is making physical changes to their office environments to help prevent the spread of disease between employees and/or on-site visitors, including customers and vendors.
These changes to the office layout, furniture, and fixtures include:
Spacing employee work areas further apart to establish proper social distancing at work.
Adding dividers or transparent shields to create a physical barrier between workers (to prevent respiratory droplets traveling between desks, for example).
Using individual, dedicated workstations in place of shared open desks, benches, or "hoteling" solutions.
Specifying non-porous, hard surface materials that can withstand repeated thorough cleaning and sanitation procedures.
Reconfiguring doors, handle pulls, faucets, etc. hands-free use. Examples include installing touch-less faucets, door kick pads and toe pulls, and reconfiguring restrooms to eliminate entry doors.
Limiting the use of shared resources within the office, such as kitchen messes, cafeterias, or even departmental printers.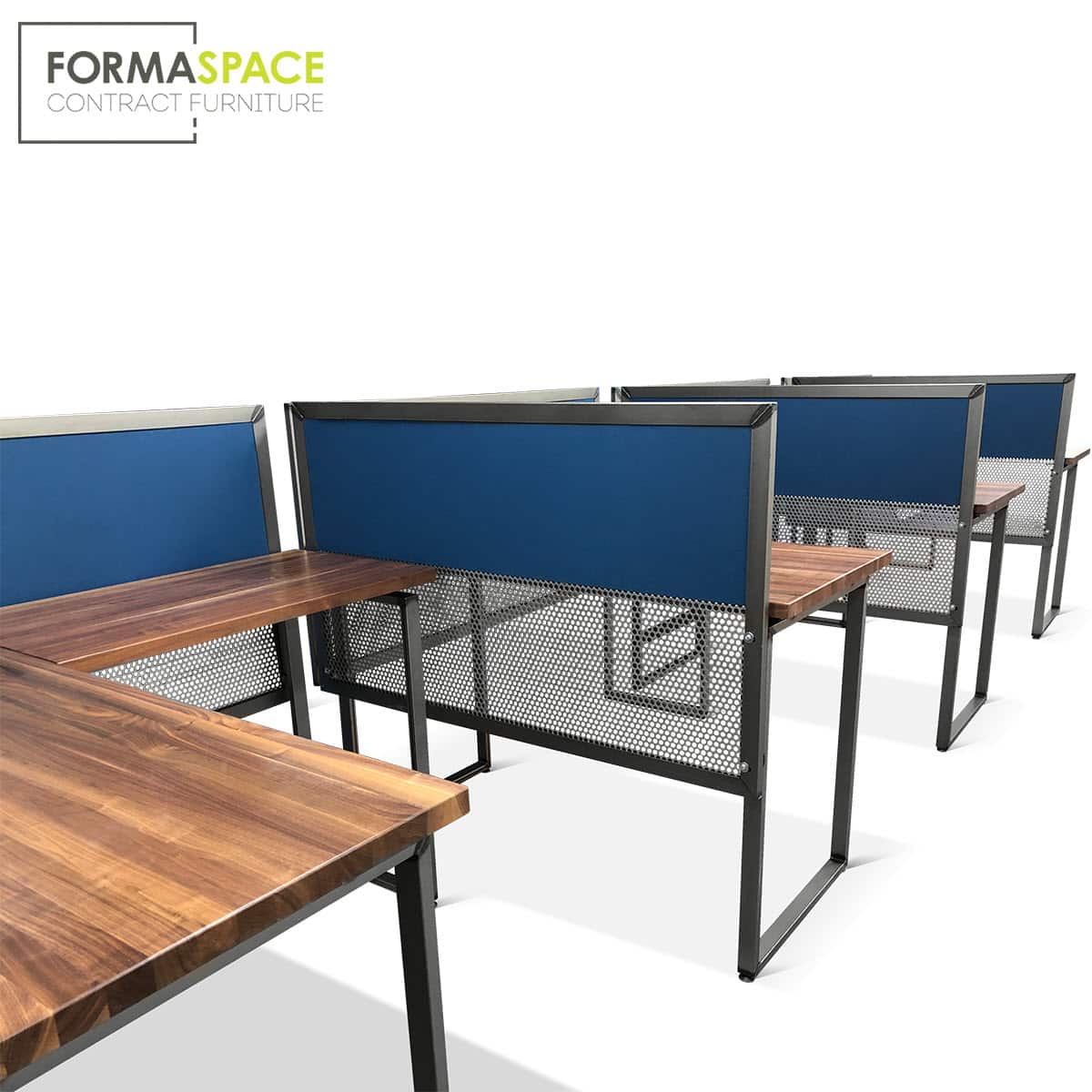 Formaspace Contract can help you transform your work environment to meet the new OSHA and other health recommendations.
Our top-line message to you is we are a custom manufacturer, which means we build what you need, to your exact specifications, right here at our Austin, Texas factory headquarters.
Why is this important?
If you are retrofitting your existing office furniture systems to comply with the new health recommendations (such as replacing upholstered cloth with easy-to-clean solid surfaces, adding transparent dividers between workstations, etc.), Formaspace Contract can work with you to co-create a solution that meets your needs, not the other way around.
Let's take what is becoming a common example: say you have dozens of worktables in an open office environment. Can these be converted or upgraded to meet the new guidelines?
Fortunately, in most cases, the answer is yes!
To find out how to make these necessary configuration changes quickly, reach out to your Formaspace Contract Design Consultant, who can help you find workable solutions, such as adding custom divider shields. We can quickly custom manufacture your order and ship the new product to your location – so you can be back in business.
We also have a line of standard products that you can customize for your needs; you can find them in our new COVID-19 PRODUCT RESPONSE Catalog.

Here are some of the highlights of the standard products that you can customize, but, we must emphasize this again, we can always build exactly what you want, whether you need just one, or you need hundreds of units.
(All our products are also available in a wide range of easy-to-sanitize, non-porous work surfaces, such as phenolic resin, epoxy, or stainless steel. We can also manufacture face shields, dividers, and barriers made of transparent acrylic, tempered glass, or HDPE, just to name a few of our many material selections.)
New DEFCON Product Line
Named after the defense readiness condition used by the US Armed Forces to mobilize for an imminent nuclear attack, Formaspace Contract's new DEFCON product line provides maximum protection against the spread of airborne viruses.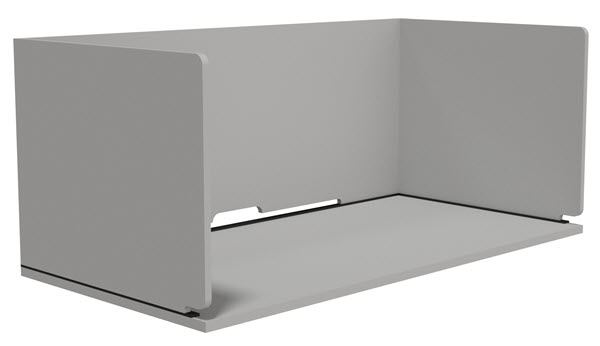 DEFCON 1 Protective Health Shield
Looking for a quick way to add protection to your existing desking solutions?
Our new DEFCON 1 Protective Health Shield can be easily installed and removed without damaging your existing desk worksurfaces, while still providing maximum defense against the spread of airborne germs. The U-shaped DEFCON 1 Protective Health Shield features an aluminum footplate with vertical sides made from a highly durable HDPE, which is easy to sanitize and can be used in interior and exterior applications. All dimensions can be customized to ensure the right fit for your existing furniture.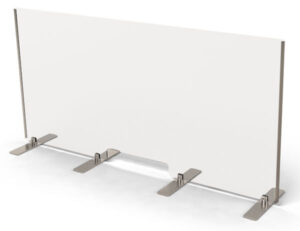 DEFCON 2 Counter Sneeze Guard
Need to protect your front line workers from the risk of virus transmission due to coughs and sneezes?
Our new DEFCON 2 Counter Sneeze Guard can be installed wherever there is a risk, such as countertops where workers need to have face-to-face communication, including bank teller stations, cashiers, or even between workers seated across from each other in the office.
This tall transparent divider (made of easy-to-sanitize ¼" acrylic) provides a safe barrier to help protect the health and safety of your employees without creating a dark, claustrophobic environment.
The DEFCON 2 Counter Sneeze Guard is easy to install and can be removed without damaging the work surface. Speak to your Formaspace Contract Design Consultant to specify custom heights, widths, and materials, as well as the configuration of any pass-through slots at the base, if required.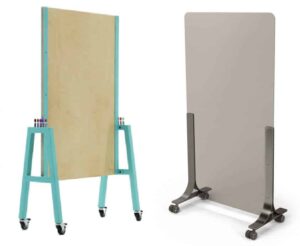 512 Clear Communication Board & InvisiShield
Now more than ever, it's important to provide important up-to-date information to your office workers, as well as any office visitors, such as clients or vendors.
The new 512 Clear Communication Board provides an attractive, durable, and easily sanitized solution to provide daily updates, health alerts, and more while maintaining a stylish, modern, sophisticated look that will support your brand message at the office.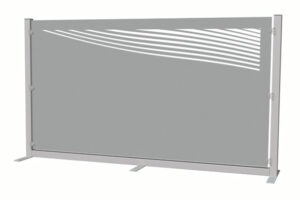 360 Vertical Gallery Panel
Speaking of maintaining your corporate brand, Formaspace Contract's line of 360 Vertical Gallery Panels allows you to combine worker safety (by providing a solid transparent barrier to prevent transmission of germs and viruses) with opportunities to reinforce your office's visual aesthetic and your corporate branding.
How so?
We can manufacture custom metal screen designs that incorporate custom laser cutouts that reflect your corporate branding – including logos and other graphic design elements, as well as color finishes to match your corporate identity. Find out more by speaking with your Formaspace Contract Design Consultant.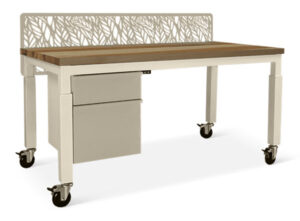 Weldmarx Workbench Desk Solutions
Formaspace Contract's Weldmarx Workbenches, originally developed for our industrial and factory customers, are appreciated by office workers around the world for their robust, heavy-duty steel construction and tough worksurfaces available in an astounding combination of materials and finishes.
If you already use Weldmarx or other Formaspace Contract desking solutions, we can provide new options to update your existing furniture. For example, you can easily add new privacy and modesty panels, as well as transparent sneeze guards, to bring your installations up to current safety standards.
We can also provide new Weldmarx Workbench products. Choose work surfaces made from a variety of easily sanitized materials, such as non-porous phenolic resin, stainless steel, and more. We also offer sit-to-stand solutions to provide workers with enhanced flexibility and ergonomics on the job.
Take the next step and speak with your Formaspace Contract Design Consultant today.
Take a moment to download our new Formaspace Contract Catalog for full details of our product lines. And don't forget, we can build anything you need, so if you see something you like but want to change it to fit your needs, we stand ready to build it for you here at our Austin, Texas factory headquarters.
Healthy Employee Management Checklist
So far, we have talked about introducing stepped up sanitation procedures as well as making physical changes to your office layout with new product offerings from Formaspace Contract.
Now let's talk about a third component, one that's equally important for successfully re-opening your office: how to manage your operations and your personnel in the "New Normal."
Many things we have always taken for granted will have changed, so you'll need to have plans in place to provide guidance and set expectations for your workers returning to the office to make sure they understand how to follow all the new health guidelines.
1. Put Someone in Charge of Overseeing Employee Health
Start by borrowing a tip from management systems, such as 6 Sigma and Lean Manufacturing: create a team or a point person in the organization who is responsible for employee health.
In a medium-size organization, the point person might be the HR manager (or the entire HR team); in a larger organization, management might elect to designate a Chief Health Officer as the point person overseeing employee health.
2. Lead by Example to Encourage Employees to Follow Safer Work Practices
Show you take these new health procedures seriously. If the policy is to wear a mask at work, all managers need to lead by example and wear their masks when in the office.
3. Require Proper use of PPE
Wearing a mask at work is part of the new normal. It helps prevent the spread of disease by capturing respiratory droplets that could spread the virus to others.
4. Insist on Proper Hand Washing
Washing your hands thoroughly for 20 seconds or more multiple times a day (and certainly before consuming food or beverages) is one of the most effective ways to reduce virus transmission. It's also important to train yourself to avoid touching your face if at all possible, as this can lead to the ingestion of the virus via the nostrils or the mouth.
Provide adequate washbasins (ideally with touch-less faucets) and hand sanitizing gel throughout the office so it is convenient to use throughout the day.
5. Perform Healthchecks on Employees and Visitors Arriving at the Office
It's more critical than ever to keep track of who is coming and going at your facility; consider using ID badges if you haven't already.
Screen employees and visitors upon arrival for fever using a remote temperature sensing thermometer. Use an oximeter to check the oxygen levels of employees; some asymptomatic Covid-19 patients are unaware they are suffering from low oxygen levels.
As many asymptomatic Covid-19 patients temporarily lose their sense of smell, you might consider placing strongly scented flowers at the front desk and casually ask those coming into the office if they can smell the fragrance.
Consider reducing or even eliminating unnecessary on-site visitors.
Create a mail and delivery service station where deliveries can be dropped off or picked up without having to come in contact with your employees.
6. Avoid Presenteeism
It's critical to impress upon employees the importance of staying home if they do not feel well. It is thought that the Covid-19 virus is very contagious when people are asymptomatic or are just feeling the first hint of symptoms.
Do not penalize employees who elect to stay home; provide sick leave pay, or allow them to work from home. If people do think they are sick, have them keep a daily diary of symptoms that could prove helpful to medical providers later in the event they become very ill.
7. Reduce Number of Employees in Office at One Time
Shiftwork has been a mainstay of factory production for centuries, but we may see it become more commonplace in office settings thanks to the coronavirus pandemic.
Staggering the hours (or days) that employees come to work is a practical solution for reducing the number of employees present in an office environment at any one time.
8. Encourage Working from Home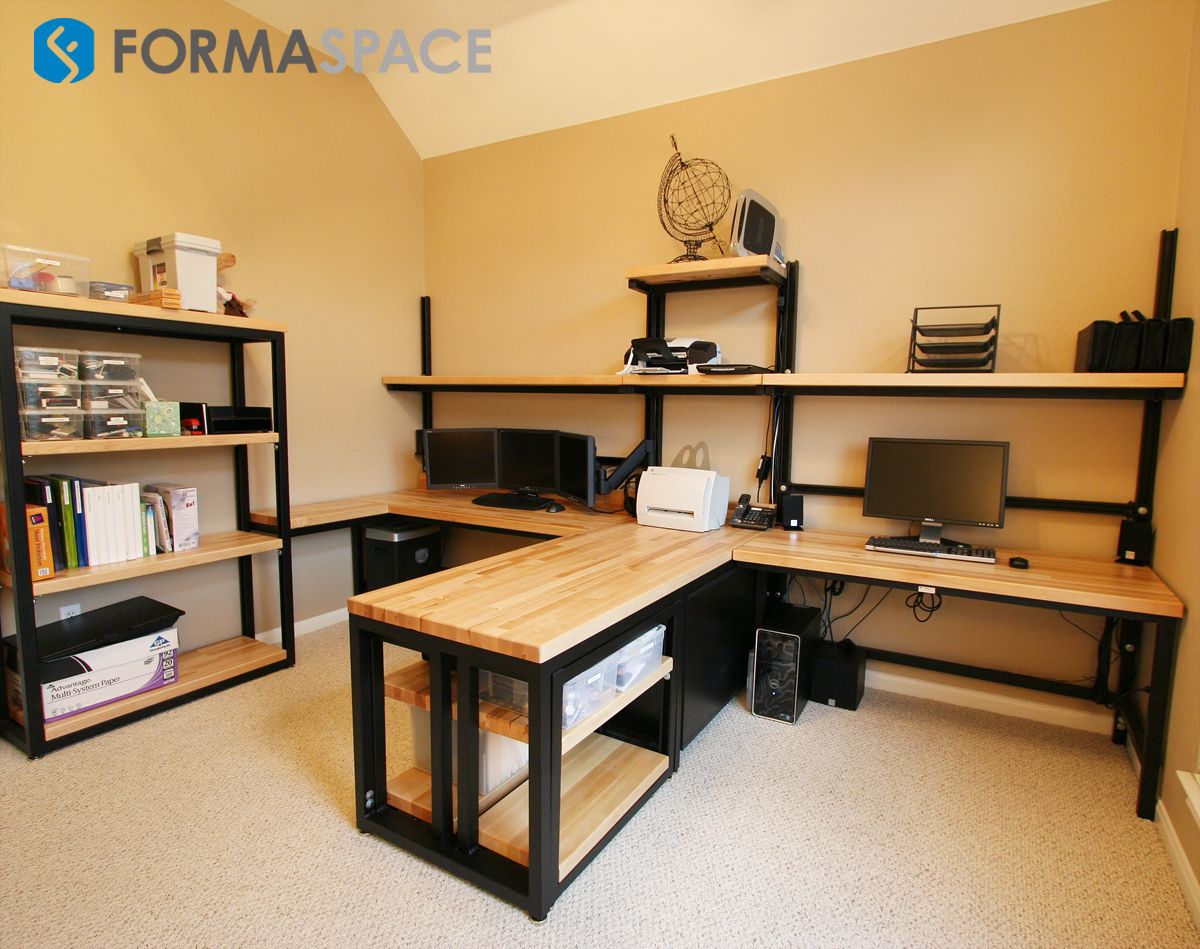 It's believed that many office employees will continue to work from home (WFH) even after restrictions are lifted, allowing them to come back to the office.
A report in the New York Times estimates that before the coronavirus outbreak, 4% of Americans worked from home; it's projected that this number will rise to 25% for the foreseeable future.
Tip: see our article on how to set up an efficient, ergonomic home office.
9. Establish Secure Communication with Off-Site Colleagues
In light of the estimates that many employees will continue to work from home, companies will want to continue the process of integrating off-site workers with office operations. Actions to consider include improving telephone and groupware access and addressing computer security concerns, such as implementing secure PPN connections or locking down Zoom videoconferences.
Tip: see our recent article on cybersecurity concerns in healthcare operations; it includes many tips that apply to all types of businesses.
10. Follow Social Distancing Guidelines in the Office
It's important to establish guidelines that discourage large groups of employees or visitors from congregating in common areas, such as elevators, lobbies, cafeterias, or kitchen messes.
One approach that can help is staggering break times to limit the number of people gathering in common areas at one time. It may also be safer to allow individuals to heat a packed lunch at their desk rather than in the cafeteria or the kitchen area.
Ford Motor Company is reportedly providing its employees with bracelets that set off an audible alarm if they come to close to another individual.
11. Reduce Use of Shared Items
Now may be a good time to replace the office department printer with smaller individual printers at each person's desk – or even discontinue the use of paper documents entirely, where practical.
Common storage areas and even the department supply cabinet are candidates for decentralization; now might be a good time to provide office employees with additional personal storage areas as well as a personal supply of pens and markers.
Single-use items (such as plastic cups and utensils) may be bad for the environment, but they are another option to consider when restocking the kitchen or cafeteria.
12. Ensure Safer Air Quality in the Office
Facilities teams should look at increasing the airflow through the office as well as upgrading and replacing HEPA filters more frequently.
There are reports that stagnant air is a concern for virus transmission, particularly in restrooms that may not have adequate ventilation. There is also an emerging consensus that new HVAC systems should be designed to draw air down toward the floor (away from our mouths and noses) rather than up to the ceiling.
13. Mental Health
Management teams should be trained to recognize signs of excessive stress or even mental health issues among their employees. Establish a program to help employees who are experiencing feelings of grief, helplessness, or depression.
14. Support Test, Track, and Trace
The availability of clinical treatments or a vaccine for Covid-19 are still unknown at this point.
It is hoped that reliable antibody tests will soon become widely available that can identify if someone has been infected with the coronavirus. This will enable public health officials to pivot toward a test, track, and trace methodology, which could help identify virus outbreak hotspots.
Meanwhile, mobile phone-based contact tracing systems, such as the one currently being trialed in the UK, could provide a warning to individuals that they may have been in close personal contact with someone who has come down with the virus. Similar systems, once available in the US, could provide an extra measure of protection for your employees.
How Formaspace Contract Can Help
Formaspace Contract stands ready to assist you with your changing requirements.
Our factory headquarters in Austin, Texas is running at full capacity.
Our tagline says it all: Custom is the new standard.
Whenever you need a custom contract furniture solution to solve your work environment issues, we are here to help.
We can build an individual piece of furniture, a small batch, or a large order. (We recently delivered 500 workstations in less than 18 days to GM's new ventilator production facility in Kokomo, Indiana.)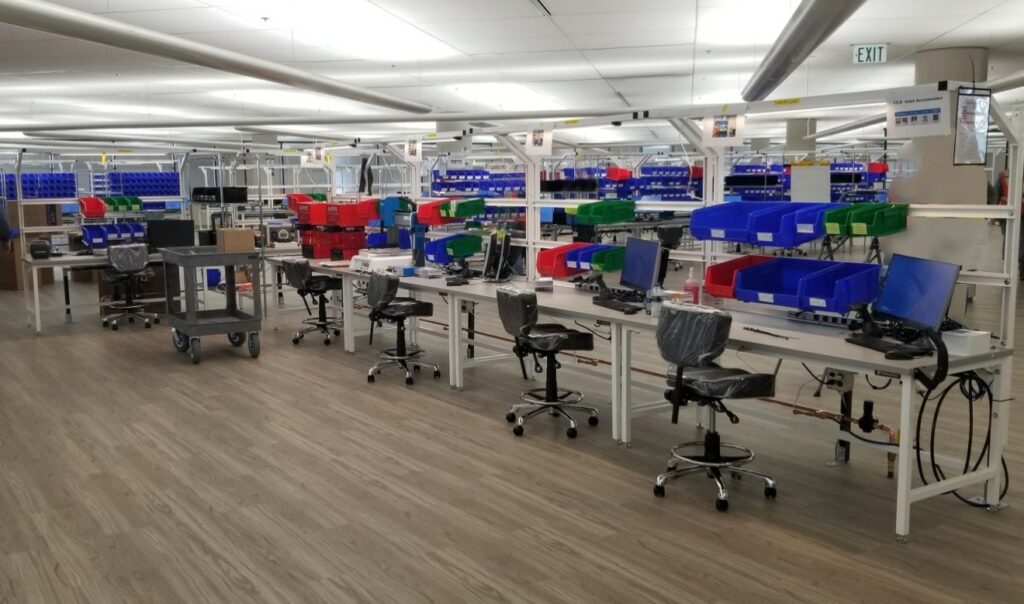 Take the next step. Contact your Formaspace Contract Design Consultant today.